Raddysh ties record as Canada rolls over Latvia
Presented by:

Taylor Raddysh tied a Canadian record with four goals and Team Canada crushed Latvia 10-2 in World Juniors group play on Thursday night. Matthew Barzal scored twice for Canada, who improved to 3-0 at the tournament. Canada will face Team USA to determine first place in Group B on Saturday.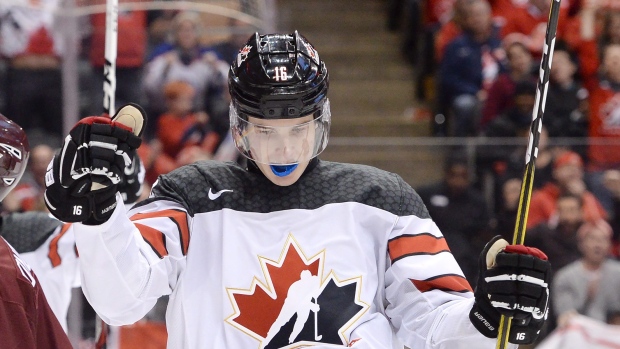 TORONTO — Taylor Raddysh was on the bubble to make the Canadian roster ahead of the world junior hockey championship.
He showed Thursday night that he most definitely belongs.
Raddysh scored four goals as Canada dumped Latvia 10-2 to remain unbeaten in preliminary round play at 3-0-0. He joined Brayden Schenn, Mario Lemieux and Simon Gagne as the only Canadian players to score four goals in one game at this tournament.
"It's pretty cool when you see your name beside those guys that are up there," Raddysh said. "It was a fun night. You've got to enjoy the moment for what it is but not rely on it too much and just focus on the next game."
The victory moved Canada into a first-place tie with the United States in Group B. The Americans, who edged Russia 3-2 earlier in the day, will meet the host team in a New Year's Eve showdown at Air Canada Centre.
Matt Barzal chipped in with two goals and captain Dylan Strome had four assists. Latvia, which has been outscored 25-4 in the tournament, fell to 0-3-0.
Raddysh, who was not included on the Canadian team's development camp roster last summer, was full of confidence entering the final camp earlier this month. He has 61 points in 28 games with the Ontario Hockey League's Erie Otters this season.
Canadian head coach Dominique Ducharme has been impressed by the variety of Raddysh's goals.
"Shooting the puck, grabbing rebounds, tight areas, tipping pucks," he said. "He's a great goalscorer and to see him gaining confidence is great with these games. And joining those (four-goal) guys — it's pretty good company."
Latvia played at a good pace in the early going and actually outshot Canada 10-9 in the opening period.
Barzal woke up the quiet Toronto crowd at 10:38 with a short-handed goal. He sped past two Latvian players at the blue line and flipped the puck over the outstretched pad of Latvian netminder Mareks Mitens.
Canada made it 2-0 just over a minute later as Nicolas Roy tipped in a blast from Philippe Myers at the point.
Raddysh added a power-play goal with 20 seconds left in the period. He took a slick feed from Thomas Chabot and fired the puck under the crossbar.
Goaltender Carter Hart, who helped Canada to a 5-3 win over Russia on Boxing Day, returned to the net after Connor Ingram posted a six-save shutout in a 5-0 win over Slovakia on Tuesday.
Hart was steady when called upon but the shots were infrequent and usually of middling quality. He wasn't really tested until early in the second period when he made a nice glove save on a Martins Dzierkals snapshot from in close.
"I got a lot of run support tonight," Hart said.
Raddysh scored again with the man advantage at 9:11 of the second period. Mitens was pulled moments later and his replacement, Gustavs Grigals, seemed overwhelmed by the relentless Canadian attack.
Raddysh deflected a shot for the hat trick at 12:13 before Canada tacked on three more goals in a span of two minutes 43 seconds.
Barzal, Anthony Cirelli and Michael McLeod all scored at even strength to turn the game into a laugher. Renars Krastenbergs put Latvia on the board at 17:58 to end Hart's shutout bid.
Raddysh deflected a point shot at 2:07 of the third period for his fourth goal of the night.
"He goes to the net hard and he gets rewarded," Strome said.
Dzierkals scored Latvia's other goal on a nice deke at 7:59 and Julien Gauthier closed out the Canadian scoring at 18:05. Canada outshot Latvia 35-25 overall.
Notes: McLeod was moved to the top line with Strome and Pierre-Luc Dubois as a replacement for Mitchell Stephens, who sat out with an ankle injury. ... The game was delayed for a couple minutes early in the first period after linesman Dmitry Golyak was hit in the mouth by a puck. He was replaced by a backup linesman. ... The four quarter-final games will be played Monday in Toronto and Montreal. Canada will play its playoff round games at Bell Centre. Air Canada Centre hosted Canada's playoff games when Toronto and Montreal last co-hosted in 2015. ... Latvia is trying to avoid relegation after being promoted to the 10-team elite field this year.
———
Follow @GregoryStrongCP on Twitter.