Rangers acquire Staal from Hurricanes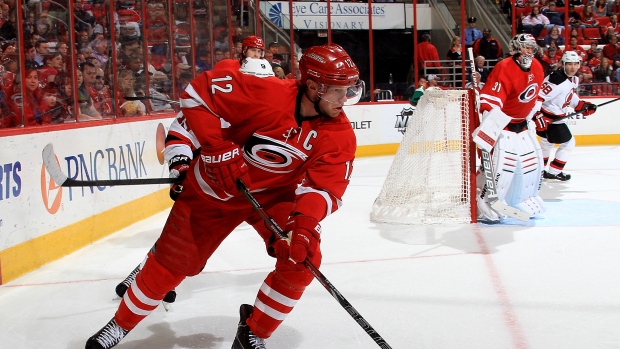 For the first time in his career, Eric Staal is on the move.
The Carolina Hurricanes have traded their captain to the New York Rangers. In exchange, the 'Canes receive a pair of second-round picks, in 2016 and 2017, and Finnish prospect Aleksi Saarela.
Staal, who has been with the Hurricanes since being drafted second overall in 2003, has scored 10 goals and 33 points in 63 games this season.
The 31-year-old centre has a cap hit of $8.25 million and a salary of $9.5 million this season. TSN Hockey Insider Pierre LeBrun reports the Hurricanes will retain 50 per cent of Staal's salary and cap hit, the maximum percentage allowed under league rules.
The veteran forward waived his full no-move clause to allow the deal.
"Eric has been the face of this franchise for a long time, and we thank him for his dedication, leadership and many contributions on and off the ice over the years," Hurricanes general manager Ron Francis said in a release. "We felt this was an important opportunity for us to continue our work in building an organization that can consistently compete in the Stanley Cup playoffs."
Staal has been the Hurricanes since the 2010-11 season and sits second goals, assists and points in franchise history, behind Francis.
In 909 career games, Staal has scored 322 goals and amassed 775 points.
He won the Stanley Cup with the Hurricanes in 2006 and an Olympic gold medal at Vancouver 2010.
Staal will join his brother, defenceman Marc Staal, on the Rangers.
Saarela was taken in the third round of the 2015 NHL Entry Draft out of Assat in the Finnish Liiga. The 19-year-old was a part of the gold-medal winning team at the 2016 World Junior Hockey Championship where he scored four goals and added three assists.