Raptors experimenting with expanded rotation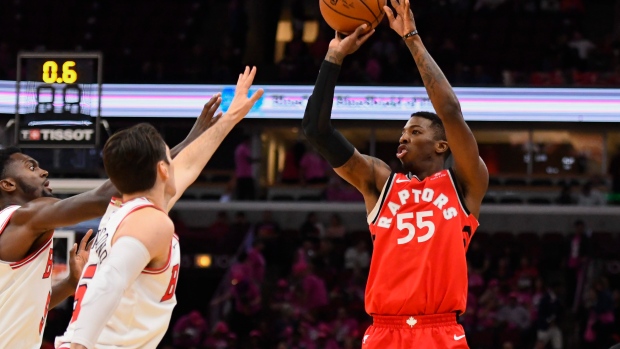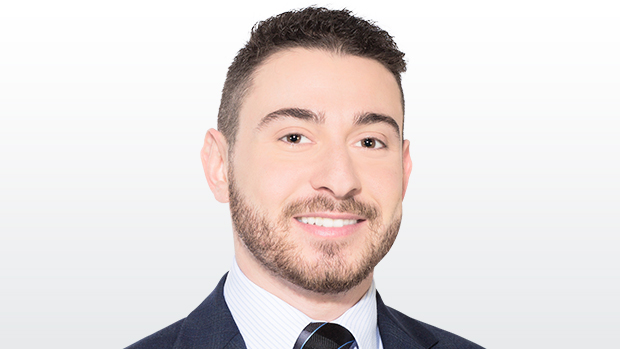 TORONTO – Considering depth was their biggest question mark a month ago, the fact that the Toronto Raptors find themselves with more capable rotation players than minutes to go around is a positive, albeit unexpected, problem to have this early in the season.
In four of the last five games, Dwane Casey used 12 different players before the halftime break. The lone exception was the win in Utah last Friday, a game in which C.J. Miles was unavailable, where he used with 11 different guys.
How unusual is that, you ask? Barring an unforeseen circumstance like foul trouble or an injury, it's almost unheard of for any team, let alone a winning team, to deploy a rotation that large for any real length of time. To put it into perspective, in 82 games last season the Raptors never used 12 players in the first half. They only played 11 twice.
A year ago, Casey mostly rotated nine guys – his starters and four reserves, usually playing them with Kyle Lowry. In the hopes of scaling back Lowry's minutes, Casey had planned to expand his nightly lineup to 10 this season, which proved to be the case until injuries created an opportunity for a couple others to enter the mix. The result: Toronto's crowded group of talented youngsters has forced the coach's hand, at least for the time being.
"You have no choice," Casey said earlier this week. "We've got some guys who are playing equally; nobody's really stepped up above anybody else. There's going to come a time when we narrow it down but right now, [we've] got to see what we've got."
What they've got is seven guys for what will likely end up being four or five spots before the playoffs roll around.
The two point guards have very different skill sets. Delon Wright is a long, crafty playmaker and active defender, while Fred VanVleet is a spark plug in the mold of Lowry.
On the wing, Miles is the lone vet and best shooter of the bunch, the rookie OG Anunoby brings versatility on the defensive end and improved sophomore Pascal Siakam continues to impress with his non-stop energy and ability to run the floor.
Using two centres, neither of which can play another position, is especially difficult. But after going back and forth with Lucas Nogueira and Jakob Poeltl since the start of last season, Casey is splitting backup minutes between the two. Nogueira – a shot blocker, lob threat and gifted passer – stepped up in the absence of Jonas Valanciunas. Still, Poeltl has done nothing to lose his job and brings something different with his soft hands around the rim, strong offensive rebounding and high basketball IQ.
They've all been good to start the season, some of them very good, but none have really separated themselves to the point in which Casey can be sure who will deliver on a night-to-night basis.
The obvious benefit of the expanded rotation is that everyone gets in. Theoretically, Casey can use the first half to continue his evaluation of each guy, feel the game out and maybe play the matchups. In the second half he can ride the hot hand, if he chooses to.
The downside is it can be difficult to heat up when you're in the game for short spurts. While only two guys have played fewer than 10 minutes over that five-game stretch (Poeltl once and Nogueira in Thursday's win over New Orleans, on account of foul trouble), only three have gone over 20 (Siakam once and Wright twice).
On one hand, they know they're going to play. On the other, they have limited time to get in rhythm and showcase themselves.
"It's tough," Casey acknowledged. "I totally understand that. I explained it to them. It's difficult to go in and get a good rhythm, especially for [Nogueira] and [Poeltl]. It's not fair, but that's what we have. We have three excellent centers that all have an excellent skillset. Until it shakes itself out, we'll go with them and find time for all three of them."
"It's a weird feeling because we have never done it like that before and I have never experienced it like that either," said Poeltl. "But it's something that has its advantages too. We can all be out there and play our hearts out because we know we have, well, at least for me, two other guys that are right there ready to play and contribute."
The Raptors' situation is unique in that six of their seven subs have less than four years of NBA experience and haven't played big or consistent minutes in the league before. While this experiment probably couldn't work on a more experienced team, where players might expect bigger and more defined roles, these guys are just appreciative for the opportunity to prove themselves.
Many of them have endorsed the expanded rotation, if for no other reason than they realize a tighter one could send any of them back to the bench. Not only have they bought in, but once they get on the floor they're not wasting any time in making their presence felt. To Poeltl's point, if they don't produce they might be out.
If anyone's stock has come down as a result of the 12-man rotation it's Miles, as both a veteran and a rhythm shooter. Over the last five games, he's logged just 15.5 minutes – down from 20.5 last month. With less court time and fewer shots, his three-point shooting has also fallen from 41 per cent in October to 29 per cent in November.
Although he's handling the sporadic playing time like a professional and has been a great leader of that young second unit, it's imperative that the team finds a way to better utilize one of its most dangerous weapons as the season goes on.
"It's just about keeping that edge because the better you are, the better we are and that's also the thing we tell everybody," Miles said. "You have to be ready, have to be ready to compete and eventually it's going to come down a little bit so guys can prepare for the second half of the season, end of the season, whatever it may be. And I look forward to it."
"We definitely have a lot of [depth]. It's a good problem to have. Rhythm-wise sometime – and the coaches know it – to help find guys rhythm and help them find a little bit more just swagger in the game it's going to cut back, it always does."
At some point Casey will have to make a tough decision. However, now's the time of the year to experiment. More than ever before, the Raptors are planning ahead. Implementing their new offensive system is being done with the playoffs in mind. Preserving Lowry and DeMar DeRozan – an added benefit of the expanded rotation – is being done with the playoffs in mind.
It's a long season and things happen – maybe it's an injury, maybe it's a trade (one of the reasons they could be showcasing some of these role players). They're not going to play 12 guys in April, but the organizational depth they're building will surely come in handy.