Raptors rout Heat in Game 7; Cavs await
The Toronto Raptors have made history. And now they head into uncharted territory — the Eastern Conference finals for the first time in 21 years. Raptors' all-star Kyle Lowry and DeMar DeRozan combined for 63 points in a thorough 116-89 dismantling of the Miami Heat in Sunday's thrilling do-or-die Game 7 of their conference semifinals.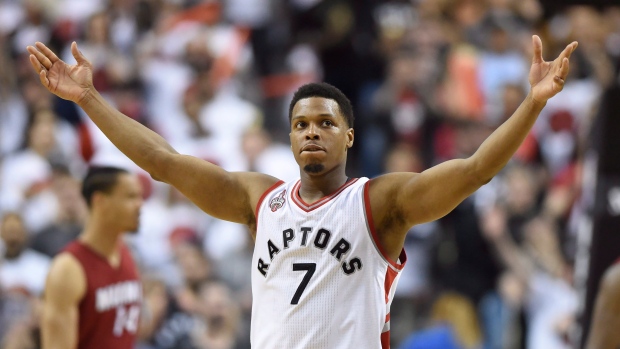 TORONTO — The Toronto Raptors had waited two decades for this moment.
And as the clocked ticked down on an historic victory that launched the Raptors into the NBA Eastern Conference finals for the first time in 21 years, Kyle Lowry sat on the bench, his head bowed and draped in a towel.
The Raptors' star on the day was lost in thought.
"Just the things that we'd been through this year, and how hard we've worked," Lowry said of the moment. "Just an emotional time, just being able to sit there and relax, and kind of breathe.
"Playing against a team like Miami, it pushed us to the limit, and so it was just a time to relax and just think about the things that we've done."
The Raptors head into uncharted territory against the Cleveland Cavaliers after a thorough 116-89 dismantling of Miami in Sunday's thrilling do-or-die Game 7.
Lowry had 35 points while DeMar DeRozan chipped in with 28, playing with the heart and hustle Raptors fans had seen so many times in Toronto's record-breaking 56-win regular season. And they got plenty of help, as Bismack Biyombo had 16 rebounds to go with 17 points, DeMarre Carroll chipped in with 14 points, and Patrick Patterson had 11 points and 11 boards.
Dwane Casey called the series victory a "very important" step for the franchise, but added: "We're not done yet."
"I know what it's like to win a championship," the Raptors coach said. "I'm not saying we can do that, but I think this group is hungry and never say never. I know one thing: our guys will compete."
They competed from the opening tip-off, moments after Patterson's powerful pre-game speech.
"I had one question for everybody: "Are we satisfied with what we've done individually and what we've done collectively as a team? How far we've come. Do we want more, do we want to go even further, do we want to make history? Do we want to keep playing or do we want to go home?'"
Then, in a fierce back-and-forth series that featured three overtime games, and a slew of injuries, the thrilling finale saw the Raptors lead most of the way. They battled hard on both ends of the floor with a ferocity they hadn't shown in this series, and opened up a 17-point lead in a solid third quarter.
They went into the fourth ahead 86-78, and when Biyombo muscled his way in for a monstrous dunk — and Usain Bolt celebration — and then Carroll drilled a three, the delirious Air Canada Centre crowd went nuts.
"We came out and told them we weren't going to take no more," Carroll said on Toronto's dominant second half. "We kept running it down their throat, and doing it on the defensive end."
Toronto could do little wrong down the stretch, and by the time Patterson followed up a basket with a pair of free throws with 7:30 to play, the Raptors led by 20, and anxious Toronto fans could finally take a collective deep breath.
"It's great to hear the home crowd, and this organization deserves it, and this country deserves it," said DeRozan, his young daughter Diar perched on his lap in the post-game press conference. "And to see them get to the next step somewhere they haven't been. . . but we're not done yet."
Lowry hit a three with 3:23 to play that followed up a basket by DeRozan, and the Raptors went up by a whopping 25 points. And when the Raptors' all-stars left the game a minute later, the crowd ushered them off the court with a standing ovation.
Hard to believe it was the same Lowry that stayed on the court until the early hours of the morning only 12 days earlier, unable to find his shot.
"That's just what he do," DeRozan said on Lowry's explosion. "He's been doing it all year, he won us countless games. And he doing it now. I don't expect nothing else."
Toronto clobbered Miami on the boards 50-30, and outscored its opponent 27-9 in second-chance points. Dwyane Wade and Goran Dragic could only muster 16 points apiece for Miami.
The victory came in front of a capacity crowd of 20,257, who painted a white and black maple leaf, and included Montreal Canadiens' P.K. Subban, Toronto FC star striker Sebastian Giovinco, sprinter Andre De Grasse, and MMA fighter Michael (The Count) Bisping.
And as the clock ticked down, fans erupted into a chant of "We want Cleveland!"
The Raptors now face the well-rested Cavaliers in a be-careful-what-you-wish-for scenario. The Cavs host Toronto in Game 1 on Tuesday after a nine-day break, while Toronto has played eight games in 15 days.
The Raptors had made the second round just one other time, in 2001, when they were a missed Vince Carter jumper from making the conference finals in a loss to Philadelphia.
The Raptors were one of four active NBA teams — the others are Charlotte, New Orleans and Los Angeles Clippers — to never play in the conference finals.
Outside the ACC on Sunday, thousands of fans braved the cold — and fittingly, lightly falling snow — to watch the game on the giant screen in Maple Leaf Square. Their cheers could be heard in nearby Union Station. The line to get in several hours earlier had snaked around the Air Canada Centre.
Both teams looked tight to start, but sparked by 11 points from DeRozan, the Raptors took a 25-24 lead into the second quarter.
Joe Johnson's personal 6-0 run put Miami up by a point midway through the second, but Lowry, with 12 points in the quarter, led the Raptors to a 53-47 lead at halftime.