Raptors' series lead disappears after Game 4 loss to Wizards
Bradley Beal scored 31 points, while John Wall had 27, and the Washington Wizards beat Toronto 106-98 to tie their opening-round Eastern Conference series at two games apiece On Sunday.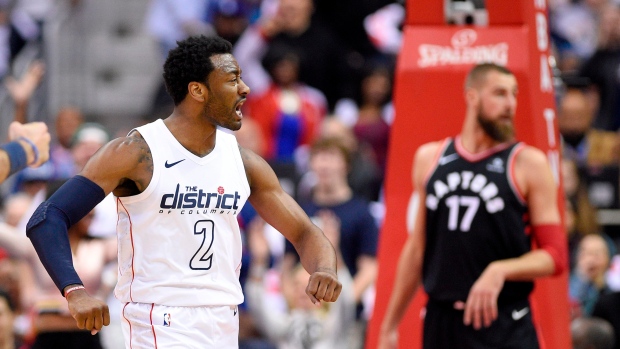 WASHINGTON — In the final eight minutes of Sunday night's ugly loss, the Toronto Raptors' eight-point lead turned into an eight-point deficit.
And in those frustrating minutes, as the game slipped away, the Raptors saw their playoff series lead over Washington vanish, and the storyline on such a positive season for the franchise turn sour.
DeMar DeRozan had 35 points, but shot just 2-for-8 in the fourth quarter, and the Washington Wizards scorched Toronto down the stretch en route to a 106-98 win, tying the opening-round Eastern Conference series at two games apiece.
Moments later, DeRozan shouldered much of the blame for the loss.
"I had a lot of great shots in the paint that I took back, and there were some late-game shots that I wish I could take back," DeRozan said. "That's just my mindset, being aggressive, wanting to win, willing to do whatever it took to push it to a win. But with that came some bad shots that I will definitely understand next time."
Next time is on Wednesday in Toronto, where the Raptors have lost just seven times this season. The series then returns to Washington for Game 6 on Friday.
Kyle Lowry had 19 points and seven assists, Jonas Valanciunas had 11 points, Jakob Poeltl finished with 10 and Serge Ibaka grabbed 10 rebounds.
But the Raptors' turnovers — 18 giveaways for 19 points — proved costly once again.
"Can't happen. Can't happen," DeRozan said. "I think we got stagnant."
Washington's all-stars Bradley Beal and John Wall were firing on all cylinders, Beal scoring 31 points, and Wall chipping in with 27.
Still, the game looked like Toronto's for the taking, particularly when Beal fouled out with five minutes to play. Wizards coach Scott Brooks was livid, while the raucous Capital One Arena crowd roared "Ref you suck!"
But the Raptors failed to take advantage.
"This (loss) was tougher because I thought we had it under control," Raptors coach Dwane Casey said. "We had some turnovers, we had some unfortunate untimely turnovers.
"Nobody said this was going to be easy. I said that after Game 3. We've just got to bounce back. Neither team has won on the other team's court yet. When you do that, then it's a series."
The Raptors had raced out to an early 12-point lead, and held the lead until midway through the third quarter. A Mike Scott basket at the third-quarter buzzer sent the game into the fourth all tied up at 80-80.
Toronto opened the fourth with an 8-0 run capped by a steal and basket by Delon Wright. But the Wizards hit back, and when Marcin Gortat threw down a huge dunk — raising his fists and letting out a thunderous roar — it tied the game with 5:40 to play.
Wall pounced on a Raptors turnover with 1:57 to play and his basket gave the Wizards a three-point lead. Then with the noisy crowd on its feet, Wall calmly drained a jumper that gave the Wizards a six-point lead with a minute to play. Kelly Oubre iced the victory with a pair of free throws with 22 seconds left, while a stock photo of a sad-looking Drake flashed on the jumbotron.
"Next man up," Oubre said of Beal leaving the game. "Straight like that. We have a lot of great talent on this team. At any given moment anybody can go off and have a career game, a breakout game."
The towel-waving crowd was dotted with pockets of Raptors fans, and included Baltimore Ravens coach John Harbaugh, Washington Redskins cornerback Josh Norman and Toronto rapper Kardinal Offishall.
Lowry provided some comedic relief in the first half after Gortat lost his shoe after a hard block by Ibaka. Lowry picked up Gortat's shoe and helpfully untied it before handing it back with a friendly pat on Gortat's backside.
The Raptors had expected the Wizards to put up a fierce fight on their home court, where they pulled even with Boston after trailing 2-0 in last year's playoffs. The Celtics went on to win that series.
The Raptors dominated Washington in Games 1 (114-106) and 2 (130-119), but were humiliated in their 122-103 loss in Game 3 that saw them give up 28 points on 19 turnovers.
They don't do themselves any favours in playoffs. Last year, their first-round series against Milwaukee was tied 2-2 before they took the last two games to win it.
"It's nothing new for us," DeRozan said. "You never want to be in this situation, but it's nothing new for us. We understand the magnitude and importance of everything in the moment. As a competitor, we thrive in moments like this. We understand our opportunity to go back home, where we've been great all year."
DeRozan scored all nine of his first-quarter points on free throws, and OG Anunoby started with the same steely nerves he's shown all series. During a 16-second stretch, the rookie had a layup, a steal and a dunk that gave the Raptors a nine-point lead. The Raptors would lead by 11 and took a 30-22 lead into the second.
Early through the second, Wright blocked Wall with such force it knocked the all-star on his back. Wright then fed a sprinting Pascal Siakam who finished with a huge dunk, bringing the players on the bench to their feet roaring their approval. The sequence put Toronto ahead by 11 points, and the Raptors took a 51-40 lead into halftime.
Otto Porter Jr. had eight points in three-and-a-half minutes to start the third, and the Wizards tied the game 58-58 with 8:10 left in the quarter. Beal drained a three to give the Wizards their first lead of the game three minutes later.