Rask, Bruins beat Sens for third straight win
Tuukka Rask stopped 39 shots to lead the Boston Bruins to a 3-1 win over the Ottawa Senators on Tuesday night. Ottawa native Ryan Spooner scored twice for the Bruins (34-22-10), who won their third straight. Loui Eriksson added the other.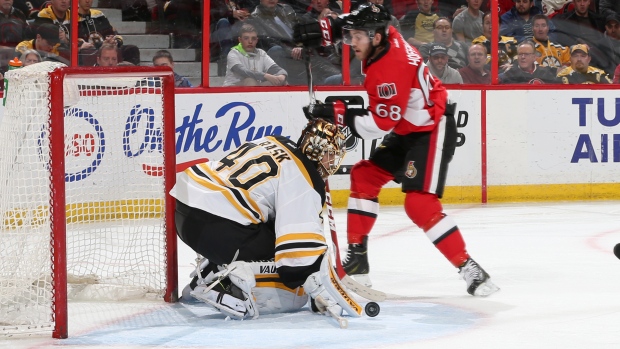 OTTAWA - The Ottawa Senators stumbled in their playoff pursuit Tuesday night, but still remain confident.
Ottawa suffered a 3-1 loss at the hands of the Bruins and now sit seven points back of Boston for the final Eastern Conference wild-card spot.
The Senators still have a game in hand, however, and the two teams meet for the final time March 19.
"We've still got 17 games left, we've got a game in hand and one more game against (Boston) so I'm definitely not going to rule us out I'll tell you that much," said Ottawa centre Kyle Turris. "We're going to battle until the end. A win would have helped us out quite a bit, but we realize it's not over."
Tuukka Rask was instrumental in the Bruins victory, stopping 39 shots.
"We got the points we wanted," said Rask. "It was good— it wasn't easy. I thought our first period was our best and after that didn't play our best, but we got the win and that's all we need."
Ottawa native Ryan Spooner scored twice for the Bruins (34-22-10), who won their third straight. Loui Eriksson added the other.
Matt Puempel scored for Ottawa (30-24-11) as Craig Anderson faced 22 shots in his second straight start after missing 17 games.
The loss was Ottawa's first in regulation since Feb. 16 and ended a nine-game points streak where Ottawa went 8-0-1 to get back into the playoff race.
"We knew the significance of this game going into it against this opponent," said Senators defenceman Marc Methot. "There's not a whole lot I can say. The motivation was there and we wanted this game real bad, we just ended up on the wrong side."
Senators coach Dave Cameron admitted his team looked nervous early in the game, but believes this experience will pay dividends for his club.
"It was a pressure game," said Cameron. "We're a young team. You can't practise pressure. That's why these big games are important."
Despite being outshot 21-10, Boston took a 3-0 lead in the second period.
Boston opened the scoring on the power play early in the second as Spooner was left all alone in front and beat Anderson to the far side.
The Bruins made it 2-0 at the 15-minute mark as Eriksson made a move around Cody Ceci, then waited for Anderson to bite before scoring his 17th of the season.
Just over one minute later Boston made it 3-0 as Spooner scored his second of the game. He took a pass from Milan Lucic and put it in at the side of the net.
"It was just one of those nights where they got a couple of bounces," said Anderson. "The third one goes off of Spooner's skate, they got a power-play one and the second one I was just a little impatient on, but other than that the guys were playing really well in front of me."
The Senators had a number of solid chances but Rask was perfect on every occasion and got help as Ottawa hit the post three times in the second.
"I think they had us on our heels from the second period on and if it wasn't for (Rask) it could have been a different outcome," said Bruins coach Claude Julien. "But having said that we won a big game. They don't always have to be pretty at this point, but they have to be successful."
Puempel ended Rask's shutout bid with his first NHL goal at the eight-minute mark of the third, taking a shot off the end boards and putting it past the Boston goalie.
Notes: Defenceman Jared Cowen and centre Colin Greening were healthy scratches. Forward Clarke MacArthur and goalie Robin Lehner remain sidelined with concussions. The Senators were also without defenceman Chris Phillips (wear and tear), forward Chris Neil (fractured thumb) and centre Zack Smith (fractured wrist). The Bruins were minus forwards David Krejci and Brett Connolly and defenceman Kevan Millar due to injuries. Brian Ferlin was a healthy scratch.