Red-hot Laine, Matthews ready for battle
Patrik Laine and Auston Matthews go head-to-head at the World Hockey Championship today as they compete for top spot at the NHL draft. Watch the game on TSN1, TSN3 and TSN GO at 1pm et/10am pt.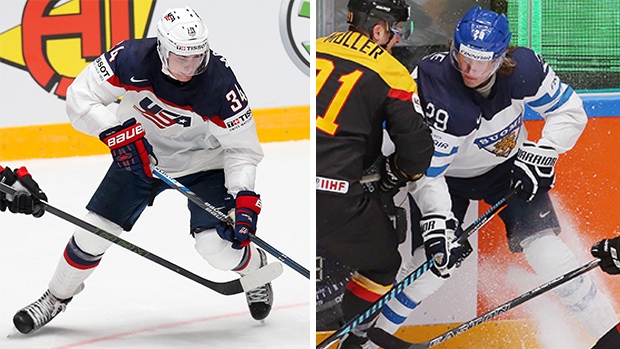 Finland's Patrik Laine and Team USA's Auston Matthews are going shot for shot at the World Hockey Championship as they compete for the top spot at the upcoming NHL draft on June 24.
On Monday, the 18-year-old stars go head-to-head as their clubs tangle at the Yubileiny Arena in St. Petersburg, Russia.
Watch all the action LIVE on TSN1, TSN3 and TSN GO beginning at 1pm et/10am pt.
Laine has been the heart and soul of the Finnish offence, leading the team and the tournament with four goals and six points. He is proving to be a ruthless power-play weapon with three goals and an assist with the man advantage as the Finns have outscored opponents 11-3 in two straight wins over Belarus and Germany.
"The thing with Patrik Laine that I love is that he's always in a shooting position," TSN hockey analyst Martin Biron said. "He had four shots on net (vs. Belarus) and he probably had eight or nine shot attempts in the game, lot of missed nets too, but he's always ready to shoot the puck."
Matthews was shut out in his first world championship contest, a 5-1 loss to Canada, but was heralded by TSN Hockey Analyst Ray Ferraro as "among the U.S.'s best players in this game."
"I think we saw some from Auston Matthews that shows what type of player he's going to be as he moves through this tournament and then in the infancy of his NHL career," Ferraro said.
Matthews' strong play continued in his next contest to the tune of a two-goal, three-point performance in a 6-3 win over Belarus.
For nearly an entire calendar year Matthews has been the presumptive No. 1 pick in the draft, however, magnificent performances from Laine at the World Junior Hockey Championship and two games into the world championship have analysts and fans wondering whether the American can be knocked off his perch when the Toronto Maple Leafs take to the podium for the first selection.
"I think that there's a window of opportunity for Patrik Laine," TSN Hockey Insider Darren Dreger said. "You're looking for a foundational piece and the Toronto Maple Leafs desperately need a top-line centre and the hope is that Auston Matthews would quickly develop into that but Patrik Laine has been impressive when you look in the areas of dominance - the world juniors, the under 18s and perhaps here as well. If he takes the world by storm perhaps he closes that margin a bit."
The Leafs will get their man at No. 1, whoever that may be, and the Winnipeg Jets' will have a potential superstar waiting for them at No. 2.
Laine has been the better player through two games - if not just by point production - but if Matthews' progression is any indicator, this race is far from over and certainly won't come down to one game.
Get your popcorn ready.