Red Wings' Athanasiou weighing KHL offer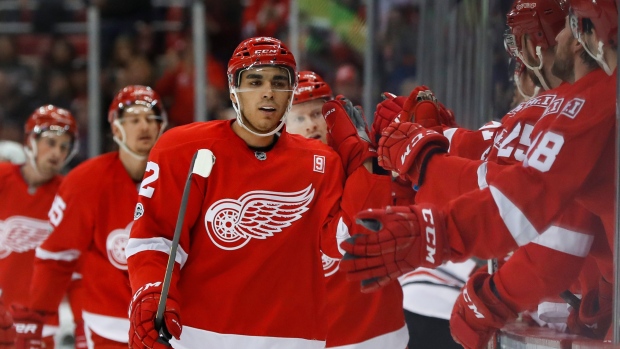 Detroit Red Wings restricted free agent Andreas Athanasiou is considering playing in the KHL this season, his agent confirmed to The Athletic Detroit.
"I have received a considerable offer that is significant," Athanasiou's agent, Darren Ferris, texted Craig Custance of The Athletic.
Red Wings general manager Ken Holland said earlier this month the team had extended multiple offers to the 23-year-old centre, but the two sides have yet to come to an agreement.
Athanasiou scored 18 goals and added 11 assists in 64 games with the Red Wings last season. He debuted during the 2015-16 campaign and scored nine goals and 14 points in 37 games.
A fourth-round pick in the 2012 NHL Draft, Athanasiou is one of 15 restricted free agents yet to re-sign this off-season. Should he move to the KHL, the Red Wings would retain his NHL rights and if he were to return to the league, he would once again be a restricted free-agent with the club.
Holland has said the Red Wings expect a cap crunch ahead of the season, which could force the team to move a player if Athanasiou re-signs.
The KHL season began on Monday.