Red Wings hand Golden Knights first loss
Gustav Nyquist scored twice and the Detroit Red Wings had four goals in the third period to beat the Vegas Golden Knights 6-3 on Friday night, handing the NHL's newest franchise its first loss.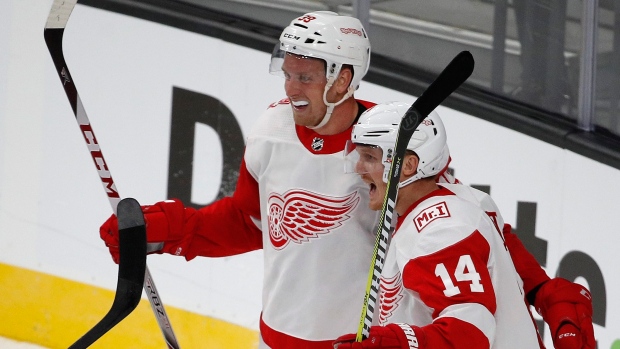 LAS VEGAS — Red Wings coach Jeff Blashill put a lot of weight in this four-game road trip. A season after missing the playoffs for the first time in 25 years, Detroit was hoping a strong start could help chase away some of that disappointment.
So far, so good.
Gustav Nyquist scored twice and the Red Wings had four goals in the third period to beat the Vegas Golden Knights 6-3 on Friday night, handing the NHL's newest franchise its first loss.
The Red Wings finished their trip with back-to-back wins after beating Arizona on Thursday, overcoming James Neal's sixth goal of the short season for Las Vegas to improve to 4-1-0.
"You can't play from behind in this league in the standings, you can't be climbing all year," Blashill said. "We knew when we looked at our schedule, the stretch in the beginning of the year it was a lot of road games, and the stretch at the end of the year there's a lot of road games. So, quick starts are a big factor in success."
Henrik Zetterberg finished with a goal and two assists for Detroit.
"I think the start we had last night was nothing we're proud about," Zetterberg said. "I thought tonight didn't go perfect, but it was better. I thought (goaltender) Petr (Mrazek) played well, made some key saves. Good to see."
Vegas (3-1-0) is the first NHL expansion team to win its first three games.
Mrazek made 24 saves for the Red Wings, while Marc-Andre Fleury had 21 saves for Vegas.
After killing a penalty early in the third, Detroit's Frans Nielsen and Zetterberg worked a 2-on-1 to perfection, ending with Nielsen poking what ended up being the winning goal past Fleury to make it 4-3.
Less than four minutes later, Nyquist jabbed in a loose puck after Fleury made a save on Anthony Mantha. Luke Glendening's goal with 5:04 left finished the scoring.
It marked the first time Fleury allowed six goals since Jan. 14, while he was with the Pittsburgh Penguins and also against the Red Wings.
The Wings tied it early in the third when Mantha snagged a loose puck headed toward the point, spun around and shot it past Fleury.
Erik Haula's tip off Luca Sbisa slipped past Mrazek to give the Knights a 3-2 lead late in the second period.
The Red Wings outshot Vegas 27-26, including 12-6 in the third period, when they outscored the Knights 4-0.
Neal had joined Real Cloutier of the Quebec Nordiques as the only players in the expansion era to score five or more goals in an expansions team's first three games.
The Golden Knights also continued to struggle to capitalize on power-play opportunities, going 0 for 3. They're 1 for 17 in such situations.
"If you're getting shots and getting good looks and things are moving, things are good," Neal said. "If you're being creative and wearing their top players down, then you're doing a good job. Sometimes, the goals just don't come. Sometimes, you just need to be a little more shot focused and keep it more simple than you usually would, not worried about trying to make difficult passes or back-door plays. Just continue shooting the puck."
Trailing 1-0, the Golden Knights had plenty chances in the first period, with nine shots on goal, including several open looks at the net.
NOTES
The Red Wings end their four-game trip and return home for one game against Tampa Bay on Monday, before heading to Toronto on Wednesday. Detroit plays 12 of its first 17 games away from home. ... Detroit defenceman Trevor Daley's next game will be the 900th of his career. ... Tomas Nosek, who scored the Knights' first-ever goal at home, was taken from the Red Wings during the expansion draft on June 21. ... Vegas coach Gerard Gallant spent most of his 615-game NHL career with Detroit, where he had 467 points in 563 games from 1984-93. ... Fleury became the 27th goaltender in league history to reach 40,000 minutes.
UP NEXT
Detroit: Hosts Tampa Bay on Monday.
Vegas: Hosts Boston on Sunday.
___
More AP hockey: https://apnews.com/tag/NHLhockey