Red Wings' Zetterberg has four assists as Leafs show little in loss
Penalties and turnovers turned to a cascade boos as the Toronto Maple Leafs turned in an uninspired performance against the Detroit Red Wings. One fan even threw his blue and white jersey on the ice in protest.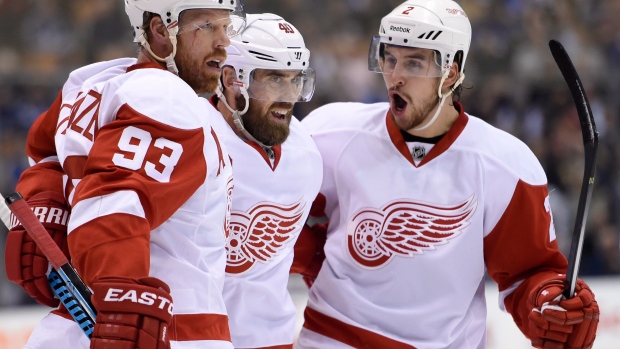 TORONTO - Booed off the ice at the second intermission, the Toronto Maple Leafs watched another blue and white jersey get hurled to the ice in the third period.
They weren't happy about that or their performance in a 4-1 loss to the Detroit Red Wings.
"Any time you lose in the National Hockey League, as players, we're not happy about it," captain Dion Phaneuf said Friday night. "The fans have a right to be upset. They come to support us, they want to see winning hockey and we want to win for them. But when we don't play well, it's unfortunate when jerseys are thrown on the ice."
It was a night of frustrating turnovers, penalties and missed assignments for the Leafs (2-3-0) as they hung goaltender James Reimer out to dry. Coach Randy Carlyle estimated his team turned the puck over 11 times and went offside four times just in the first period.
"For whatever reason, we find ways to make life more difficult for ourselves, and that's the most frustrating part," Carlyle said. "We played too much on our heels and in the defensive zone."
Defenceman Jake Gardiner said, "it seemed like (the Red Wings) had more players on the ice than we did."
That's never a good sign.
It didn't help that Henrik Zetterberg was at his best, finishing with four assists including the primary one on each of the Red Wings' first three goals. The captain called his last game Wednesday against the Boston Bruins one of the worst of his career and avenged it in a major way against the Leafs.
"It was nice to feel better today and bounce back a little bit," Zetterberg said.
Zetterberg took advantage of a turnover by Roman Polak to set up Johan Franzen's first of the night, then made the most of a bad change by Morgan Rielly for Franzen's second. Zetterberg won a race to a puck on Nyquist's fourth goal in four games this season, and he picked up a secondary assist on Justin Abdelkader's goal with Cody Franson standing frozen in front of the net.
Detroit coach Mike Babcock called Zetterberg his team's "catalyst." Jimmy Howard made 23 saves but wasn't tested much in goal.
Down at the other end, Reimer wasn't at his sharpest in allowing four goals on 35 shots.
"I don't think we played up to the standard that we're capable of, and myself included," said Reimer, who was making his third straight start. "I got to find a way to come up with a couple big saves there to keep it close."
Carlyle, whose comment about Reimer's play being "OK, just OK" in a game late last season at the Red Wings caused an uproar, absolved his goaltender of much of the blame in this loss.
"Two goals were goal-mouth passes so we obviously missed assignments," Carlyle said. "You can't blame your goalie for scoring from the crease, tap-ins."
Jonathan Bernier is expected to start when the Leafs visit Joe Louis Arena on Saturday night for the second half of this back-to-back. Babcock said ex-Leafs goaltender Jonas Gustavsson will get the nod for the Red Wings (2-1-1).
The Leafs will not have winger Brandon Kozun for that game and quite possibly for a long time after he suffered what appeared to be a high-ankle sprain. Carlyle said Kozun will have an MRI on his left ankle Saturday, something that means either Matt Frattin or Carter Ashton will be in the lineup in Detroit.
It could be both if forward Daniel Winnik, who left the game with an upper-body injury, cannot play.
Kozun was the most pleasant surprise of training camp and had been one of the Leafs' best penalty-killers so far this season. He was part of Toronto's 5-for-5 effort Friday night before getting injured.
Franzen, whose two goals were his first of the season, left in the second period with leg spasms but said he'll probably play Saturday.
"It just cramped up, the whole side, a really tight spasm," Franzen said. "It relaxed a little bit, I got out for the next shift and it just seized up on me. As soon as I pushed it just cramped up on me, so hopefully it goes away tomorrow."
Mike Santorelli scored the Leafs' only goal, infusing some life into Air Canada Centre 21 seconds into the third. It quickly dissipated, and then more than halfway through a fan tossed his jersey onto the ice.
It's the second time in four home games this season that a fan has done that.
"It's not the majority of fans, it's one or two fans that are displeased and they want to show their displeasure that way, but I don't agree with it," Phaneuf said.
Not agreeing with it doesn't mean Phaneuf disagreed with the displeasure itself. Other than the penalty kill, there wasn't much for the Leafs to be thrilled about in this defeat.
"Every game things aren't going to go our way," Phaneuf said. "When the momentum shifted against us, it seemed to be a hill that we just couldn't overcome and we have to work on that."
Notes — This was the first of eight Friday night games for the Leafs this season and first of three at Air Canada Centre. In the past nine seasons dating to the 2004-05 lockout, Toronto hosted a total of three Friday night games. ... Several new Canadian citizens were sworn in at a ceremony at centre ice earlier in the day, and they helped anthem singer Doug Tranquada sing "O Canada."
---
Follow @SWhyno on Twitter