Remembering Canadian Golf Hall of Famer Dan Halldorson
TSN's Bob Weeks remembers that the affable Dan Halldorson always seemed to have a smile on his face and a good story on his lips. Halldorson passed away on Thursday at age 63.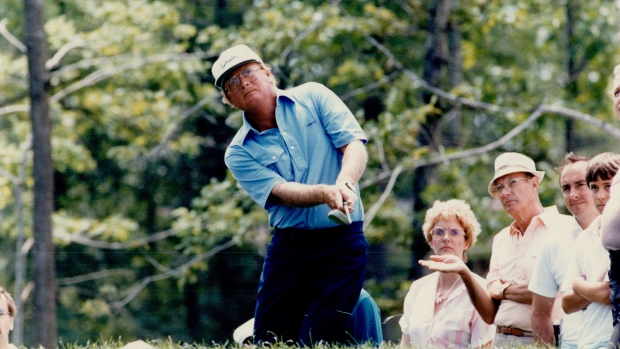 Few people loved Canadian golf more than Dan Halldorson.
The Winnipeg-born, Brandon, Man.-raised golfer found success around the world but also loved playing courses from coast to coast in his home country and, later in his career, helping the next generation of golfers from Canada find their stride.
The member of the Canadian Golf Hall of Fame died Wednesday at his home in Cambridge, Ill., after suffering a massive stroke on Monday. He was 63.
The affable Halldorson always seemed to have a smile on his face and a good story on his lips. It's hard to remember him ever being angry or upset – he just took each day as it came. And he was always ready for laugh.
One of the stories Halldorson loved to recount was when he found himself playing alongside Jack Nicklaus at the Golden Bear's own Memorial Tournament. In the starter's tent prior to teeing off, Nicklaus came up to the Canadian and offered an apology.
"Dan, listen I hope my crowd out there won't bother you today. You let me know if they do," he said referring to the massive gallery following the game's greatest player.

Halldorson nodded and accepted the words.
A few months later, however, Halldorson found himself partnered with Nicklaus again, this time at the Canadian Open. Unable to resist, the plucky Canuck approached Nicklaus in the scorer's tent and said, with a wry smile, "Listen Jack, I hope my crowd out there won't bother you today. You let me know if they do."
"He was just a good guy," said Dave Barr, who played on the PGA Tour alongside Halldorson for more than two decades. "We spent a lot of years out there travelling together. Nothing ever seemed to bother him. He was never worried about anything."
"We spent a life together in the golfing trenches," added Richard Zokol, tearing up while talking about his pal with whom he was on Tour for close 20 years. "We chased our dreams together and had a lot of fun golfing together. He was a great guy."
Halldorson turned pro at 20 and made it to the PGA Tour just two years later. He quickly learned that his game wasn't ready for the top league in the world and returned to Canada where he barnstormed on the old Canadian Tour, eventually winning seven times.
"Until I started winning in Canada, it was not possible for me to go back there," Halldorson said in a PGA Tour Canada interview. "Once I started winning in Canada I got more confidence in my ability and then it was time to go to the next level."
A more seasoned Halldorson returned to the Tour in 1979 and played for the next 20 years. He won once at the 1980 Pensacola Open and also notched a second victory at the Deposit Guaranty Golf Classic in 1986. That latter win was not considered official by the Tour as it was played opposite the Masters. In 431 starts, he earned more than $1 million.
Perhaps his biggest wins, however, came while representing Canada in the World Cup. Halldorson twice claimed the championship in the team event, the first time in 1980 with Jim Nelford and then again in 1985 while teamed with Barr.
"He was a great teammate," Barr said. "You knew you could always count on Dan."
Halldorson continued playing sporadically on the PGA Tour through 2003. He also briefly played on the Champions Tour, making nine starts between 2002 and 2004.
Perhaps his biggest contribution to Canadian golf came after he retired from playing and took over as deputy director of the Canadian Tour. Halldorson oversaw the tournament operations of the circuit, travelling with the tour week by week. Along the way helped mentor many top young players as they worked their way through the early stages of their careers.
"He was always a guy I chatted with during my time on the Canadian Tour with regards to golf and life as a pro," said Graham DeLaet. "I know he was always cheering for me...he was a beauty."
In fact, if it wasn't for Halldorson, it's very likely there would be no northern circuit, now known as the Mackenzie Tour-PGA Tour Canada. In 2010, with the tour bordering on bankruptcy, he brokered the deal that saw the PGA Tour take over the circuit and make it part of the PGA Tour family.
"His impact goes from the Canadian Tour as a player to the PGA Tour to the World Cups he was winning and then back to the Canadian Tour," Zokol said. "He did it very softly, very quietly. He was such a great guy."
Appropriately, Halldorson's wife, Pat, has said she will take her late husband's ashes to St. Andrews, where they will be spread at the home of golf.