Report: Anthony's camp hopeful for trade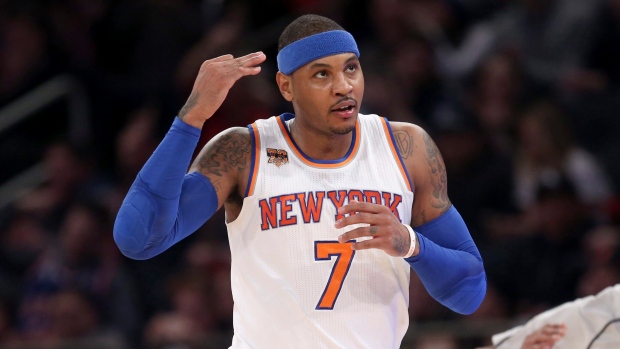 Carmelo Anthony's camp is cautiously optimistic the New York Knicks will get a deal done sending him to the Houston Rockets before media day on Monday, reports Frank Isola of the New York Daily News.
Isola also added that mentally, Anthony has already moved on to Houston.
Anthony and the Knicks have been in a holding pattern all summer amid Anthony's apparent refusal to waive his no-trade clause for any team but the Houston Rockets. A deal between the Knicks and Rockets was reportedly close in July, but talks cooled off due to the Knicks' refusal to take on the remaining three-years and $60 million left on forward Ryan Anderson's contract.
There was also talk of the Portland Trail Blazers having interest in a trade for Anthony, but those rumours have since died down.
Multiple reports indicate a feud emerged between Anthony and the Knicks last season centering around comments ex-team president Phil Jackson made about Anthony's play style. Jackson later said it would be in the best interest of both parties if Anthony played elsewhere in 2017-18.
While Jackson has since moved on, Anthony has not – yet. About 15 players have been seen working out at the Knicks' facility, but Anthony was not one of them.
Last season, Anthony averaged 22.4 points per game – lower than his career average of 24.8 – and shot 19 per cent below his career field goal percentage of 45.2.
The Knicks went a disappointing 31-51, missing the playoffs for the fourth straight season.