Report: Anthony still expects to be traded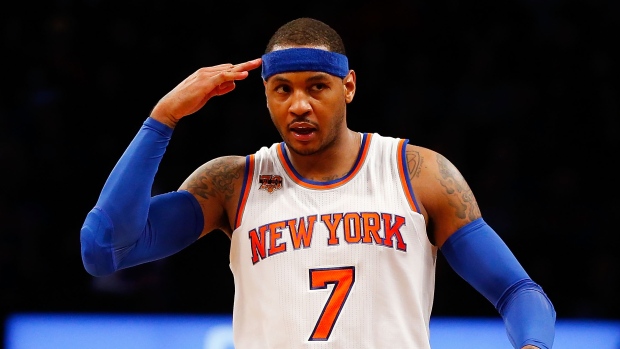 Carmelo Anthony still expects to be traded to the Houston Rockets, according to a report from ESPN's Adrian Wojnarowski.
Trade talks between the Knicks and Rockets have died down over the past couple of days after a trade sending Anthony to Houston was reportedly "at the two yard line."
ESPN reports that the delay in trade talks is a combination of front office turnover for the Knicks and disappointment in proposed returns for the 10-time All-Star. Part of the holdup in the deal seems to be the Rockets' desire to move forward Ryan Anderson – who is owed roughly $60 million over the next three seasons in comparison to Anthony's $54 million over the next two – and the Knicks' unwillingness to take on Anderson's contract.
Reports suggest that Anthony, who has a no-trade clause, will approve a trade to the Rockets or the Cleveland Cavaliers.
The relationship between the Knicks and Anthony has deteriorated over the past several months. Ex-president of basketball operations, Phil Jackson, was previously critical of Anthony's play style and indicated that he should move on from the Knicks. This seemed to spark a public feud between the two.
The Knicks hired their new general manager Scott Perry and promoted ex-GM Steve Mills to team president earlier this week after Jackson's dismissal.
For a trade to work out between the Rockets and the Knicks, a third (and possibly fourth) team may have to be involved.
A potential third team to facilitate Anthony becoming a Rocket was thought to be the Portland Trail Blazers, but Wojnarowski reports that may not be the case. In fact, the Blazers would reportedly only be open to participating in an Anthony trade if they land him. In today's NBA of superstar-laden teams, a core of Anthony, Damian Lillard and C.J. McCollum would certainly turn heads. Whether Anthony would allow a trade sending him to Portland is unclear at this point.
Last season was among the most disappointing for the Anthony and the Knicks, finishing at 31-51 and missing the playoffs by 10 games.
Anthony averaged 22.4 points per game – lower than his career average of 24.8 – and shot 19 per cent below his career field goal percentage of 45.2.