Report: Buccaneers to hold kicker workouts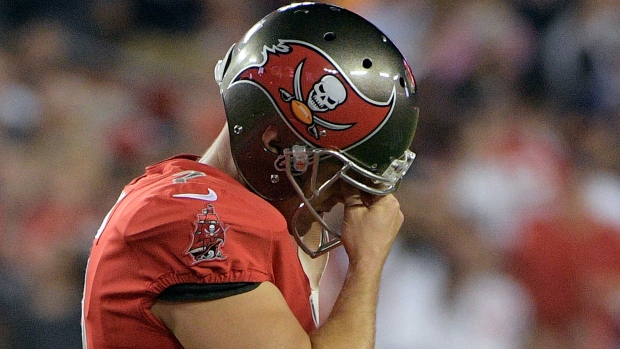 It looks like the Tampa Bay Buccaneers are done with kicker Nick Folk after last night's three missed field goals in their 19-14 loss to the New England Patriots.
While head coach Dirk Koetter said there would be "no rash decisions" regarding Folk's future, they are arranging kicker workouts reports NFL.com's Ian Rapoport.
Andrew Franks and Mike Nugent will be at the workouts, in addition to two or three others, according to Rapoport.
ESPN's Adam Schefter tweets that the workout is expected to be held Monday and any moves related to Folk will be made following the workout.
"I left points out there. We should have won the game. 20-19. This one's on me," Folk told ESPN.
Folk's struggles haven't been limited to Week 5, either. He missed two field goals and an extra point the week before.
Franks was with the Miami Dolphins for the last two seasons, making 29 kicks in 37 attempts. Nugent is a veteran of 12 seasons and has kicked for the New York Jets, Arizona Cardinals, Buccaneers and Cincinnati Bengals, converting 236 of 292.
The Bucs will visit the Arizona Cardinals next week.