Report: Butler wants trade to Heat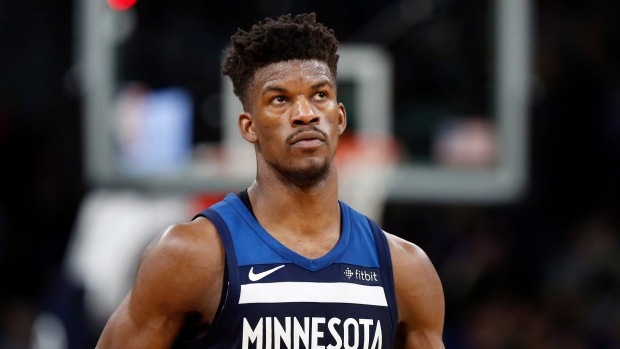 Jimmy Butler appears to have set his eyes on South Beach.
According to Marc Stein of the New York Times, Butler and his agent have informed the Minnesota Timberwolves that the Miami Heat are the shooting guard's preferred destination in a trade.
Stein adds the Heat are among the as many as 20-plus teams to inquire on Butler's availability in a trade and have pursued him aggressively.
ESPN's Adrian Wojnarowski reports that Miami has been the "most engaged" team with the T-Wolves.
Butler requested a trade from the Timberwolves last week, when it was reported he listed the Brooklyn Nets, New York Knicks and Los Angeles Clippers as the three team's he'd be open to signing an extension with. Wojnarowski reports that neither the Clippers, nor the Nets, have traction with the Timberwolves on a potential deal.
Butler can opt out of his current contract at the end of the season and become a free agent.
Butler arrived in Minnesota in a 2017 draft day trade with the Chicago Bulls for Zach LaVine, Kris Dunn and the the No. 7 pick that turned out to be forward Lauri Markkanen. The T-Wolves also received a first-round pick in the deal, which became centre Justin Patton.
In 59 games for the Timberwolves last season, Butler averaged 22.2 points per game on 47.4 per cent shooting. Butler's arrival helped guide the T-Wolves to a 47-35 season, which was their highest win total since 2003-04. They were bounced by the Houston Rockets in five games in the first round.
According to multiple reports from throughout the summer, Butler and teammate Karl-Anthony Towns do not see eye to eye, but it remains to be seen if that played a role in his reported trade request. Andrew Wiggins' brother, Nick Wiggins, tweeted "Hallejulah" in response to reporter Shams Charania's tweet reporting Butler wanted to be moved. Though the tweet was later deleted.
Prior to his time in Minnesota, the four-time All-Star spent six seasons with the Bulls. The 29-year-old was selected No. 30 overall in the 2011 draft by Chicago.