Report: Chiefs' Charles goes back on IR
Chiefs running back Jamaal Charles is going back on injured reserve after developing swelling in his surgically repaired right knee, a person familiar with the decision told The Associated Press.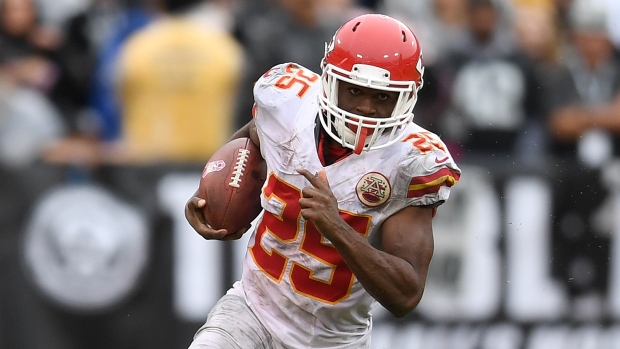 KANSAS CITY, Mo. — Chiefs running back Jamaal Charles was placed on injured reserve Tuesday after developing some swelling in his surgically repaired right knee, leaving Kansas City perilously short of depth at the position.
The four-time Pro Bowl running back will miss at least eight weeks, a person familiar with his situation told The Associated Press. That means Charles could return in time for the end of the regular season and the playoffs, assuming Kansas City (5-2) qualifies for the post-season.
The person spoke on condition of anonymity because the Chiefs have not announced the move.
Spencer Ware has been the primary fill-in for Charles since getting hurt in Week 5 last season, but he sustained a concussion in last Sunday's win in Indianapolis. He was still going through the concussion protocol and it's unclear whether he will be available against Jacksonville on Sunday.
With Charcandrick West the only other running back on the active roster, the Chiefs moved swiftly Tuesday to sign Bishop Sankey. The Chiefs tried out a few running backs before they settled on the former second-round pick, who has been on the Patriots' practice squad.
The Chiefs also cut linebackers Sam Barrington and Sio Moore on Tuesday.
The decision to put Charles on injured reserve was no doubt frustrating for the Chiefs and their career rushing leader. Charles returned to the field for off-season workouts over the summer and was part of training camp, even though the Chiefs took a slow-and-steady approach in his return.
Chiefs coach Andy Reid insisted through the first few weeks of the season that he wanted to make sure Charles was healthy before getting on the field. He finally played in Week 4 against Pittsburgh, and again the next two games, totalling 12 carries for 40 yards and a touchdown.
But he was inactive last Sunday against Indianapolis, and Reid said after the game that Charles was planning to consult with Dr. James Andrews to decide whether he had experienced a setback.
"We just can't seem to get that thing to where it needs to be for him to be able to play," Reid said. "We are trying to be as cautious as we possibly can with him."
Charles tore the ACL in his left knee in 2011, but returned the following season to have one of the best years of his career, appearing in every game and running for 1,509 yards and five touchdowns.
Reid said as recently as last week that he hoped to have Charles for the stretch run, though that was before the visit with Andrews and the move to put him on injured reserve.
"We'll need him as we go. I'm trying to be as patient as possible — be smart with it — is really what I'm trying to do," he said. "There's no game involved here. I'm just telling you what's real."
___
AP NFL website: www.pro32.ap.org and http://twitter.com/AP_NFL