Report: Estrada could stay with Jays after 2017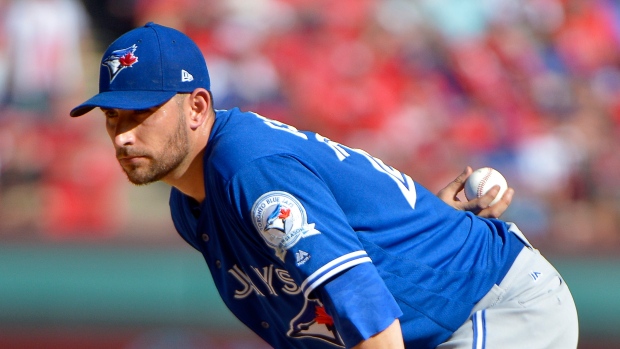 Just because Marco Estrada has been the centre of trade speculation for most of this season, it doesn't mean the starting pitcher is guaranteed to leave the Toronto Blue Jays once his two-year contract expires at the end of 2017.
Robert Murray of FanRag Sports reports the Blue Jays have interest in re-signing Estrada to extension.
"The player loves Toronto, the agent says publicly he doesn't want to go anywhere," a source within the Jays organization told Murray. "Frankly, we are open to extending him."
Another source outside of the organization said it wouldn't be a big surprise if Estrada is back with the Jays next season.
"Personally, I believe it's a matter of when, not if," the source said.
The native of Mexico was reportedly claimed off revocable trade waivers by an unknown team last week, but a deal never got done.
TSN Baseball Insider Steve Phillips said negotiating with just one team is never an easy task.
"When you have only one team to make a deal with, it isn't always the best negotiating position because you've got no alternative to hold against somebody in the negotiation," Phillips said on TSN Radio 1050's OverDrive. "The only alternative is, 'we'll pull him back' and that's kind of where they stand.
"The Blue Jays' stated goal this season was to win in 2017, when things started to go wrong and they approached the deadline, then the thought was, if not to win 2017, then what helps us win in 2018. They have to weigh any deal they can make of improving the organization against the win in 2017 (mindset). There's probably a level at which somebody could make a proposal in a trade for Estrada to get them to bite. But the reality is, is (the Blue Jays) are not getting any sort of an offer that matches their desire to win 2017, so they're going to walk away."
After the unknown team claimed Estrada, the Jays had 48 hours to either let the team have him as well as his remaining salary, work out a deal or pull the starter off waivers and keep him.
The 34-year-old has had his worst season in a Toronto uniform, but has picked it up as of late after struggling mightily in the first half. Estrada is 5-8 with a 5.09 ERA and 143 strikeouts over 139.2 innings pitched this season, his third with the team.
Estrada was acquired from the Milwaukee Brewers for first baseman Adam Lind prior to the 2015 campaign. His two-year, $26 million contract expires at the end of this season.
The Jays own a 59-64 record and sit four games out of the second wild card spot in the American League.