Report: Free-agent G Martin joining Spurs
A person with knowledge of the situation tells The Associated Press that free agent guard Kevin Martin has agreed to join the San Antonio Spurs.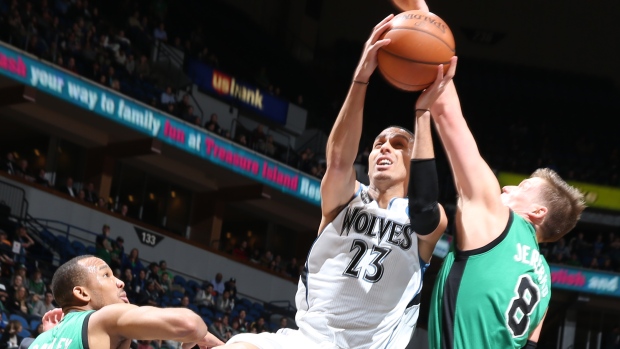 The San Antonio Spurs are adding some more offensive firepower to try to keep up with Golden State.
The Spurs are landing veteran free agent Kevin Martin, a person with knowledge of the situation told The Associated Press on Friday night. The person spoke on condition of anonymity because the move has not been officially announced.
Martin reached a buyout with the Minnesota Timberwolves on Tuesday and was eager to join a playoff contender. He made the decision to choose the Spurs and bring his perimeter shooting and scoring ability to one of the best teams in the league.
The 33-year-old Martin has forged a reputation as one of the most reliable perimeter scorers of his era. He struggled with a wrist injury early this season and never got on the same page with Timberwolves interim coach Sam Mitchell's system, two elements that conspired for his 10.6 points per game average and 37.7 per cent shooting. Those numbers are far below his career averages, of 17.6 points and 43.8 per cent shooting.
Martin is following fellow Timberwolves teammate Andre Miller, who was bought out two weeks ago, in coming to San Antonio. After Miller signed with the Spurs, he said the first Timberwolves player he heard from was Martin offering his congratulations.
Now, Martin moves from a team built around young talent and playing for the future to a team with the longest-running continuity in the league that is gunning for the sixth championship in franchise history.
The Spurs are off to the best start in their proud history, but their staggering 52-9 record is good for only second place in the Western Conference thanks to defending champion Golden State's historic 55-5 record. The Warriors handled the Spurs the last time the teams met, and Martin gives them another shooter off the bench who could also help ease Manu Ginobili's transition back after missing a month with a testicle injury.