Report: Holloway to defend title against Ortega at UFC 231 in Toronto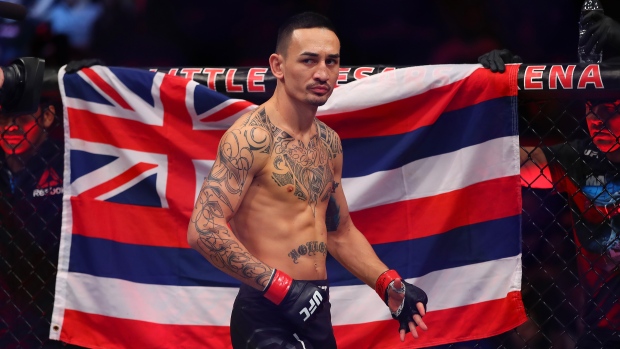 A featherweight title fight between champion Max Holloway and undefeated Brian Ortega has been verbally agreed upon to take place at UFC 231 at Scotiabank Arena in Toronto on Dec. 8, according to a report from MMA Junkie/USA Today.
The Hawaiian Holloway has had a year riddled with disappointment due to health concerns. He was scheduled to defend the title at UFC 222 this past March in Las Vegas against Frankie Edgar, but suffered a minor injury in February forcing him to withdraw. Ortega stepped in and defeated Edgar at the event to become the top contender.
Holloway was then booked just one month later to face Khabib Nurmagomedov for the lightweight title on just over a week's notice to headline UFC 223 in April. A win would have made him the second fighter to hold two belts simultaneously — Conor McGregor was the first to achieve this feat and Daniel Cormier did it this past July to become the second. However, Holloway's dreams of becoming a double champion were dashed one day before the fight, as the New York State Athletic Commission felt that Holloway could not safely cut any more weight and pulled him from the fight.
Holloway was subsequently booked for UFC 226 in July to defend his featherweight title against Ortega. During fight week, his team (as well as many covering the event) noticed that something was off with him. He wasn't speaking clearly at open workouts, and he looked sloppy. This was most apparent when he was slurring his words during an interview with Michael Bisping, who inquired whether everything was OK with him. Holloway was ultimately removed from the card three days prior to the event.
There has not been much clarification on what exactly Holloway's injury was. Some suggested he developed concussion-like symptoms during his fight preparation, while UFC President Dana White suggested it may have been water poisoning as a side effect from a practice called "water loading" which helps a fighter cut weight.
Since then, White has said that the UFC wanted to make sure that Holloway was completely healthy before fighting again and that it would proceed cautiously before scheduling him to fight again.
With Holloway reportedly returning at UFC 231, his fight with Ortega would likely be the main event unless the promotion can coax Georges St-Pierre to accept a fight on the card.
At age 26 (he will celebrate his 27th birthday four days before UFC 231), Holloway is on his way to becoming one of the all-time greats. He has won 12 straight fights, with his last loss coming to McGregor more than five years ago and holds a 15-3 record in his time with the UFC.
Up until this year, he had been competing as many as four times in a year. This will be the first time where he only competes a single time in a year during his UFC tenure.
His opponent Ortega is an undefeated 14-0-1 and has finished all seven of his UFC fights, one of which was overturned after a positive drug test for a banned substance.
Ortega presents an interesting puzzle for Holloway to solve, as his submission skills are among the UFC's best and his striking continues to improve dramatically each time he competes.
The 27-year-old Mexican-American has done good work outside of the octagon as well. He has started the Brian Ortega Foundation to help underprivileged youth, which has been supported by the likes of Robert Downey Jr.
Ortega grew up in the projects of Los Angeles and started the foundation to give back to his community.
Should the featherweight championship matchup between Holloway and Ortega be the headliner, it would be the second straight Toronto card to feature Holloway in the main event.
Holloway became the interim featherweight champion when he defeated Anthony Pettis at UFC 206 in December 2016, in the promotion's last event in Toronto. Since then Holloway has twice defeated all-time featherweight great Jose Aldo and established himself as the undisputed champion.
Holloway has since become a huge Toronto Raptors fan and is often seen wearing Raptors gear in promotional videos.