Report: Kiermaier to have thumb surgery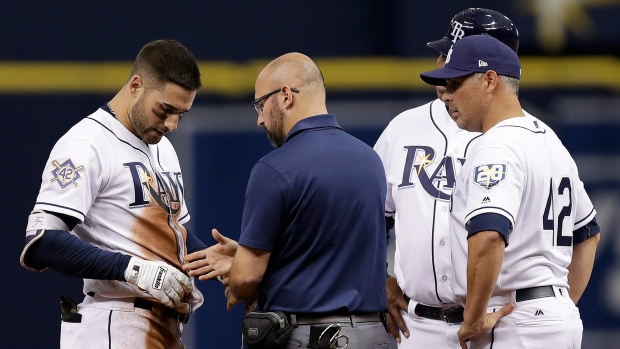 Tampa Bay Rays outfielder Kevin Kiermaier has a torn right thumb ligament and is expected to miss eight to 12 weeks according to Marc Topkin of the Tampa Bay Times.
Kiermaier was injured Sunday while sliding head first into second base in a 10-4 loss to the Philadelphia Phillies. Right-handed reliever Chih-Wei Hu has been called up in his place.
Kiermaier said he was expecting bad news but added "hearing those words that I'm going to be out for months at a time is really hard to take right now."
Rays manager Kevin Cash indicated the injury could keep Kiermaier out for a "chunk" of the season.
"It's beyond frustrating," Cash said after Sunday's game. "We are all tired of [Kiermaier] getting hurt and there's nothing he can do about. He goes about his business as hard as anyone in the game. It was a typical KK play. Busting around to second base. The guy bobbles the ball. You'd like to see a little more reward for that than missing significant time, but this is three years running now where there is a chance he's going to miss a chunk."
Kiermaier has missed extended periods of time the last two seasons, including a fractured hip last year and a broken left wrist in 2016.
The Rays have lost four straight and currently sit last in the American League East at 3-12. They will host the Texas Rangers Monday night at Tropicana Field.