Report: Ryerson centre Ngom declares for NBA Draft
Ryerson Rams centre Tanor Ngom has declared for the 2019 NBA Draft, according to Jonathan Givony of ESPN.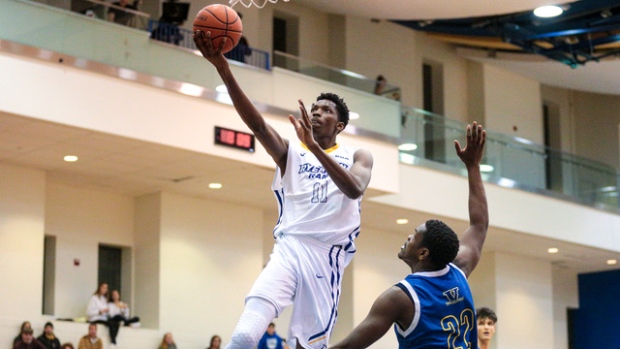 Ryerson Rams centre Tanor Ngom has declared for the 2019 NBA Draft, according to Jonathan Givony of ESPN.


Ngom enters the draft looking to accomplish something that hasn't been done in 25 years.
William Njoku of Saint Mary's became the first and only player to get drafted to the NBA out of a Canadian university when he went in the second round to the Indiana Pacers in 1994.
The 7-foot-2 Ngom took the Canadian basketball scene by storm in 2017 when he joined the Rams, giving them a towering presence that was unmatched by almost any other U SPORTS team.
With his immense height came big expectations, and he didn't disappoint in his freshman season. He averaged 5.8 points, 4.2 rebounds and 1.3 blocks in 12.8 minutes per game his first season with the Rams.
The native of Senegal was named to the OUA All-Rookie team and helped the Rams make the U SPORTS final, where they fell just short to the Calgary Dinos.
Ngom's status and presence went beyond Canadian basketball in the summer of 2018. He became the first U SPORTS player to attend the Nike Academy in Los Angeles, where he put on an impressive performance.
The Nike Academy is an annual event, where the best collegiate basketball players in North America gather for drills, workouts, film sessions, and scrimmages, all led by current and former NBA players.
Givony saw Ngom at the Nike Academy and spoke with Jordan Henry of the Muted Madness Podcast about the Ryerson centre.
"I thought he did a nice job. His lack of strength and experience showed at times but you can tell that he's been very well coached," Givony said.


The ESPN NBA draft analyst and reporter added, "He has good footwork and touch and knows to go up quickly when gets the ball around the basket. [He] needs to get better stepping outside of the paint defensively and moving his feet."
Ngom also had an opportunity to showcase his ability on a national stage when the Duke Blue Devils travelled to Toronto and played against Ngom and the Rams during their Canada Tour.
Ngom held his own against the Blue Devils with his 12 points, six rebounds and three blocks.
In 2018-19 all of his numbers went up and his blocks per game were tied for the most in the OUA. He averaged 11.3 points, 5.6 rebounds and 2.3 blocks in 19 minutes per game in his sophomore season.
Ngom acknowledged that a large part for his added success in his second season was his strength, pointing out that he added nearly 30 pounds between the end of his first year and the start of his second.
With the draft just two months away – June 20 – Ngom has a few key dates on his schedule before the big night.
The first being a stretch between May 15-19, when the NBA Draft combine will take place in Chicago, and then June 10, which is the last day that players have to withdraw their names from the selection pool.
It is still unknown what this decision does to his U SPORTS eligibility if he goes undrafted.