Report: Stackhouse to interview with Magic, Hornets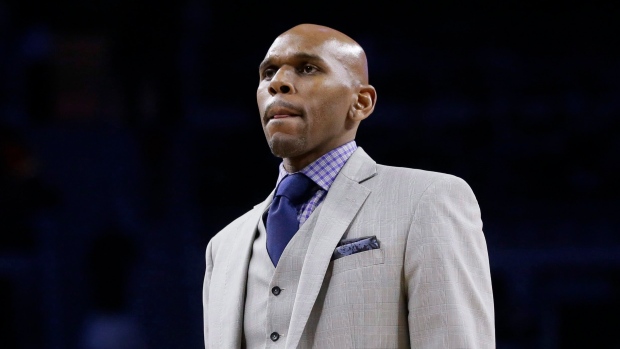 Jerry Stackhouse is a wanted man.
Yahoo! Sports' Shams Charania reports that the head coach of the Toronto Raptors' G-League affliate, Raptors 905, will be interviewed for coaching vacancies with the Orlando Magic and Charlotte Hornets.
ESPN's Adrian Wojnarowski revealed on Sunday that the New York Knicks had also lined up an interview with Stackhouse.
The 43-year-old Stackhouse has been at the helm of Raptors 905 for two seasons following one year as a Raptors assistant.
The 2017 G-League Coach of the Year, Stackhouse led Raptors 905 to back-to-back finals, winning the title in 2017 and falling last week to the Austin Spurs in this year's championship.
A native of Kinston, NC, Stackhouse was the third overall selection in the 1995 NBA Draft out of North Carolina by the Philadelphia 76ers.
Stackhouse played for 18 seasons in the NBA with the Sixers, Detroit Pistons, Washington Wizards, Dallas Mavericks, Milwaukee Bucks, Miami Heat, Atlanta Hawks and Brooklyn Nets, retiring in 2013. Stackhouse was an All-Star in 2000 and 2001.
The connection between the Magic and Stackhouse is an obvious one with Magic general manager Jeff Weltman having held the same position with the Raptors, making him familiar with Stackhouse. Reports last week emerged that the Magic could also seek an interview with Raptors assistant coach Nick Nurse.