Report: Stars emerging as favourites to land Karlsson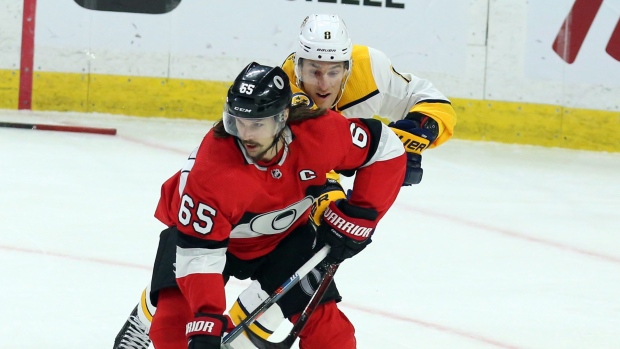 The Dallas Stars have emerged as the favourites to land highly-coveted defenceman Erik Karlsson from the Ottawa Senators, according to Chris Stevenson of The Athletic.
Stevenson adds that Sens forward Bobby Ryan would not be part of any deal between the two clubs.
Earlier on Tuesday, Bruce Garrioch of the Ottawa Sun reported that the Stars joined the Vegas Golden Knights, Tampa Bay Lightning, San Jose Sharks, and New York Rangers as the teams who were interested in acquiring the All-Star blueliner.
The report comes a day after the Senators opted to give teams permission to talk contract extension with Karlsson.
Senators general manager Pierre Dorion said Sunday that the club offered Karlsson an extension as originally planned. Karlsson is scheduled to become an unrestricted free agent next July 1 but is eligible to sign an extension now.
Dorion was tight-lipped regarding details of the offered extension.
"We don't really want to talk about roster players, contract negotiations, trades, all these things, but I think we owe it to our fans and we made a promise at the town hall that we would make a contract offer to Erik Karlsson and we've done so," said Dorion Sunday. "We're not going to talk any more about it, but we talked about it previously and that's about all we're going to say on the subject."
One thing Dorion did make clear is that the Senators don't plan to rush things this summer.
"We start (the regular season) Oct. 4, we've got lots of time," he said.
Karlsson's name has been the subject of trade rumours for months. He was close to heading to Vegas at the trade deadline according to TSN Hockey Insider Bob McKenzie, but the deal fell apart in the final stages.
The 15th overall pick in the 2008 NHL Draft, Karlsson has played nine seasons with the Senators. He had nine goals and 53 assists over 71 games last season in the nation's capital.
The 27-year-old has one year left on a seven-year, $45.5 million contract he signed ahead of the 2012-13 season. He will count $6.5 million against the cap next season.