TFC name Manning as president
Bill Manning, a two-time winner of Major League Soccer's Executive of the Year award with Real Salt Lake, has been named president of Toronto FC.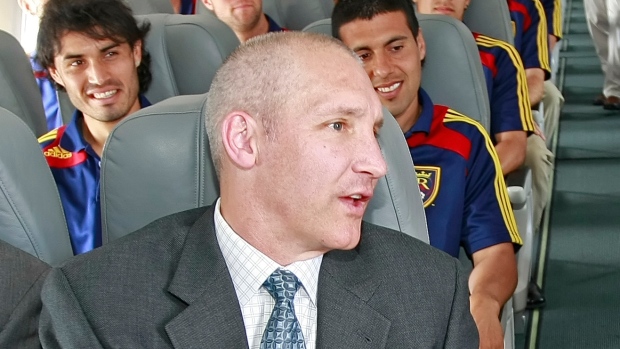 TORONTO - Bill Manning, a two-time winner of Major League Soccer's Executive of the Year award with Real Salt Lake, has been named president of Toronto FC.
The move leaves a president in charge in each of Maple Leaf Sports and Entertainment's prized assets: Brendan Shanahan with the Leafs, Masai Ujiri with the Raptors and now Manning with TFC.
"Just as we have worked to add star talent on the pitch to help build Toronto FC into a consistent contender in Major League Soccer, today we are thrilled to add an equally as important and impressive executive in Bill Manning to lead the club," Larry Tanenbaum, chairman of the MLSE board of directors, said in a statement Monday.
"Our ambition is to bring MLS championships to our fans in Toronto and adding a leader of Bill's calibre is another important part of that process and vision."
Manning will take over his new position on Friday, overseeing all TFC team and business operations.
Toronto has been without a president since firing Kevin Payne, who doubled as GM, in September 2013. Tim Bezbatchenko is Toronto's current GM.
Manning, who won the MLS's top executive award in 2012 and 2014, left his job as president of Real Salt Lake and Rio Tinto Stadium in August after eight years with the club. At the time, RSL said it was revamping its management structure.
Under Manning, Real Salt Lake won the 2009 MLS Cup and was runner-up in 2013. The club also thrived off the field.
"TFC has made important strides this season, as the club pushes for its first-ever playoff berth in a premier, newly renovated stadium, in front of some of the very best supporters in the league," Manning said in a statement. "I look forward to working with Tim Bezbatchenko, Greg Vanney and the TFC staff at this exciting time and I am grateful to Mr. Tanenbaum and the MLSE ownership for this opportunity to come to a world-class city, and club, to help make its championship vision a reality."
RSL is struggling this year, standing ninth in the Western Conference with an 11-12-8 record. Toronto, on the verge of its first ever playoff berth, is 14-13-4 and fifth in the more benign Eastern Conference.
A native of Massapequa, N.Y., Manning was an all-American soccer player at the University of Bridgeport. After college, he won a U.S. Open Cup with the Brooklyn Italians in 1991, and played professionally in the United Soccer League .
He also holds a U.S. Soccer National "A" Coaching Licence.
Manning began his career in sports management with the Continental Indoor Soccer League during its inaugural season in 1993. He subsequently moved on to the United Soccer League with the Long Island Rough Riders and then the Minnesota Thunder where he was named USL Executive of the Year in 1999.
He started in MLS in 2000 as president and GM of the Tampa Bay Mutiny.