Report: Wade, Cavs agree on one-year deal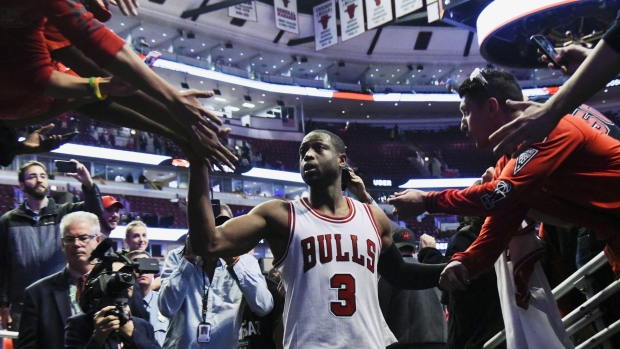 LeBron James is getting the band back together. Shams Charania of Yahoo Sports reports that Dwyane Wade has agreed on a one-year, $2.3M deal with the Cleveland Cavaliers. Wade will be a free agent on Wednesday when he clears waivers following his buyout from the Chicago Bulls.
A 12-time All-Star, Wade won NBA titles in 2012 and 2013 with James as members of the Miami Heat.
Wade spent one season with his hometown Bulls, signing as a free agent last summer after 13 seasons and three championships with the Heat.
In 60 games with the Bulls a season ago, Wade averaged 18.3 points, 3.8 assists and 4.5 rebounds in a career-low 29.9 minutes a night on .434 shooting.
Wojnarowski reports that Wade also gave consideration to the Oklahoma City Thunder and San Antonio Spurs, as well as a return to the Heat.
Over his 14-year career, Wade has averaged 23.3 points, 5.7 assists and 4.8 boards a game.