Riders will 'visit with' Collaros before Tuesday
Saskatchewan Roughriders head coach Craig Dickenson said Friday the team has not yet closed the door on bringing back quarterback Zach Collaros as the team's starter next season.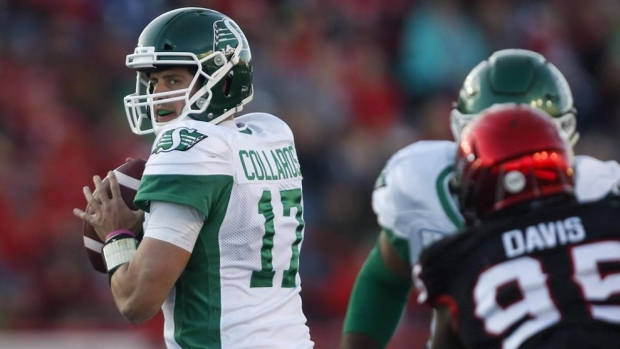 Saskatchewan Roughriders head coach Craig Dickenson said Thursday the team has not yet closed the door on bringing back quarterback Zach Collaros as the team's starter next season.
Collaros is scheduled to become a free agent on Tuesday, but Dickenson, who was hired last month to replace Chris Jones, told CHQR 770 Calgary radio the Roughriders will visit with Collaros before then.
"This has been quite the off-season with QBs. I shouldn't say all, but the vast majority of them are free agents. Everybody's in the same boat. We're kind of waiting to see how the dominoes fall," Dickenson said, per Rod Pederson. "I think once the first few guys sign, the other guys will wait to see what the market is for QBs and I think you'll start to see a lot of movement after that.
"But Zach Collaros, when he's on, he's as good as there is. I like his competitiveness. I like his toughness as a player. Whenever a guy gets a concussion, you're worried about that for the future and that's something we're concerned about. I think he's got a lot of good years left and we're going to visit with him. We want to take into consideration the guys we have on our team before we start looking elsewhere."
Collaros, 30, played in 14 games with the Roughriders last season, throwing for 2,999 yards with nine touchdowns to 13 interceptions. He missed the team's lone playoff game due to concussion symptoms.
TSN Football Insider Dave Naylor wrote last week that Jones was not interested in bringing back Collaros as the team's head coach and said the team could pursue Mike Reilly or Trevor Harris in free agency.
"If the Roughriders can't land Reilly or Harris via free agency, they could turn their attention to Jonathan Jennings, who has closed the books on his time with the BC Lions and is seeking a new home," Naylor wrote. "Word is Chris Jones wasn't interested in bringing back either Zach Collaros or Brandon Bridge. It would be hard for his successor to differ with that opinion after the way last season ended. David Watford is under contract for next season but remains a work in progress."
Dickenson, who served as the Roughriders' special teams coach for the past four seasons before being promoted to head coach, said on Thursday that he can't say what his roster will look like after Tuesday.
"This tampering rule is difficult," Dickenson said. "I'm going to be honest with you. You don't really know where you stand with anybody and the only way you figure that out is you have to talk with these people and you're not allowed to. I don't know. It would be nice to think that once Tuesday hits, you'd have a fair shot at them but you know a lot of them are [signed] by then. It's a difficult thing. It's a challenge to your staff but we're going to do our best to put our best foot forward and find the right guys for our football team."