Rumour Mill: What would a Karlsson trade look like?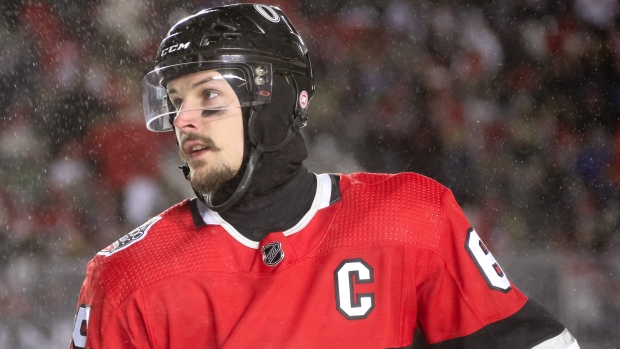 Keep up to date on the latest rumours and speculation around the NHL beat with TSN.ca's Rumour Mill.
Examining The Price
The Ottawa Senators have won their past two games after a massive tailspin, but remain 14th in the Eastern Conference with 29 points this season.
The team's struggles have thrown two-time Norris Trophy winner Erik Karlsson's name into the rumour mill. Karlsson is scheduled to become a free agent in 2019 and said earlier this month that he intends to pursue market value on his next contract, something that could be a problem for the cash-strapped Senators.
Kevin Allen of USA Today broke down multiple aspects of Karlsson's future, including his potential price on the market and argument for trading him this season.
Allen adds that Karlsson could almost double his salary in 2019 to $12 million per year and notes the Senators already have $14 million locked up in Dion Phaneuf and Bobby Ryan, while Cody Ceci and Mark Stone are both set to hit restricted free agency. In addition, Derick Brassard and Matt Duchene, the team's top two centres, are slated for free agency in 2019.
While the Senators can't open extension talks with Karlsson until July 1 (meaning the team is unlikely to deal him until they at least hear his price on an extension), Allen writes that Karlsson's $6.5 million cap hit would be manageable to some contenders for a playoff run this season and an in-season trade would give a buyer Karlsson for at least two playoff runs, raising his value.
Allen adds that the Senators' price for Karlsson would likely be a package made up of a young defenceman, a young centre, a first-round pick and more. The Senators are without a pick in the first or second round of next June's draft. Allen writes that if the Toronto Maple Leafs - strictly as an example - came asking for Karlsson, the price could be 2017 first-round pick Timothy Liljegren, William Nylander, multiple draft picks and another prospect.
But Allen believes the Senators' best option is to hold Karlsson until July 1 and gauge his contract expectations. He notes trading Karlsson will feel like the start of a rebuild for the Senators, who will not be able to replace him. If Karlsson declines the best offer the Senators have, the team should then look to trade him. Allen adds that Karlsson does desire to hit the open market in 2019, and therefore the Senators will trade him next season. He writes the Detroit Red Wings, Maple Leafs, Boston Bruins and New Jersey Devils could all emerge as potential land spots once Karlsson becomes a free agent.
---
Price Match
According to Brett Cyrgalis of the New York Post, Islanders general manager Garth Snow is in the market for a right-handed defenceman and he might just have enough assests to match the Senators price for Karlsson.
Cyrgalis notes that their some hurdles in a potential deal, such as whether the Islanders are on Karlsson's no-trade list, but believes Snow is ready to do whatever is needed to convince John Tavares to re-sign in Brooklyn.
The Islanders have two first-round picks and two second-round picks in June's draft thanks to the Travis Hamonic trade and a few highly touted prospects. While Cyrgalis notes that Mathew Barzal is off-limits in trade talks, he wonders if Senators general manager Pierre Dorion would be interested in Josh Ho-Sang, who the Islanders just returned to the minors.
Cyrgalis notes the Islanders would need to free up some cap room in a trade and believes moving Jaroslav Halak's $4.5 million expiring salary is an option for the Islanders. He wonders if Dorion would consider Ho-Sang, Halak, a first-round pick and a second-round pick for Karlsson. That return would fall well short of the price Allen listed above, but Cyrgalis argues it's move that would keep the Senators from entering a total rebuild upon trading their captain.
---
Decision Looming?
The Montreal Canadiens remain out a playoff spot and will have decide moving forward whether or not the team will be a seller at the trade deadline.
TSN Hockey Insider Bob McKenzie was asked last week whether 35-year-old Tomas Plekanec, playing in the final season of his contract, could have value on the trade market.
"Yeah, he'd have some," McKenzie told TSN Radio 690 Montreal. "You've got to weigh that. The Canadiens obviously want to try to make the playoffs, and in the division they're in they certainly have a chance to make the playoffs. So it might be a moot point where if you're right there for a playoff spot, you're probably not going to want to do anything that might jeopardize that. I think it's important for the Canadiens to try and make the playoffs.
"But you're right, if you fall out then a guy like Plekanec who is on an expiring contract – his name will go into the hopper with all of the other rentals. And then it's a matter of just simply looking at all of the rentals that are available and sort of slotting in where Plekanec fits, and then seeing what the highest-end guy is going to fetch in a trade and what the lowest-end guy is going to get, and where Plekanec fits in.
"And then you say to yourself, 'Hmm. Is it worth trading Tomas Plekanec for a second-round pick,' or a third-round pick, or whatever the market value is set at the time. And then you make an easy decision based on that."
Plekanec has spent his entire career with the Canadiens since the team drafted him 71st overall in 2001. He has four goals and 14 points in 33 games this season.