Russia beats Canada in overtime in first pre-tournament game
Canada's world junior team dominated the play in its first pre-tournament game Friday night against Russia. But players on the bubble did little to distinguish themselves and forwards Jason Dickinson, Michael Dal Colle, and Rourke Chartier, along with defenceman Haydn Fleury were cut after the game. First-liners Anthony Duclair and Max Domi were the best players on the ice in a 2-1 overtime loss to Russia at Air Canada Centre.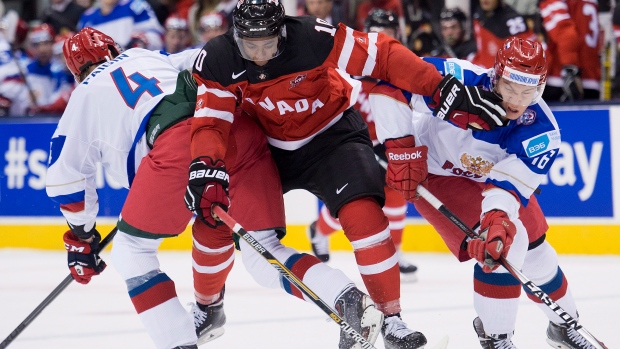 TORONTO - The top line of Max Domi, Sam Reinhart and Anthony Duclair showed off some flashes of brilliance as Canada's world junior team dominated the play against Russia in its first exhibition game Friday night.
A 2-1 overtime loss was the end result, but outshooting Russia 53-20 left Canada's players and coaches feeling good about this first impression. Nothing was better than the play of the first line.
"We built some instant chemistry," said Duclair, who was robbed of two goals by Russian goaltender Ilya Sorokin. "It goes back to the summer camp, I think Max, Sam and I have some pretty good friendship off the ice and I think it translates well on the ice as well."
Canada made its final cuts less than two hours after the game, releasing forwards Michael Dal Colle, Jason Dickinson and Rourke Chartier along with defenceman Haydn Fleury. All that's left is the 22-man roster, which includes Curtis Lazar from the Ottawa Senators.
"We came to the conclusion that it was time to get our team together," coach Benoit Groulx said. "With the addition of Curtis yesterday, we feel that we're all set to announce our team. That's why we decided to make the decision tonight."
Sorokin was the star of the exhibition game with his 52 saves. Sault Ste. Marie Greyhounds forward Sergey Tolchinsky scored for Russia in regulation when Reinhart knocked the puck into his own net, and Alexander Sharov had the overtime winner.
But the result wasn't as important to Groulx as the process.
"I thought we skated well, we pushed the pace, we did a lot of good things with and without the puck," Groulx said. "Obviously we had our chances, their goalie was phenomenal, but for a first game for us, we're quite happy with the effort and the chances we had."
Duclair and Domi had some of the best chances. Domi, son of former Toronto Maple Leafs star Tie, set up defenceman Josh Morrissey for Canada's only goal of the game.
"We had a lot of grade-A scoring chances," Domi said. "Sometimes that happens, you run into a hot goalie. But you've just got to be a little bit more resilient and we should be fine."
Canadian goaltender Zach Fucale blamed himself for not squeezing the puck on Russia's power-play goal that went in off Reinhart. But Groulx said Fucale played well in making 18 saves.
Fucale was starting on the same day he was traded in the Quebec Major Junior Hockey League from the Halifax Mooseheads to the Quebec Remparts.
"Sometimes days like that happen," Fucale said. "You've just got to zone everything out and make sure you're ready to play."
Fucale said the whole team was ready to play, and with a strong start one of the priorities, it's hard not to be satisfied.
"We were expecting to score a little more for the number of shots we put on the goal," centre Frederik Gauthier said. "The goalie was really good. But in general our performance, I think, was pretty good. Our coach is happy and I think we're happy about our performance, too."
Canada will travel to Ottawa to play its next exhibition game Sunday at Canadian Tire Centre in Ottawa against Sweden.
That game is expected to feature Canada's real lineup. Forwards Lazar, Connor McDavid, Nic Petan and and defenceman Joe Hicketts were held out of Friday night's game against Russia.
After playing Sweden, Canada will face Switzerland in its final exhibition tune-up Tuesday at Bell Centre in Montreal. The tournament gets under way Boxing Day when Canada goes up against Slovakia.
---
Follow @SWhyno on Twitter