Savard, Blue Jackets double up Oilers
Defenceman David Savard had two goals, and the Columbus Blue Jackets scored on their first two shots on their way to a 6-3 victory over the Edmonton Oilers on Friday night.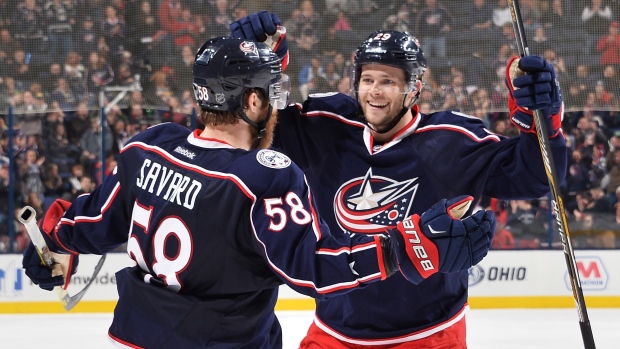 COLUMBUS, Ohio - With Columbus coming off a three-day break following a tough loss, coach John Tortorella was concerned the Blue Jackets would come out flat against the streaking Edmonton Oilers.
His team had other plans.
"We told him not to worry," forward Scott Hartnell said. "We got it."
Defenceman David Savard had two goals, and Columbus scored on its first two shots on its way to a 6-3 victory on Friday night.
Hartnell and Boone Jenner each had a goal and an assist as last-place Columbus won for the third time in four games. Cam Atkinson and Fedor Tyutin also scored, and Joonas Korpisalo had 25 saves.
"Our mindset was to come out strong at the start," Savard said. "We did that. Everybody did a great job tonight and everybody played well."
Connor McDavid had a goal and an assist for Edmonton, which had won three in a row. McDavid, the No. 1 overall pick in last year's draft, has eight goals and 14 assists in 17 games since returning from a broken left collarbone.
Taylor Hall and Leon Draisaitl also scored, but it was a rough night for 22-year-old Edmonton goaltender Laurent Brossoit, playing just his second game this season and the third of his career.
"I would have liked to have been sharper earlier," Brossoit said. "That second one I let back killed momentum.
"Tonight I would have liked to make some big saves to kill momentum, and I didn't do that. I am going to learn from my mistakes and take the positives."
The Blue Jackets jumped in front at 1:54 of the first period when Brandon Dubinsky picked up a deflected puck and backhanded it through the legs of Oilers defenceman Darnell Nurse to Atkinson for his 21st goal of the season.
Goal No. 2 came just 50 seconds later when Brandon Saad fed Savard for his second goal of the season.
Draisaitl got the Oilers on the board at 4:35 of the second period on a deflected goal. It was set up by Adam Pardy and Patrick Maroon, both of whom joined Edmonton less than a week ago.
That turn in momentum lasted just 10 seconds, with Hartnell feeding Tyutin on the Jackets' next trip down the ice. The defenceman's first goal since March 12, 2015, a span of 65 games, made it 3-1.
"Response goals are momentum killers," Oilers defenceman Brandon Davidson said. "They did a great job. They came and executed their plan and we didn't.
"We have to step up our game make sure we take care of things. We let them stick around and play their game. That wasn't the plan coming in here. It was disappointing for sure."
Edmonton's Nail Yakupov went off at 10:05 for a tripping penalty, leading to a power-play goal for Jenner. The goal survived a challenge by the Oilers, who felt Jenner was offside on the play.
Seth Jones' tripping penalty with 2:05 left in the second period led to a power-play goal for Hall off a feed from McDavid.
But the Jackets responded 34 seconds later. Alexander Wennberg forced a turnover at the blue line and fed Hartnell, who slipped it past Brossoit with 16 seconds left.
The Oilers made it 5-3 when McDavid snuck a shot behind Korpisalo at 16:38 of the third, but the Jackets came back 35 seconds later when Savard buried his second goal.
"I thought it was a sloppy game," Tortorella said. "They are a dangerous team. They put a lot of pressure on you that way. It's important you come back and answer or it could be a different result."
NOTES: Edmonton's Darnell Nurse missed much of the first period after a stick to the eye required stitches. ... Columbus is the only team in the NHL with four 20-goal scorers — Atkinson, Saad, Jenner and Hartnell. ... The Oilers are in the middle of a four-game road trip, having won the first two games against Buffalo and Philadelphia. ... With his second assist on Savard's goal, Matt Calvert earned his 100th NHL point.