Scott Holtzman: From hockey to 'Hot Sauce'
UFC lightweight chased a pro hockey career before making his mark in the octagon, Aaron Bronsteter writes.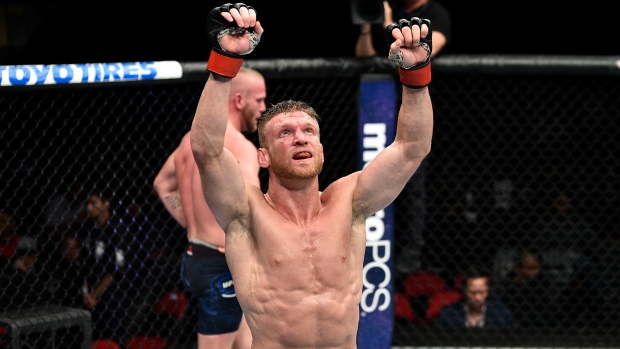 Before he ever considered a career as a mixed martial artist, UFC lightweight Scott 'Hot Sauce' Holtzman was chasing his hockey dream in small professional leagues across the United States.
When you think of hockey hotbeds in North America, Tennessee is likely one of the last places that comes to mind. At age nine, living with his single mother in Knoxville before the Nashville Predators had come into existence, a young Holtzman took a liking to the sport.
"I had some neighbours who played a little bit of hockey and they had gotten a letter in the mail for an ice hockey camp here in Knoxville for the Cherokees, the local pro team in the ECHL," said Holtzman in a recent interview with TSN.ca. "They put it in my mailbox instead of theirs. I ended up stealing the letter from them. I never gave it to them and I ended up going to the camp that they had there, you could rent the equipment and everything."
While Holtzman had learned to enjoy hockey from playing on the streets with his neighbours, he had never skated before that camp.
"It was a complete disaster. I had to have somebody show me how to put all the gear on," laughed Holtzman. "But I made it through with a newfound love for hockey and ever since, I've always loved hockey. I stuck with it and got pretty good at it for living down in Tennessee."
Sensing his passion for the game, Holtzman's mother gave him $1,000 she inherited after the death of a family member to buy his first full set of gear. He bought the equipment from a mail-order magazine and accidentally purchased everything in sizes that were too big, which ended up helping him save money because it lasted him from Peewee to Midget.
Holtzman got good enough to play travel hockey in the southeastern states. A roller hockey rink opened in his town when he was 14, giving him additional opportunities to polish his skills.
He ended up playing against future NHLers Bobby Ryan and Patrick Maroon in the North American Roller Hockey Championships (NARCh), the world's biggest roller hockey tournament, which attracts professional hockey players because of its cash prizes. Holtzman played in the NARCh every year starting when he was 16 and continuing until he was 22.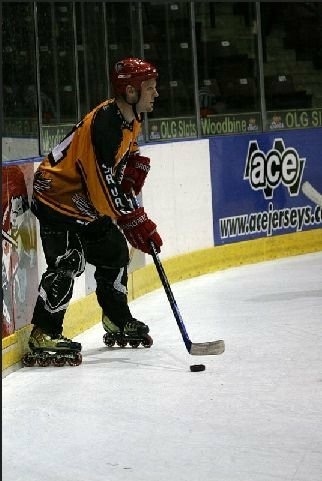 Holtzman eventually attended college on a baseball scholarship, but an injury forced him to step away from the sport. He gravitated back to hockey after switching schools to the University of Tennessee in pursuit of a degree, playing for the school's team in the American Collegiate Hockey Association. Holtzman averaged nearly two points per game in both his first and third season for the Volunteers.
"I'd say I was more of an energy player – I could play both ways. If the team needed a boost, I would make a big hit or fight a little bit," said Holtzman. "Most of the time I got in trouble for the fighting because they liked to have me on the ice, but I always played with an edge – the same way I fight."
Holtzman would ultimately graduate with his degree, but his hockey journey did not end there.
A friend of Holtzman's who was the captain of the Knoxville Ice Bears of the Southern Professional Hockey League (SPHL), a loop with franchises mostly located in the southeastern U.S., convinced him to try out for the team.
He earned a roster spot, but was cut after two games. From there, Holtzman went to the Mid-Atlantic Hockey League, a now defunct low-level developmental league in the Mid-Atlantic and Great Lakes regions of the U.S., to try out for the Indiana Ice Miners.
"I went to a town called Indiana, Pennsylvania, and I got up there and practised for a few days and it was terrible," reflected Holtzman. "The pay was maybe $100 a week, so I just kind of gave that up and ended up heading back home to get a real job so I could pay some bills."
Holtzman took a job recruiting electrical engineers for Fortune 500 companies. He was successful, earning a good salary with health care and a free cellphone as perks of the job, but couldn't shake his competitive itch.
"I had a friend who did some MMA and some jiu-jitsu and I ended up seeing him at a cookout and I told him I was going crazy doing the rat race. I'm going to work every day; I go home, I eat, I work out, then I go to bed and get up and do it all over again," said Holtzman of his life working in a cubicle. "He invited me to that gym and I started going and doing some jiu-jitsu and fell in love with it right away. I signed up for it the first day I went in there. I started learning and doing jiu-jitsu and really just never left."
At the gym, people tried to convince him to take on a nickname. He initially resisted, but would eventually become 'Hot Sauce'.
"That came about from a friend when I was working that office job. He was working in the office with me and I was starting to experiment with those weight cuts for fighting, so all of the food I was eating was pretty bland and not good, so I'd put hot sauce on everything. He started calling me 'Hot Sauce' around the office because I was putting it on everything I ate," said Holtzman.
"He ended up coming to the gym. When you start fighting, everybody tries to give you a weird nickname like 'Killer' and 'Axe Murderer' and that wasn't me. So forever I was like, 'I'm good, I don't need a nickname. I'm an athlete, I'm a competitor. I don't care about that.' He brought hot sauce to the gym and started calling me that and everybody else did, so I was like, all right, it's got a good ring to it, it's not too silly. I'll take it."
Holtzman had watched MMA prior to joining the gym, but never had any aspirations of being a professional fighter.
"The guy I started living with at the time after college, we used to come home and we would watch the Versus channel, which had the World Extreme Cagefighting [WEC] at the time. So guys like Urijah Faber, Benson Henderson, Anthony Pettis, Jamie Varner, all of those old WEC guys," said Holtzman.
"It's kind of come full circle. Urijah commentated one of my fights and I've talked to him quite a bit. Benson Henderson is one of my main training partners now. I trained with Jamie Varner for a little bit. I trained with Joe Riggs a little while ago and he was in the WEC. A lot of those guys I was watching before I ever even started training, so it was cool to train with a good amount of them and be around them."
After a year or so of training, Holtzman's coach asked him if he wanted to compete in his first fight. While he had no plans of ever fighting, his competitive juices were flowing and he agreed to an amateur bout.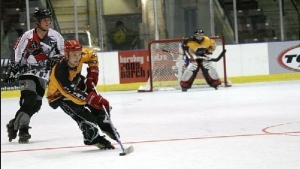 The fight against Preston Johnson took place at Fit Factory Fighting Championships 2 at Sevier County High School in Sevierville, Tenn., on Jan. 30, 2010.
It started with a brief exchange on the feet before Holtzman landed a power double and took Johnson down to the mat into side control. From there, Holtzman advanced his position into full mount and started pounding on his helpless opponent. Johnson attempted to escape and ended up in back mount, continuing to take punishment from Holtzman before the referee stepped in and stopped the action at 1:03 of the first round.
Holtzman decided that he would continue fighting until he lost, and the wins have just kept coming.
After turning professional in February of 2012, Holtzman would win seven straight – a run that included winning the XFC lightweight title in June of 2013 and defending it a few months later in October.
Less than two years later, the UFC called. Holtzman made his debut at UFC Fight Night on Aug. 8, 2015 at the Bridgestone Arena in Nashville, fighting in the first bout of the night in front of his fellow Tennesseans.
That night, Holtzman scored his only UFC victory inside the distance when he defeated Anthony Christodoulou via rear-naked choke submission. In his next fight, he suffered his first loss at the hands of Drew Dober via unanimous decision. Holtzman has gone 3-1 since that loss to hold a 4-2 record in the UFC.
While in the UFC, Holtzman has had the opportunity to meet members of the NHL's Predators who have attended his fights in Nashville, including P.K. Subban, Mike Fisher and James Neal, who Holtzman keeps in touch with after he was selected by the Vegas Golden Knights in the team's expansion draft last year.
Occasionally, Holtzman will still lace up his skates and get on the ice.
"I still play once in a while in Knoxville when I'm home and I'm not injured. There's a beer league, it's called The Dirty Dogs. I played last night and I was terrible," laughed Holtzman. "I came home after my last fight and played one game. It's seeming like I'm playing one or two times a year, so I'm getting progressively worse and worse. I did score last night. I had one play where I maybe looked like my old self, but it was a little lucky, too."
Holtzman's partner is expecting their first child in May, so he's hoping to fight before then if he's presented with the right opponent at this stage in his career. In the UFC's crowded lightweight division there are no easy opponents and it's crowded at the top, so, at age 34, Holtzman is taking it one fight at a time.
"I'm just kind of working my way up. I think I'm a little bit better than midway through the pack. I'm hoping the next fight I can beat a guy and then be in the top-20 or get a top-20 opponent. I think I'm right outside on the fringe," said Holtzman.
"With lightweight, you need to win eight fights in a row to get to the title, so I can't really look too far ahead. Everybody's so good that you need to focus on whoever is in front of you next."