Attack falters again as Canadiens fall to Penguins
Eric Fehr and Jake Guentzel scored in the second period as the Pittsburgh Penguins defeated the Montreal Canadiens 4-1 on Wednesday night. Defencemen Ian Cole and Olli Maatta also scored for Pittsburgh (28-11-5), which won a second game in a row after a three-game losing run.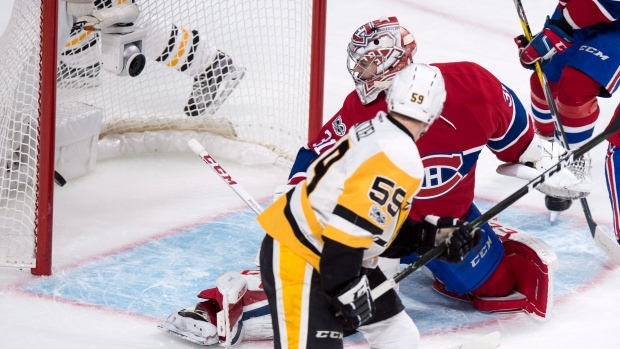 MONTREAL — It is rare that the name Carey Price is linked with the word "slump" but the Montreal Canadiens star goaltender is starting to hear it.
A 4-1 loss on Wednesday night to the Pittsburgh Penguins marked the eighth time in Price's last 10 outings that he has let in three or more goals. The Canadiens are 3-5-2 in that span.
The Canadiens' shaky defensive play of late has had much to do with it, but the 2015 Vezina Trophy winner has also not been at the top of his usually stellar game either.
"When you allow goals it's usually a team fault, but you've got to look at it for what it's worth on my part — I need to play better," said Price. "I've also got to stay positive and look at the bright side.
"We're still first in our division and you can't win the Stanley Cup in January, so we've just got to improve moving forward."
The Canadiens managed to keep Penguins star Sidney Crosby off the scoresheet and limit Evgeni Malkin to one assist, but secondary scorers came through for Pittsburgh (28-11-5), which won a second in a row after a three-game losing run.
Eric Fehr and Jake Guentzel as well as defencemen Ian Cole and Olli Maatta scored for Pittsburgh while Sven Andrighetto replied for Montreal (27-13-6).
"That's a good team," said Price. "They play a winning style of hockey and that's the reason they won the Stanley Cup last season.
"A good team like them will take away your options. They make it difficult to make plays coming up the ice and, if you make one play, you're going to have to make another play. To do that on a consistent basis against a tight checking team like that is very difficult to do. You've got to tip your hat to a team that plays very well as a unit."
The same could not be said of the Canadiens, who were trapped in their own zone for stretches of all three periods.
And coach Michel Therrien wasn't blaming his goaltender after a sloppy game after his side was outshot 26-20.
"As a team, we've got to be better," said Therrien. "When you don't compete you have no chance to win."
It was a better night for the Penguins' Matt Murray, who was coming off a goalie's nightmare when Pittsburgh defeated Washington 8-7 on Monday.
"I wanted to have a bounce-back effort for sure," said Murray. "I haven't been as good as I need to be for a while.
"I've had a couple of bad games. I definitely wanted to put an end to that and bring as much energy as possible. My game's been there but I just haven't been making those timely saves in the last couple of weeks and that's what I tried to focus on tonight. The guys made it really easy for me. They played a heck of a game."
A tight checking first period saw Pittsburgh strike first as Cole took a feed from Malkin on a counterattack and scored on a high shot inside the near post with Patric Horqvist screening Price. Malkin picked up his seventh point in five games.
Fehr, who got into the lineup with Matt Cullen out three to four weeks with a foot injury, was left alone in front to take a pass from Chris Kunitz and score 5:19 into the second and Guentzel made it 3-0 at 17:38 when he tipped a point shot from Cameron Gaunce, who was making his Penguins debut.
Andrighetto got one back at 18:11 when he banked one in off Murray from the side of the net.
Conor Sheary got away with tripping defenceman Jeff Petry behind the Montreal net and fed the puck to Maatta at the point for a low shot that went through Price's pads 15:36 into the third frame.
A scoreboard tribute was paid to former Montreal Expos star Tim Raines for his election to the Baseball Hall of Fame.