Senators re-sign Zibanejad, Stone
Mika Zibanejad and Mark Stone will both be staying in Ottawa. Zibanejad agreed to a two-year contract with an annual average value of $2.625 million with the Senators on Thursday, while Stone agreed to a three-year contract worth $3.5 million against the salary cap.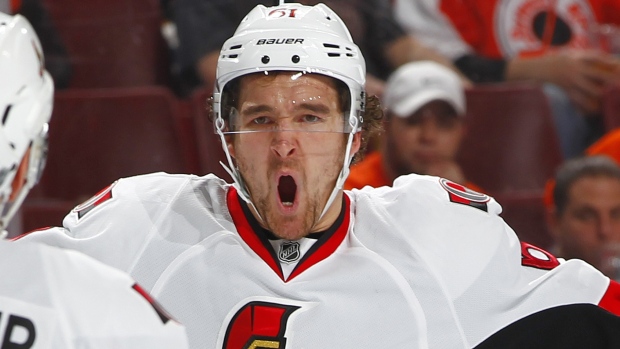 FORT LAUDERDALE, Fla. - The Ottawa Senators were busy on the eve of the NHL draft getting new contracts done for restricted-free-agent forwards Mark Stone and Mika Zibanejad.
Stone's deal is for three years and worth US$10.5 million, while Zibanejad received a $5.25-million, two-year contract.
"Obviously we're very happy to lock up two core pieces, two pieces that we feel are going to help us win in the playoffs, hopefully get to a Stanley Cup one day," assistant general manager Pierre Dorion said.
There's still work left as Ottawa needs to sign RFA forwards Mike Hoffman and Alex Chiasson. Dorion has met with their agents but said neither negotiation is there yet.
It may come down to arbitration.
"It doesn't look at this moment like we're making a lot of progress, and they both have arbitration rights and it looks like that's where they want to head, so we'll prepare accordingly," GM Bryan Murray said.
The Senators don't need to worry about that with Stone and Zibanejad.
Stone, Ottawa's Calder Trophy finalist, will count $3.5 million against the cap. He'll make $2.25 million next season, $3.75 million in 2016-17 and $4.5 million in 2017-18.
The 23-year-old finished second in rookie-of-the-year voting to Florida Panthers defenceman Aaron Ekblad. Stone had 47 points in his final 46 games of the season to help lead the Senators from out of the race to a playoff spot.
"Mark became one of our better players, if not one of the best, right at the end of the year in particular, but throughout the stretch run and when we were trying to make the playoffs," Murray said. "Not only did he score a number of goals but he stole a lot of puck and played honest, two-way hockey."
The 22-year-old Zibanejad set career highs with 20 goals, 26 assists and 46 points this past season. He'll make $2 million next year and $3.25 million in 2016-17.
"We think that Mika on a two-year deal gives him the opportunity to take the next step in his career to become a key centre-iceman for the Senators," Murray said. "We're very happy with his progress to this point in time and we think he has a bright future."