Sens blank Habs to stave off elimination
Mike Hoffman scored midway through the third period as the Ottawa Senators staved off elimination with a 1-0 win over the Montreal Canadiens on Wednesday. Craig Anderson made 28 saves as the Senators picked up their first win of the first-round series and cut their deficit to 3-1.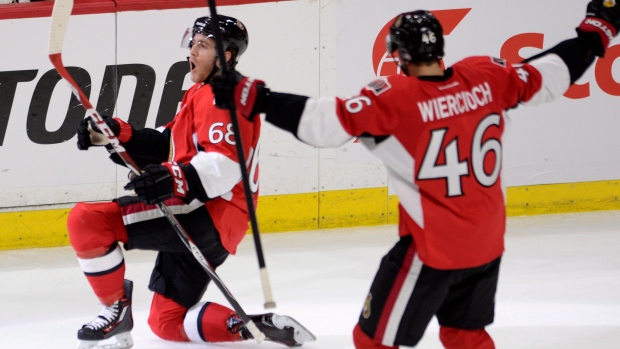 OTTAWA - A pair of moves by coach Dave Cameron have helped keep the Ottawa Senators' playoffs alive.
Mike Hoffman scored in the third period and Craig Anderson had a 28-save shutout as the Senators downed the Montreal Canadiens 1-0 in Game 4 of their first round NHL series on Wednesday night.
Montreal leads the best-of-seven series 3-1 and can wrap it up on home ice Friday night, but the Senators have at least given themselves a chance to attempt a rare comeback after dropping the first three games of a series.
"That's one and now we're moving on to the next one," said Hoffman, who scored at 9:05 of the third. It was the Senators' first goal in five periods on Carey Price.
Only four teams have come back to win when trailing 0-3 in a series: Toronto in 1942, the New York Islanders in 1975, Philadelphia in 2010 and Los Angeles last year.
In Game 3 on Sunday, Cameron opted to sit the Hamburgler, Andrew Hammond, whose stellar play in goal helped Ottawa to a 21-3-3 finish that nabbed them a playoff spot on the final weekend of the regular season.
In went veteran Anderson, who endured a 2-1 overtime loss in his series debut then followed with the shutout. He has stopped 75 of 77 shots in two starts.
"I had a lot to prove after sitting out for so long and being out with injury," said Anderson. "You just want to come back and do your best and that's what I'm trying to do."
In the first period on Wednesday night, Hoffman was promoted from the fourth line to the second with Mika Zibanejad and Bobby Ryan. That move produced the goal that gave Ottawa life.
Defenceman Cody Ceci kept Tom Glbert's clearing attempt in at the blue-line and then fed Hoffman in the left circle. Zibanejad went to the net to screen Price as Hoffman wired a shot to the top corner.
"More times than not if (Price) sees the puck he's probably going to save it," said Hoffman. "Mika did a great screen for me there and, if he wasn't there, it would probably not go in."
Cameron said he judges Hoffman by how well he plays without the puck. The rookie was doing well for a second game in a row and he decided to give him a chance on the top line.
Another change was that the Senators abandoned their attempts to hammer the Canadiens with hits early in the game and worked on playing a strong checking game over three periods. Montreal took over in the second period of the first three games, but not this time.
Now it is up to Montreal coach Michel Therrien to adjust with the series headed back to the Bell Centre.
"It was very close," said Therrien. "The two teams played very hard.
"They got the last word, but we have no reason to be embarrassed about our performance. I think we worked very hard as well."
It was the fourth straight game the Senators scored first, but this time, the Canadiens didn't answer back. An anaemic power play that has gone 1 for 16 in the series hasn't helped their cause.
"That's a gutsy team over there," forward Max Pacioretty said of the Senators. "They hadn't lost three in a row probably for a long time.
"They came out with that urgency tonight. They were the better team in the third period."
A highlight for Anderson came when he sprawled to force Brandon Prust to slam the puck against the side of the net during a short-handed breakaway late in the second period.
Midway through the second period, Ottawa was on the wrong end of a rarely called faceoff violation penalty. After Zibanejad was tossed out of the faceoff circle, Hoffman knocked the puck out of the linesman's hand before the puck was dropped. Two false starts by one team drew the penalty.
"You'd have to ask the linesman on that," said Hoffman. "You don't see that too often."
Notes — Ottawa injected some speed with Zach Smith at fourth line centre replacing David Legwand. Chris Neil played a second game in place of Alex Chiasson. . . With Nathan Beaulieu out with an upper-body injury, Montreal dressed Greg Pateryn on defence. . . Pateryn looked to be hurt in the second period after hits on Erik Condra and Jean-Gabriel Pageau and did not play at all in the third, but Therrien said he wasn't injured.