Sens, Ducks in market for forward help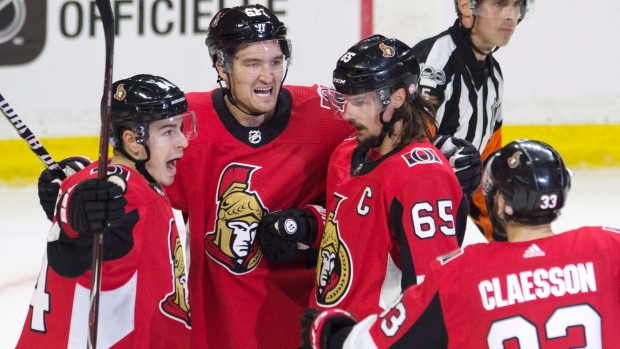 The Ottawa Senators boosted their offence on Sunday with the addition of Matt Duchene, but after losing centre Kyle Turris as part of the deal, the team could still be in the market for offensive help.
TSN's Darren Dreger reported on Tuesday's edition of Insider Trading that adding another forward isn't a pressing need for the Senators, but it is something the team is looking in to.
"Senators general manager Pierre Dorion is still interested in adding another forward," Dreger said. "This isn't a huge burning issue for him, perhaps there's an internal candidate like Nick Paul, who's called up to make the trip to Sweden. Or, if Paul isn't the answer, perhaps they use Paul as part of the trade bait to add that piece down the road."
Paul, 22, was a fourth-round pick of the Dallas Stars in 2013. He owns five assists in 11 games with the Belleville Senators of the AHL this season. Paul appeared in 24 games with the Senators in 2015-16, but has since played in just one game.
While the Senators may have the luxury of staying in-house, the Anaheim Ducks are running out of healthy bodies and could become active in the trade market in the near future.
The Ducks lost captain Ryan Getzlaf for up to two months on Tuesday after surgery on his cheekbone. Anaheim was already one of the league's most banged-up teams before Getzlaf's injury, with forwards Ryan Kesler and Patrick Eaves sidelined for the foreseeable future, in addition to defenceman Cam Fowler.
TSN Hockey Insider Pierre LeBrun adds that while the team's desire to add a forward is not new, the need has suddenly become more pressing.
"They are looking (for) a top-six forward, in fact, they've been looking for one since the off-season but now there's a little more urgency," LeBrun said Tuesday. "They were in on the Duchene situation. They kept tabs on it, wanted to know what it would take to get him, obviously they fell short. In the meantime, a top-six forward, preferably, a left winger or a left-handed centre is what the Ducks would look for between now and the deadline with a little more urgency now with the injuries."
Thing went from bad to worse for the Ducks on Tuesday night, as forward Ondrej Kase and goaltender John Gibson both left the team's 4-3 overtime loss to the L.A. Kings with apparent head injuries.
The team currently has $22.28 million in salary on injured reserve, according to Cap Friendly. Anaheim sits sixth in the Pacific Division with a 6-6-3 record.