Sens' MacArthur fails camp medical
Ottawa Senators forward Clarke MacArthur failed his medical on Day 1 of training camp Thursday. MacArthur made a surprising return to the NHL last April despite having been ruled out for the year after a training camp concussion. He played a total of 23 games last season.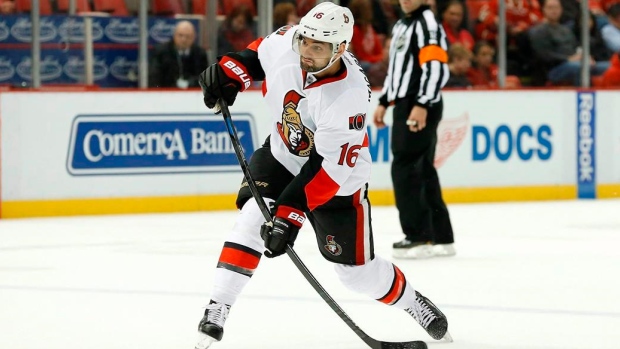 Clarke MacArthur failed his medical upon reporting to training camp with the Ottawa Senators on Thursday and has not been cleared to play this season.
MacArthur, 32, made a surprising return to the NHL last season in April despite having been ruled out for the year after a training camp concussion.
The left-winger appeared in four regular-season games upon returning in 2016-17 and dressed in 19 postseason games. MacArthur scored three goals and posted nine points in the postseason and lifted the Senators into the second round with his overtime goal in Game 6 against the Boston Bruins.
TSN Hockey Insider Bob McKenzie noted Wednesday it was not a given the team's medical staff would clear him again.
Senators general manager Pierre Dorion told McKenzie in his one-on-one sit down last week that the team would "wait and see" on MacArthur's status, but added the forward had been skating this summer.
"We have to make sure that Clarke is ready to put the time commitment- and the doctors do clear him to make sure that everything is OK," Dorion told McKenzie. "I was a bit worried at the end of the year when he said he had a bit of neck pain, but everything seems on par for the course. He'll show up at camp when it opens and hopefully he can keep on playing.
"I think, as an organization, we have a certain duty but more importantly, we're always going to follow the doctors' advice. They're the ones who cleared him to play, we know how hard he worked to come back and at the same time, (the doctors) are the ones who are going to clear him to play."
MacArthur, a native of Lloydminster, Alta., has sustained four known concussions since joining the Senators in 2013. He had not dressed in a game since Oct. 14, 2015 when he returned in April.
A veteran of 552 career games, MacArthur is signed through 2019-20 at a cap hit of $4.65 million. He is likely to be placed on long-term injured reserve by the Senators.