Shipachyov among Golden Knights leading Trade Bait list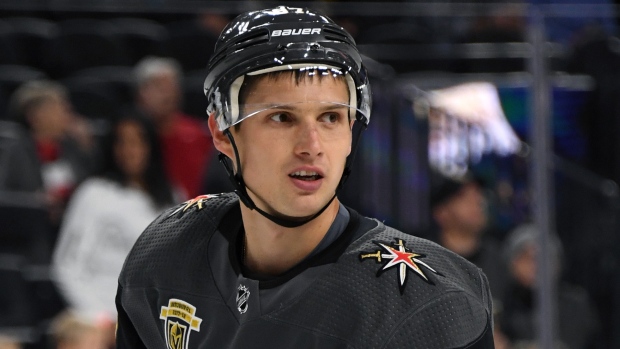 Three weeks into the season, the 7-1 Vegas Golden Knights are close to the top of the Western Conference standings and remain the league leader with five players on TSN Hockey's Trade Bait list.
The latest name on the Top 10 is Vegas centre Vadim Shipachyov, after his agent, Petr Svoboda, confirmed on Wednesday that the team has allowed him to talk to other clubs regarding a possible trade for the 30-year-old from Russia.
Shipachyov, who was assigned to the Chicago Wolves of the AHL on Tuesday, has one goal in three games with the Golden Knights. Other Vegas players on the list include defencemen Luca Sbisa and Griffin Reinhart and wingers James Neal and David Perron.
Another new name on the list is New York Rangers winger Rick Nash. He becomes an unrestricted free agent next summer and could generate interest depending on the Rangers' fortunes as the season goes on.
Insider Trading has reported about the possibility of the Kings trading a defenceman like Alec Martinez, because they feel like they have the depth to do that if their younger blueliners continue to progress. TSN Hockey Insider Bob McKenzie said they could be prepared to give up one of their top-four defencemen for help at forward.
All appears quiet on the Matt Duchene front, but the Colorado Avalanche centre remains atop the list as general manager Joe Sakic continues to wait for the right deal that can help his team.
The Top 10
| Player | Pos | Age | 2017-18 Cap Hit | GP | G | PTS | Past 2017-18 | Clause |
| --- | --- | --- | --- | --- | --- | --- | --- | --- |
| 1. Matt Duchene, COL | C | 26 | $6M | 9 | 3 | 8 | 1 year | |
| 2. Vadim Shipachyov, VGK | C | 30 | $4.5M | 3 | 1 | 1 | 1 year | |
| 3. Luca Sbisa, VGK | D | 27 | $3.6M | 8 | 0 | 5 | UFA | |
| 4. Mike Green, DET | D | 31 | $6M | 10 | 1 | 10 | UFA | NTC |
| 5. James Neal, VGK | LW | 30 | $5M | 8 | 6 | 8 | UFA | NTC |
| 6. Thomas Vanek, VAN | LW | 33 | $2M | 9 | 3 | 1 | UFA | |
| 7. David Perron, VGK | LW | 29 | $3.75M | 8 | 2 | 5 | UFA | NTC |
| 8. Griffin Reinhart, VGK | D | 23 | $800K | | | | 1 year | |
| 9. Alec Martinez, LA | D | 30 | $4M | 6 | 1 | 2 | 3 years | |
| 10. Rick Nash, NYR | RW | 33 | $7.8M | 10 | 1 | 1 | UFA | NTC |