Simmons finds right fit alongside three young guns ahead of Pre-Trials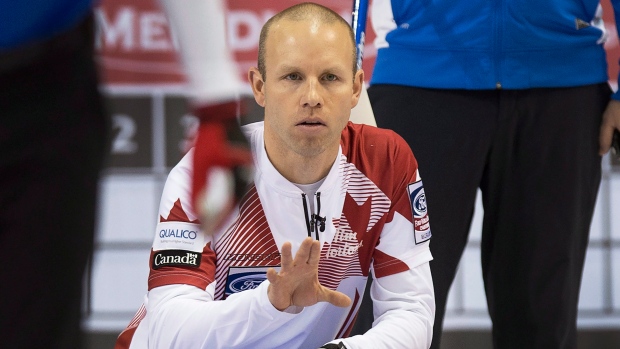 For the second year in a row, two-time Brier champion Pat Simmons is playing with an entirely different team.
This time, the fit appears to be right.
Simmons took over the rink previously skipped by Jason Gunnlaugson after a short stint with Edmonton's Team Brendan Bottcher last season.
The 42-year-old now helms a team 20 years his junior as third Colton Lott, second Kyle Doering and lead Robbie Gordon are all in their early 20s. The age difference was never an issue for Simmons when they approached him with the idea of joining forces.
"I knew how good they were already and I've seen them play a little bit. That [age gap] didn't bother me at all. I thought it was a neat opportunity to be in position where I'm skipping a little bit again and can be a mentor here. They're beyond their years already," Simmons told TSN.ca.
The three young guns might only be playing in their second season on the World Curling Tour, but they already have plenty of big-game experience in their back pockets. Lott, Doering and Gordon played for Matt Dunstone in 2015-16, winning a Canadian junior championship as well as a bronze medal at the world juniors.
A big factor in Simmons joining the rink was that he was given the chance to skip again.
Simmons, who won the 2015 Brier in Calgary as a skipper, was Team Bottcher's vice for a few months to start last season. His decision to leave Bottcher's squad was not personal, but had more to do with "philosophy type things," says Simmons.
The opportunity to throw skip stones piqued Simmons' interest.
"I think that's one of my more natural positions, for sure. I've been a skip or third basically throughout my career," Simmons said. "Definitely, I think that's my spot. That's where I enjoy the most and feel most comfortable. I'm enjoying it this year, for sure."
The Winnipeg foursome has played a lot this season in an effort to get to know each other better. Despite no first-place finishes, Simmons and his crew have qualified for the playoffs in four of six events, even making it as far as the final of the Mother Club Fall Curling Classic, where they lost to Team Gunnlaugson. However, the team struggled at the recent Grand Slam's Masters of Curling in Lloydminster, Alta., posting a 0-4 record.
Simmons said he's happy with how the team is playing ahead of the Road to the Roar Pre-Trials in Summerside, P.E.I.
"We are improving in every aspect, every week. Our dynamic has been fantastic right from the get-go. It's just been great," he said. "Everything is right on track with what we want to be doing and where we want to be in all aspects. And still improving, so it's all good."
The pre-trials, running from Nov 6-12, will see 14 men and 14 women rinks each competing for the final two spots for the Roar of the Rings Canadian Olympic Trials, taking place in Ottawa in early December.
On the men's side, Team Simmons will be in tough to reach the final two with names such as 2010 Olympic gold medalist John Morris, four-time national and world champion Glenn Howard and 2006 Brier champ Jean-Michel Menard headlining the field. Not to mention familiar faces in Bottcher and Gunnlaugson competing as well.
"It's an event that if you're not playing your very best you're going to get beat. It's as simple as that," Simmons said.
As the elder statesman on the team, Simmons will surely have some tips for his crew before the week gets underway out East.
"We'll chat about the week itself and how to manage a long week like that. What to do in between games and so on and so forth. All kind of things. Obviously, some of which they've been through with their long stints in juniors at nationals and worlds," said the native of Moose Jaw, Sask. "It won't be completely alien to them, but definitely some things we'll be chit-chatting about."
Simmons isn't sure what the future holds for this group after this season, but knows the future looks promising for the younger members of the team.
"The guys have a very bright future ahead of them, for sure," explained Simmons. "Hopefully you'll see them play for decades on end here."