Six Takeaways: Canucks vs Golden Knights
Canucks got dropped 6-2 by Vegas. Jacob Markstrom stopped 11 of 16 shots while Thatcher Demko stopped 16 of 17 in relief.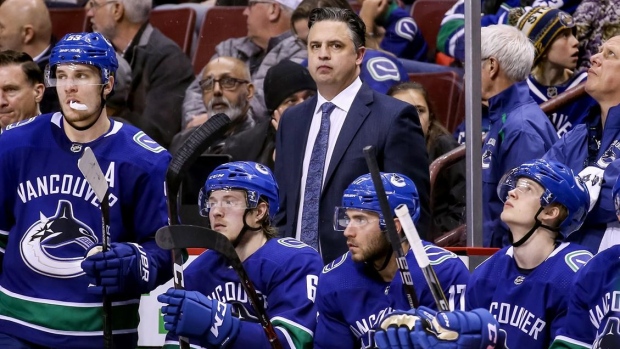 TAKEAWAYS
1) It doesn't take a 6-2 loss to the surging Vegas Golden Knights to expose the many issues plaguing the Vancouver Canucks these days. No, losses like the one the Canucks suffered Saturday on home ice simply underscore those problems. The Canucks simply had no answer for the Knights in the 10-feet around their own net. Mark Stone opened the scoring on a rebound, Alex Tuch extended the lead on a redirect, Cody Eakin scored from in tight to make it 3-0, Tomas Nosek beat his man to the net to tip home the fourth Vegas goal and Paul Stastny rounded out the first period scoring by walking around Alex Edler and taking the puck to the net to make it a 5-1 game. The Canucks have had trouble defending for much of the season, but the play in and around their own net has not been worse at any time in the first 68 games than it was on Saturday night. The Knights are deep, they are skilled and they have the ability to come at teams in waves. The Canucks, quite simply, were overwhelmed in their own zone in a one-sided first period that was difficult to watch.
2) The starts of hockey games are killing the Canucks these days. For the third time in four games, they trailed 3-0 and in the other game during that time they fell behind 2-0. They have played the past six games without spending a second in the lead. Given that fact, it's quite remarkable they have a win and a shootout loss over that six game stretch (1-4-1). But Saturday was the ninth time in 11 games the Canucks have spotted their opponent the lead. So it probably shouldn't come as a surprise that they aren't winning many hockey games. The Canucks are 2-6-2 in their last 10 and 4-10-3 in their last 17. Of note there is the fact the Canucks have just one regulation victory in their last 17 games since February 4th in Philadelphia. They beat Anaheim 4-0 on home ice on February 25th. Otherwise, 16 of their last 17 opponents have taken at least a point off the Canucks. That win over the Ducks is also the only time in those 17 games that the Canucks have scored more than three goals in a hockey game. Since Christmas, the Canucks are 30th in the NHL in offense -- and Saturday did nothing to improve that statistic.
3) This loss to Vegas has to be more disappointing and, quite frankly, more troubling for the Canucks than the one in Sin City last Sunday. Sure they scored a couple of goals this time around and didn't surrender 48 shots like they did last weekend, but to a man, the Canucks players and head coach Travis Green spent Saturday morning talking about being ready for the Golden Knights, being prepared to push back and playing more of the game in the Vegas end than they did a week ago. And then the puck dropped. Just 92 seconds after the opening the face-off, the Canucks were down and the carnival in their own zone was underway. Full credit to the Golden Knights for taking the play to the Canucks. Vegas has won six straight since the arrival of Mark Stone and they look like a complete team that could very well make another deep playoff run. The Canucks knew that, talked about it, and then were unable or unwilling to do anything about it. After the morning skate, Gerard Gallant said he expected to see more from the Canucks and went so far as to call what happened last Sunday at T-Mobile 'unfair' -- he said his team had one of its best games and he knew the Canucks weren't very good. The Canucks may have been marginally better the second time around, but they were nowhere close to good enough to offer up much resistance to their visitors.
4) It's quite remarkable that it took 69 games into the season for Travis Green to get the hook out and lift his starting goaltender. But that's what happened at the 14:17 mark of the opening period once Vegas made it a 5-1 hockey game. Jacob Markstrom, who was heroic in Vegas last weekend, had his night come to a premature end and he was replaced by Thatcher Demko who needs playing time and mopped up over the remaining 45 minutes. Markstrom stopped 11 of the 16 shots he faced and didn't get much support from the skaters in front of him. It's hard to pin much of the blame on any of the goals on the starter, but obviously allowing five goals on 16 shots was far from his finest night. Green said he considered lifting Markstrom at 4-1 -- which is when I would have made the switch -- but the coach really had no choice three minutes later when the Golden Knights scored again. At that point, it was a mercy hook for Markstrom who deserved better from his teammates last weekend and again on Saturday night. Demko gave up one goal -- a friendly fire deflection off Josh Leivo's stick -- on the 17 shots he faced. The Knights seemed to lose interest in scoring over the final 30 minutes of the hockey game so it's hard to accurately assess Demko's night other than to say any playing time is good playing time for the young netminder.
5) Antoine Roussel was in no mood to discuss setting a career-high for points in a season. The feisty winger picked up an assist on Bo Horvat's second period goal to give him 30 points in 64 games. He very nearly reached the milestone earlier in the hockey game when he sprung Elias Pettersson on a first period breakaway. Roussel was back in his familiar spot on left wing with Bo Horvat to start the game. And that's where he should stay over the remaining 13 games. In his return to the line-up after missing 10 games with a pair of cracked ribs, Jake Virtanen started the game on right wing on that line, but was swapped out after the first period. I'd stick with Roussel-Horvat-Virtanen and Josh Leivo-Elias Pettersson-Brock Boeser as my top two lines for a while. Outside of a goal in Arizona, Tanner Pearson has done very little in his six games as a Canuck to warrant any more time above a third line role. Pearson didn't manage a shot attempt on Saturday night and was on the ice for three of the Golden Knights first five goals including the 3-0 goal when he couldn't contain Tomas Nosek at the side of the Canuck net.
6) Some may question the benefit to Quinn Hughes of joining a team in a tailspin. But Brock Boeser was in Hughes' skates just two years ago and made the jump from college to the NHL for the final nine games of Willie Desjardins' tenure behind the Canucks bench. A little history lesson: the Canucks won Boeser's debut in Minnesota and promptly lost the remaining eight games. It seems Boeser has managed to shake off any lingering effects of that first taste of NHL action. And he spoke following Saturday's loss about how much those nine games meant to him and what Hughes can learn when he signs and leaves college life behind. Boeser said he gained confidence by scoring four times in those nine games, he discovered the speed of the NHL game and how much he needed to work on specific aspects of his game that first summer. He sounded legitimately excited about the addition of Hughes to a sagging line-up that can certainly use any shot in the arm in can get these days. There is no timeline for Hughes' arrival in Vancouver, but all indications point to him being signed, sealed and delivered early in the week. He can't get here soon enough.