Skips to draft mixed teams at Everest Curling Challenge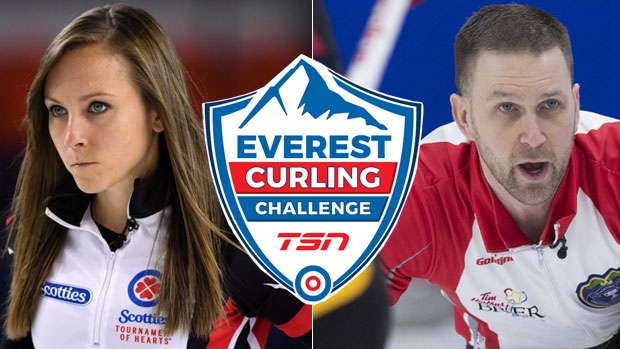 It might still be golf season, but that doesn't mean you can't head indoors for a little curling action.
Some of the biggest names in the curling world will converge at Willie O'Ree Place in Fredericton, NB from August 25-27 for the Everest Curling Challenge.
Eight of the best skips in the game – including Canadian, world and Olympic champions – will bring their respective rinks to the East Coast with the hope of claiming the $200,000 grand prize.
But, there's a catch.
The lineups that will compete in Fredericton will not be the ones you have become familiar with at events like the Tim Hortons Brier and Scotties Tournament of Hearts. Instead, the eight skips will draft four-person teams consisting of two men and two women. In addition, skips aren't allowed to select curlers they regularly play with during the season.
UPDATE: Russian skip Victoria Moiseeva is ill and will be unable to compete this weekend at the Everest Curling Challenge in Fredericton, New Brunswick. As a result her squad will be replaced by Team Val Sweeting who finished second to Team Moiseeva in the last chance fan-vote.
For example, you could see three-time Scotties champion Rachel Homan and 2017 Brier champ Mark Nichols come together to take on regular teammates Emma Miskew and Brad Gushue. The dynamic sweeping pairing of brothers E.J. and Ryan Harnden will be split and it's possible 2014 Olympic gold medalist Jennifer Jones and her husband Brent Laing could join forces.
The possibilities are endless.
Here's the schedule for the weekend with the full rosters still to be determined. The draft is scheduled for Thursday, August 24 at 5:30pm AT.
Draw Sheet
| Date | Time (ET) | Draw | Matchup |
| --- | --- | --- | --- |
| Friday, August 25 | 6:30pm | 1 | Jennifer Jones vs. Brad Jacobs |
| Saturday, August 26 | 9am | 2 | Val Sweeting vs. John Epping |
| Saturday, August 26 | 1pm | 3 | Kevin Koe vs. Chelsea Carey |
| Saturday, August 26 | 6:30pm | 4 | Rachel Homan vs. Brad Gushue |
| Sunday, August 27 | 10am | Semi-Final | TBD |
| Sunday, August 27 | 2pm | Semi-Final | TBD |
| Sunday, August 27 | 6:30pm | Final | TBD |
Curlers
Skips - Brad Gushue, Rachel Homan, Kevin Koe, Chelsea Carey, Jennifer Jones, Brad Jacobs, Val Sweeting, John Epping
Thirds - Mark Nichols, Emma Miskew, Marc Kennedy, Cathy Overton, Kaitlyn Lawes, Ryan Fry, Lori Olson-Johns, Mat Camm
Seconds - Brett Gallant, Joanne Courtney, Brent Laing, Jocelyn Peterman, Jill Officer, E.J. Harnden, Dana Ferguson, Patrick Janssen
Leads - Geoff Walker, Lisa Weagle, Ben Hebert, Laine Peters, Dawn McEwen, Ryan Harnden, Rachelle Brown, Tim March
Matchups
Jennifer Jones vs. Brad Jacobs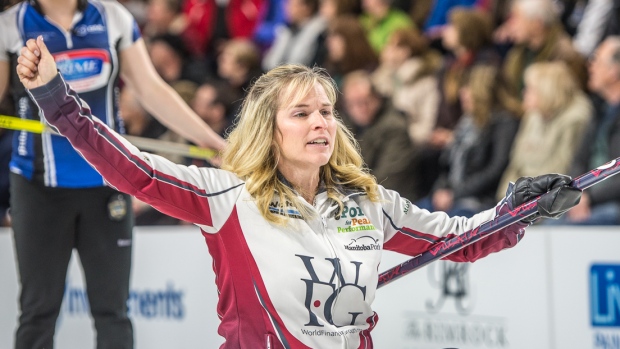 The first matchup of the weekend goes Friday night between two skips who claimed gold for Canada at the most recent Winter Games in Sochi, Russia. Both Jennifer Jones and Brad Jacobs brought home first-place hardware at the 2014 Olympics and will square off against each other for the first time in Fredericton. Cathy Overton, who won four national championships with Jones before being replaced by Kaitlyn Lawes, will be there and it will be interesting to see if they join forces once again.
Val Sweeting vs. John Epping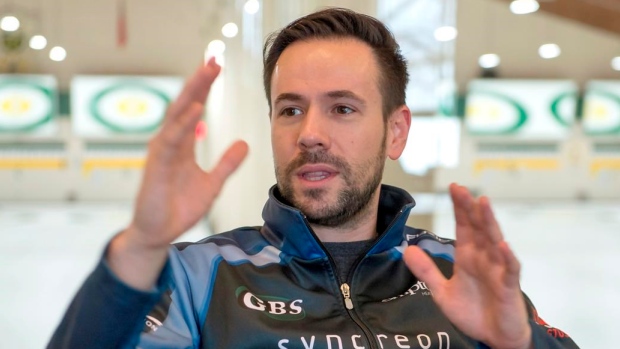 The first matchup on Saturday sees two skippers who were a part of the last chance fan-vote go head-to-head against each other. Toronto's John Epping beat out the squads led by Niklas Edin and Mike McEwen while Val Sweeting replaced fan-vote winner Victoria Moiseeva of Russia, who is ill and unable to attend. Epping could add Lisa Weagle as his lead as the two have had success in the past playing mixed doubles while Sweeting could look toward former second Joanne Courtney who is now a Canadian and world champion playing with Team Rachel Homan.
Kevin Koe vs. Chelsea Carey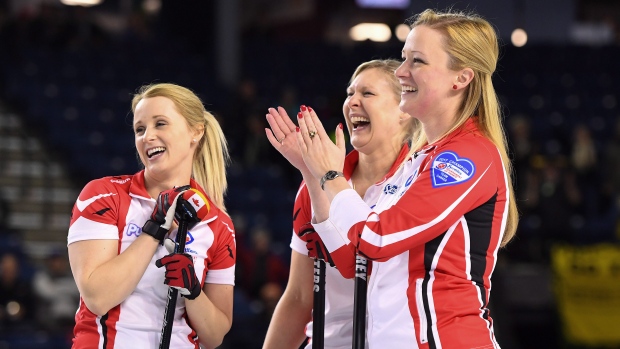 Kevin Koe and Chelsea Carey both won their respective Canadian championships in 2016 with Koe going one step further by winning the world title a few weeks later. Their playing partners are still a mystery for this event, but whenever two champions get together, a solid matchup should be in store.
Rachel Homan vs. Brad Gushue
This is the matchup everyone will have their eyes on. Last year, Rachel Homan and her Ottawa foursome claimed their third Scotties Tournament of Hearts in St. Catharines before posting a perfect 13-0 to win their first world championship in Beijing. Brad Gushue had an equally superb year by winning his first-ever Brier in his hometown of St. John's and then matching Team Homan with a 13-0 performance at the worlds in Edmonton to capture gold. Gushue might be interested in adding former vice Ryan Fry while Homan could go after Gushue's current third Mark Nichols. Curling fans would be wise not to miss this one.
Check back with TSN.ca on Thursday, August 24 for a complete breakdown of the rosters after they are drafted by the skips.