Many questions, few answers in Drouin drama
TSN Hockey Insider Bob McKenzie looks at the complicated issues surrounding the Tampa Bay Lightning prospect's trade request.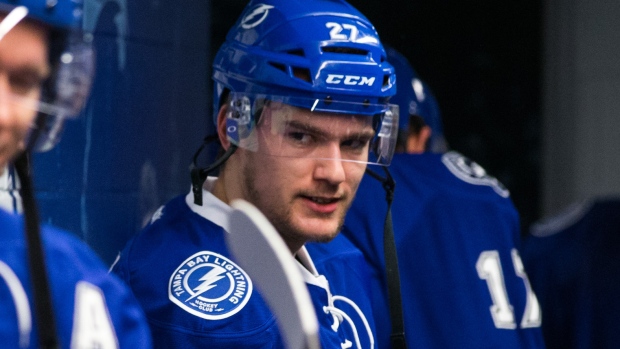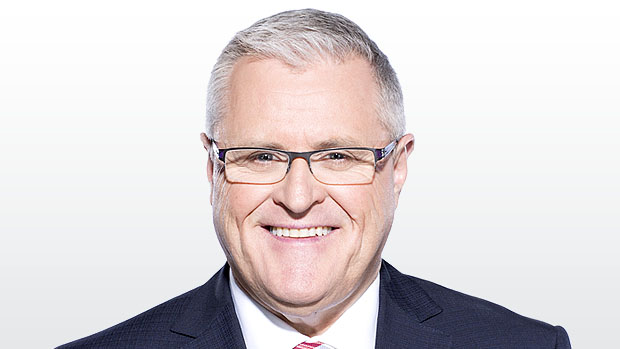 Now that the World Junior Championship is over and I try to catch up on what is happening in the NHL, what's the burning issue of the day?
Oh, my, that's an easy question.
Jonathan Drouin and his future – or is it lack thereof – with the Tampa Bay Lightning.
That may be the only easy-to-answer question involving Drouin.
The third-overall pick in the 2013 draft was assigned by the Lightning to Syracuse of the American Hockey League on Saturday. Drouin's agent, Allan Walsh, issued a public statement Sunday revealing a November trade request, which Tampa general manager Steve Yzerman subsequently confirmed.
So many questions, and for now, so few answers, at least no easy ones, but let's take a look at them, one by one:
Is Jonathan Drouin healthy?
For such an incendiary situation, it's an odd question to start with, but that is precisely what the teams interested in trading for Drouin want answered, above and beyond all else.
The reality is Drouin has played precious little hockey in more than two months.
Drouin played the first 10 games of the season in October.
Then he missed five games in late October and early November with an unspecified lower-body injury.
He returned to play four games between Nov. 7 and Nov. 14, logging between 9:26 and 14:39 in ice time in those contests.
Then he missed another six games in November with a lower-body injury.
He returned to play four games between Dec. 2 and Dec. 10, getting between 13:41 and 16:48 in those games.
Then he missed another eight games with a lower-body injury.
He returned to play one game on Dec. 30 (10:51) before the Lightning, citing a need for Drouin to play more, assigned him to Syracuse on Jan. 2.
You can see the pattern. In the last two-plus months, Drouin has played a total of nine games, missed 19 games, and the games he has played have been in fits and starts, lasting no longer than a week at a time.
NHL teams with interest in the player will be keenly watching this weekend when Drouin plays three AHL games in three nights – Friday in Albany, Saturday in Syracuse against Hershey and Sunday in Rochester. If he can emerge unscathed from the three-in-three, two of them on the road, that would go a long way towards alleviating any health-related concerns.
How long will Drouin be in Syracuse?
Well, it would be best for everyone involved if the Lightning could get a fair-value deal by next week – emphasis on "fair value" because we know Yzerman won't give away the player just to resolve an uncomfortable situation.
The player would get what he wants – a trade and a fresh start in another organization. The Lightning would be getting what they need and want – an asset or assets that can help them in the bid to make the playoffs (Tampa currently sits on the outside looking in) and perhaps get back to the Stanley Cup final.
It's impossible, at this point anyway, to say how many games Drouin will play in Syracuse. At some point, the player might have something to say about that. I mean, if being assigned to the minors prompted Drouin, and his agent, to go public with a two-month old trade request, how long do you think the 20-year-old sees himself riding the bus in the AHL?
The Lightning's sense of how long Drouin could or should be in Syracuse may well hinge on the answer to the next question.
Can Drouin ever play another game for the Lightning?
Well, they did play him after his November trade request, but that was before it became public knowledge. Then there is the matter of how it became public knowledge.
Trade requests happen all the time in the NHL and life goes on. This season alone, we've learned of trade requests by San Jose's Patrick Marleau, New York Islander Travis Hamonic and Columbus prospect Kerby Rychel, but the difference between those coming to light and Drouin's case is that it was Drouin himself, and his agent Walsh, who issued the public statement.
The player has effectively proclaimed: I don't want to be here.
So if you're Yzerman, can you put that player back into your lineup? Do you put that player back into your lineup?
Only if you absolutely have to. As a last resort.
I talked to multiple NHL teams executives in the last 48 hours and the prevailing view was it's difficult to put a player back into the lineup after that player has so publicly expressed a desire to not be there. Conventional hockey wisdom is that it sends the wrong message to your players and fans.
But if the AHL assignment isn't long term and Yzerman doesn't get what he believes is a fair-value offer in the short term, what choice does he have but to play Drouin, effectively continue to showcase him in the hopes of eventually getting that fair-value trade offer? If Drouin isn't playing games, he is the very poster boy for a diminishing asset.
Mind you, if Drouin has played mostly limited minutes anyway and not yet established himself as an NHL regular for Lightning coach Jon Cooper, how do you think Cooper is going to feel about throwing Drouin over the boards now that the player has publicly expressed a desire to not play there?
This situation may well have already gone from uncomfortable to untenable, which brings us to the next question.
What is Jonathan Drouin's game plan here?
It's true that Yzerman and the Lightning have greater leverage than the player. Drouin is on the second year of a three-year, entry-level contract. He's not an unrestricted free agent until he's played seven seasons or turns 27, whichever comes first. Neither is on the horizon.
If Drouin doesn't like his situation in Tampa – and, by virtue of his trade request, he obviously doesn't – the collective bargaining agreement gives Drouin one tool and one tool only: play or don't play. Suck it up or see ya later. That's it.
In today's NHL, it's almost unheard of for a player, especially one under contract, to withhold services.
Might Drouin do that?
No clue, but if a two-month-old trade request doesn't achieve his ends, Drouin either stays the course, plays games wherever he's told to play those games and hopes for the best, or he heads for home and applies whatever pressure his absence might mean to the Lightning, all the while realizing Yzerman and the Lightning are obliged to do nothing.
By not playing, though, Drouin would likely be making himself a diminishing asset. That could prompt a trade, or it could also provoke Yzerman to do absolutely nothing for a very long time.
You just never know how it goes in those situations because it really is such uncharted territory in today's game.
Some are suggesting Drouin is getting bad advice from his agent Walsh, who has a reputation for being provocative and adversarial. That's not uncommon in these situations when a player and a team are at odds. It's much easier for the team to make the agent the bad guy and the agent gets paid to take bullets for his client anyway.
Be that as it may, anyone who knows Drouin even a little knows that he's a fiercely proud, stubborn and independent individual. It's difficult to imagine him doing anything he doesn't want to do.
Now on to the most important questions.
How many teams are interested in trading for Drouin? How many of those teams are a possible fit with the Lightning and what does Yzerman expect to get in return?
I believe there are upwards of a dozen NHL teams with varying degrees of interest (please note emphasis on "varying degrees") in Drouin.
Alphabetically listed, I'd say: Anaheim, Calgary, Colorado, Columbus, Montreal, Nashville, New York Islanders, New York Rangers, Ottawa, Pittsburgh, St. Louis, Vancouver and Winnipeg, among others.
Some of those teams may be just kicking tires. And, quite frankly, I'd be shocked, and then some, if the Lightning were to trade Drouin within their division and perhaps even the Eastern Conference. So if I were the Canadiens or Senators, for example, as much as Drouin is precisely the type of player they need, I wouldn't be holding my breath.
As one Eastern Conference club executive told me: "He's going to the West unless an Eastern team makes the very best offer."
Not impossible he ends up in the East but maybe less likely.
As for fits, the sense seems to be Yzerman could go in a number of different directions. He could look for a young player of similar value or relative stature – if it's Calgary, perhaps Sam Bennett; if it's Vancouver, maybe Bo Horvat – but the Flames and Canucks may not be inclined to go down that road.
Or Yzerman could look to fill a very specific need – a quality puck-moving defenceman. In which case, teams such as Anaheim, St. Louis, Nashville and Winnipeg would be logical trading partners and perhaps Colorado would not (the Avs need to acquire defencemen, not move them).
Some teams are a little wary that Drouin hasn't established himself as a regular NHL player, but most subscribe to the following view from one club executive: "He is a young player with unrealized potential and someone will give him a chance."
Many of the executives I talked to believe Drouin could still be an elite NHL player, which of course is why the Lightning has to be so very careful if and when they trade him.
So many questions; so few answers.
It's really difficult, if not impossible at this point, to predict what will happen, but my sense of it is as follows:
The trade request only became public on Sunday but was made more than a month ago, so the Lightning should be well aware of the Drouin marketplace and which suitors interest them and are serious candidates.
Assuming Drouin is healthy and plays well in his three-in-three AHL sojourn, the best opportunity for Tampa to divest themselves of the unhappy player will occur in the next week. There is legitimate interest in him; the Lightning should get some legitimate offers. Ideally, both parties get what they're after and move on. They both live happily ever after.
The Lightning won't give him away just because he's asked for a trade. They shouldn't give him away; he could yet turn out to be an elite offensive player. But I would submit the maximum yield on Drouin is likely to be greater in the next week to 10 days than at the trade deadline or in the summer, unless you subscribe to the theory he'll somehow enhance his trade value in that time because he's suddenly going to play a lot more and/or a lot better for Tampa in the weeks and months to come than he has in the last year and change.
If so, that would be a rather stunning development.
One way or the other, I guess we'll find out soon enough.
Bob McKenzie is the 2015 recipient of the Elmer Ferguson Memorial Award for excellence in hockey writing.