Sparks answers surprise call, leads Maple Leafs past Kings
When Garret Sparks was announced as the Maple Leafs' starter for Monday's game against the Kings, the move was as much an initial shock to Sparks as anyone else. But Toronto's back-up came ready to play, standing tall with 33 saves while Kasperi Kapanen scored twice to lead the Leafs to a 4-1 victory.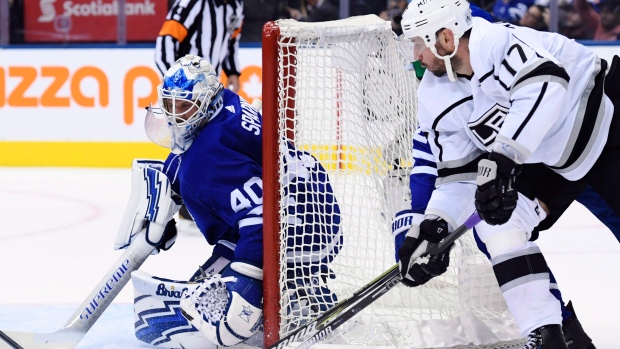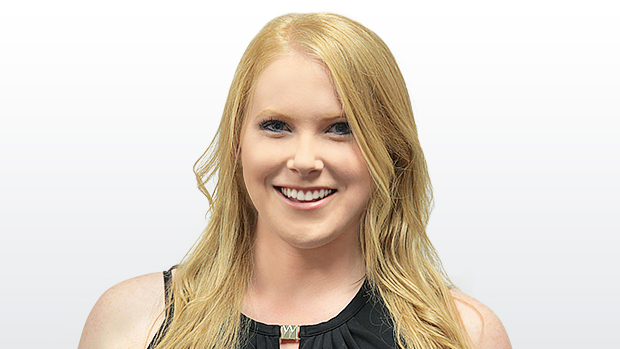 TORONTO – When
Garret Sparks
was announced as the Maple Leafs' starting goaltender for Monday night's game against the Los Angeles Kings, the move was as much an initial shock to Sparks as anyone else. He was prepared to back-up
Frederik Andersen
as usual, until a knee injury forced Andersen out of commission and put Sparks between the pipes in Toronto's 4-1 victory over the Kings, the team's fifth straight win.
"I wasn't anticipating playing tonight when I went to bed last night," Sparks said on the heels of his 33-save performance. "But that's the nature of this position, having to be ready to perform when called upon. I found out I was playing [this morning] and planned accordingly."
Both Andersen and Sparks took part in the team's morning skate on Monday, with Sparks in the starters' net. But afterwards Mike Babcock was curiously evasive about why he was deviating from the Leafs' usual goaltending rotation, and giving Sparks a start when Andersen didn't appear to be hurt and it wasn't the second night of a back-to-back situation.
Babcock said Monday night the Leafs were aware of the injury in the morning, but waited to see if it was anything worth worrying about before making a roster move. But Monday afternoon that news of Andersen's injury emerged, and the Leafs recalled goaltender Eamon McAdam from the ECHL's Newfoundland Growlers on an emergency basis to back up Sparks.
Being thrust into the starter's job may have taken Sparks by surprise, but it was a welcome opportunity to build upon his first start of the season last Sunday in Chicago. A native of Elmhurst, Illinois, Sparks was overwhelmed by the emotion of playing in front of his hometown crowd, barely escaping with the 7-6 overtime win that produced a middling .806 save percentage for the 25-year-old.
With Andersen expected to be able to return for Toronto's game against Pittsburgh on Thursday, the American Hockey League reigning goaltender of the year made the most of his second start by staying composed and executing with confidence.
"It's just nice to get back to trusting where you are in the net and knowing nothing changes from the AHL to the NHL, you have to play your position soundly, you just have to play your position sharper and better and quicker," said Sparks. "It was nice to get some shots and see some pucks and fight through traffic and make saves and control play."
Babcock was more succinct in assessing the difference between Sparks' starts - "the puck hit him [tonight]" - while conceding, "[it was] a good night for Sparky, he played much better which was good."
Even on
Ilya Kovalchuk
's second-period goal, the Kings' only score, Sparks was in good position, but the puck trickled by him. He shook it out in a hurry to stay focused on his ultimate goal, continuing to earn the trust of his teammates in this first full season as a back-up. A game like Monday's goes a long way in showing his true capabilities.
"He was big for us tonight," said
Auston Matthews
. "We played a good team over there with their structure, they'll hang onto it…and he made some big saves to keep us in the game and keep our lead. You know they're going to get chances, that's just the way it's going to go, and he came up big."
One such chance came early in the second period, when Kings' centre
Tyler Toffoli
had a superb point-blank chance on Sparks from the slot that the netminder turned aside, and the Leafs transitioned into a goal for Mitch Marner at the opposite end.
That gave the Leafs a 3-1 lead over the Kings and effectively swung momentum in Toronto's favour. With a multi-goal cushion, Sparks only got better as the game wore on and he shut the door on L.A.'s remaining chances.
"It was kind of interesting, you kind of forget the feeling over the course of the summer," Sparks said of watching the sequence play out. "You kind of forget what it's like to want to answer the bell and make the big save, and then immediately see your team go down the ice and score. The bigger the lead I have, the more comfortable I feel like playing my game and controlling play."
Takeaways

Men on fire
Between lines centered by Matthews and
John Tavares
, the Leafs haven't exactly identified a clear-cut top unit, but Matthews' group with
Patrick Marleau
and
Kasperi Kapanen
is making a strong case for the mantle. Ever since Kapanen took over
William Nylander
's vacated post next to Matthews three games into the season, there hasn't been a stronger duo up front for Toronto and that continued against L.A. Kapanen had a two-goal night for Toronto, getting his team on the board first with a bank shot off
Jack Campbell
's back on the game's first shift, and then pocketed another in the third period with a backhand strike off a saucer pass from Matthews. Having temporarily escaped Toronto's fourth line, Kapanen (who Sparks calls "the fastest person on Earth") is reveling in the increased ice time and visibility. In his last five games, Kapanen has produced eight points (four goals, four assists) and on Monday recorded 16:48 in ice time, his fourth straight game with more than 16 minutes TOI.
And while Kapanen was busy scoring the goals, Matthews was tallying assists. Monday was the first time this season Matthews hasn't lit the lamp, but his point streak extended to seven games with a pair of assists on Kapanen's goals. The contest marked Matthews' seventh straight multi-point game, making him the fifth player in NHL history to accomplish that feat to start a campaign (Mario Lemieux, Kevin Stevens, Wayne Gretzky and Mike Bossy were the others). All this on a night where Matthews' line lost the possession battle (at 34 per cent) against
Anze Kopitar
's group but outdueled them in points on the scoresheet.
High on Hyman
Since shaking off the effects of a hip pointer injury suffered in preseason,
Zach Hyman
has rapidly emerged as one of the Leafs' most consistent players. Through games one and two of the regular season, when Hyman was still rebounding, Toronto's forecheck was mostly non-existent and their five-on-five play suffered as a result. But once Hyman found his legs and began driving the Leafs' in that area again, the whole team seems to have gotten better by the game. Monday was an especially strong night for Hyman, starting with how he set up Marner's second-period goal. Carrying the puck into L.A.'s zone, Hyman stayed on his feet as
Drew Doughty
and
Dion Phaneuf
converged to slow him down, leaving Tavares free to pick up the puck and flip it to Marner for the easy tap-in. Marner immediately pointed to Hyman for being the perfect decoy and free up the Leafs' stars to capitalize. Hyman has elevated the penalty kill in recent games as well, bringing his aggressive pace to limit chances for the Kings' power play and battling along the boards to free up loose pucks. He finished the game with one assist and a plus-one rating in 16:41 TOI.
Second period speed bump?
In three of their last four games, including Monday, the Leafs have seen a serious dip in possession during the second period. Against Los Angeles, the Leafs were chasing the Kings around the defensive zone for almost the entire second half of the middle frame, posting 42 per cent possession and 17 scoring chances against while ceding just one goal to Kovalchuk. If not for Sparks' strong showing, the Leafs' defensive struggles and inability to clear the zone could have turned the tide in L.A.'s favour fast. Babcock noted after the game how Toronto is still trying to figure out itself and each team they face, and a dip in the middle frame is an example of an area where the Leafs can add consistency.
Down day for Doughty
Going into Monday's game, Kings' defenceman
Drew Doughty
courted headlines talking about how after years of hype surrounding the Leafs, they finally looked like the "real deal." And that showed through in how Toronto played the Kings' top blue liner. Before the game's halfway mark, Doughty had been victimized twice by the Leafs' two top lines, putting him on the ice for his first two goals-against of the season when Kapanen and Marner scored. On both plays, Doughty was overly aggressive and lost his stick, leaving him mostly helpless to stop Toronto's attack. In the case of Marner's goal, Doughty overplayed Hyman to give Marner the eventual tap-in. He was also involved on Kapanen's second goal, unsuccessfully sprawling out to try and stop Matthews' pass before slamming his stick against the boards at the bench in frustration afterwards. Being able to perform against on the NHL's top defenders is an obvious boost for the Leafs' young stars, who had beaten the Kings only one other time since the 2016-17 season began (1-2-1 record).
Match Game
How lines matched in Leafs vs. Kings
Iafallo-Kopitar-Kovalchuk vs. Marleau-Matthews-Kapanen
Pearson-Kempe-Toffoli vs. Hyman-Tavares-Marner
Thompson-Amadio-Carter vs. Lindholm-Kadri-Brown
Clifford-JAD-Lewis vs. Johnsson-Gauthier-Leivo
Blue and White Trending
Tracking Leafs' trends all season long
Patrick Marleau
scored a power play goal against L.A. (his first goal of the season) to extend the Leafs' season-opening streak of games with a power play goal to seven. Monday's was the second straight game where Marleau's second unit converted with the extra man.
Next up
Toronto continues its three-game homestand on Thursday against Pittsburgh.
Open "Mike"
"We just won, everything is good."
-
Mike Babcock post-game, in response to being asked whether he's having trouble finding faults in his team following five straight wins.