SportsCentre Year in Review: Top 10 stories of 2017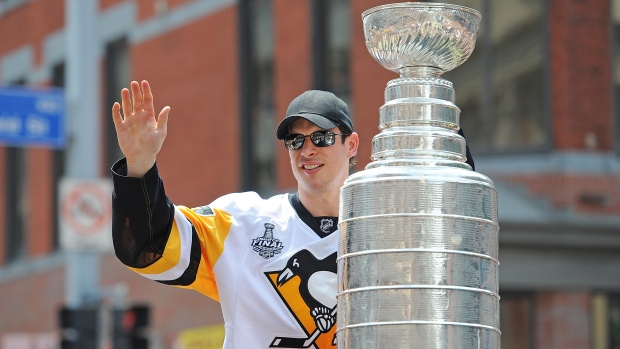 What a year it was in 2017. With the new year just around the corner, SportsCentre takes a look back at the top 10 storylines from the year that was.
---
10. The Return
In November of 2013, Canadian MMA legend Georges St-Pierre walked away from the sport after a victory over Johny Hendricks.
"I did it because I had to, not because I wanted to and I had too much pressure, too much criticism, too much things for too long and it's very hard when you're world champion, all your life is directed [toward that]," he said of his hiatus.
Nearly four years later, he returned to face Michael Bisping under the bright lights of Madison Square Garden. No one knew what to expect, but St-Pierre looked like his old self. The 36-year-old won by submission in the third round on a rear naked choke that made his lengthy break from the sport look like a casual week off, cementing his legacy as one of the greatest fighters of all-time.
9. Grand Champions
With both superstars on the wrong side of 30 and neither finishing inside the top eight in 2016, it looked like the reign of Roger Federer and Rafael Nadal going back and forth for tennis' top spot was over. But 2017 turned out to be one of their best years yet.
The pair combined to sweep all four Grand Slam Finals – Federer won the Australian Open and Wimbledon, while Nadal won the French Open and U.S. Open – to add to their respective totals of 19 and 16. For the first time since 2010, the pair occupied the top two spots in the worldwide ATP rankings.
Injuries to Andy Murray (2016 No. 1) and Novak Djokovic (2016 No. 2) may have made things easier, but it's no doubt 2017 proved to everyone the two all-time greats still have plenty left in the tank.
8. Houston Strong
In mid-August, the city of Houston suffered one of the worst natural disasters in American history. Hurricane Harvey left much of the metropolitan area submerged and caused almost $200 billion in damages across the country.
As they often do, sports helped people heal. The Houston Astros got an MVP season from Jose Altuve to lead an offence that scored the most runs in baseball. They picked up right-hander Justin Verlander in a late-season trade and rode their new ace all the way to the World Series. In Game 7, they knocked Los Angeles Dodgers starter Yu Darvish out in the second inning and got four solid innings from Charlie Morton to capture their first World Series title in Franchise history.
"When the city needed a pickup, when the city needed someone to elevate us to another level, the Astros stepped in," said Houston mayor Sylvester Turner.
7. The Comeback
The 2016 season was a difficult one for the Toronto Argonauts. They finished last in the East Division with a record of 5-13, tied for worst in the league with the Saskatchewan Roughriders.
So they decided to shake things up. The Argos brought in head coach Marc Trestman and general manager Jim Popp.
After an up-and-down regular season, Toronto hit their stride in the playoffs, knocking off the Calgary Stampeders 27-24 in a snow-filled Grey Cup from Ottawa after a few huge plays from the defence down the stretch.
The win gave quarterback Ricky Ray a CFL-record fourth Grey Cup win as a starting quarterback.
6. Redemption
On a frigid December night last year, Toronto FC's push for the MLS Cup came up just short after they were defeated by the Seattle Sounders in penalty kicks.
A year later, they had their chance at redemption.
Toronto set an MLS-record with 69 points during the regular season and took down the Columbus Crew to advance to their second final in as many years. After a scoreless first half, Jozy Altidore beat Sounders keeper Stefan Frei to put Toronto on top. Victor Vazquez added another just before time expired to send BMO Field into a frenzy and give Toronto FC fans their first title in franchise history.
5. Crosby Gets Another
If Sidney Crosby wasn't already on the list of all-time greats, 2017 solidified his spot. Crosby helped lead the Pittsburgh Penguins to their second-straight Stanley Cup and his third overall.
His league-leading 44 goals also helped him capture back-to-back Conn Smythe trophies, joining Mario Lemieux in 1991-1992 and Bernie Parent in 1974-1975 as the only three players to ever accomplish the feat.
Since he came into the league as the No. 1 overall pick in 2005, Crosby has 396 goals and 665 assists in 819 career games. TSN recently ranked Crosby No. 8 on its list of the top 25 NHLers of all-time. The full list can be found here.
4. Young Guns
The NHL's stars of tomorrow are here today – and have been for quite some time. Connor McDavid and Auston Matthews have proven themselves to be must-see TV ever since they were selected as No. 1 picks in consecutive years.
In just his second season in the NHL, McDavid ran away with the scoring title (30 goals and 70 assists), while Matthews took home the Calder Trophy and helped lead the Toronto Maple Leafs reach the playoffs for the first time since 2013.
Both have faced some adversity this season, but project to be fixtures of the National Hockey League for years to come.
3. The Money Fight
Despite the rumours, few thought it would ever actually happen. But it did.
Conor McGregor crossed over from the UFC to face one of boxing's biggest names – Floyd Mayweather.
After a series of press conferences featuring colourful language and lavish outfits, the two faced off at T-Mobile Arena just off the Las Vegas Strip on Aug. 26. After a close first few rounds, Mayweather proved too much for the UFC's lightweight champion. Mayweather pushed his record to a perfect 50-0 with a 10th round TKO to eclipse Rocky Marciano's mark of 49-0.
It's estimated that each fighter earned over $100 million for their roles in what was dubbed by some as the "biggest fight in combat sports history." Following the victory, Mayweather declared it his last fight.
2. The Collapse
28-3.
That was the score as the Atlanta Falcons led the New England Patriots with 2:12 left to go in the third quarter of Super Bowl LI.
And then Tom Brady went to work. With the Pats down 28-20 late in the fourth, Brady led a 10-play, 91-yard drive that sent the game to overtime. In OT, the Patriots finished things off with a short touchdown from James White to give them their second Super Bowl win in three years.
The win solidified Brady's status as one of the greatest – if not the greatest – quarterbacks ever.
1.The Protest
This year showed more than ever in recent years that sports and politics do intersect. In August of 2016, San Francisco 49ers quarterback Colin Kaepernick sat during the pre-game national anthem to protest racial inequality and police brutality. Soon after, he began taking a knee and continued to do that throughout last season. While Kaepernick has not played in the NFL this season, it turned into a national movement. Dozens of other players have protested during the anthem in some way.
And this month, Kaepernick was presented with Sports Illustrated's Muhammad Ali Legacy Award.
"With or without the NFL's platform, I will continue to work for the people," Kaepernick said.