Stamkos leads top 30 potential NHL free agents
Steven Stamkos could be the focal point when the puck drops on this summer's NHL Free Agent Frenzy. TSN ranks the top 30 NHL Free Agents that could be on the market on July 1.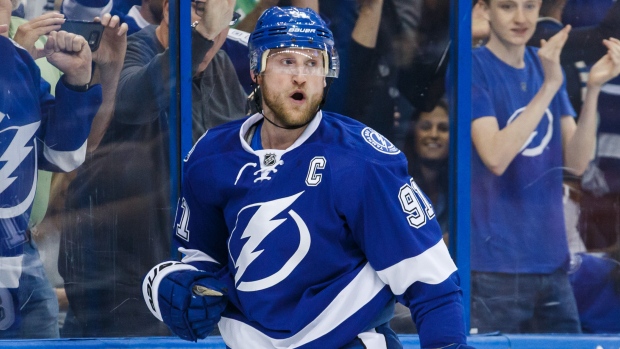 Steven Stamkos' recovery from a blood clot is the focal point of the Eastern Conference final.
But the number of eyeballs focused on Stamkos now pales in comparison to the buzz that will surround him whenever the Bolts' Stanley Cup playoff run ends.
July 1 is barely 40 days away.
And Stamkos, 26, will have the hockey world as his oyster if he decides to test the waters as the youngest superstar ever to hit the open market.
A decade ago, NHL players were locked in as restricted free agents until age 31. The painful 2005 lockout brought a salary cap, but it also helped free players into unrestricted free agency at 27 — or with seven years of league service.
In his eight NHL seasons, Stamkos has established himself as one of the game's elite offensive talents. He became the second-youngest active NHL player to score 300 career goals when he hit that plateau on Feb. 20 against the Penguins. Alex Ovechkin was 178 days younger when notched No. 300 in 2011, but Stamkos had nearly half of a season cut short due to a lockout and also missed 45 games with a leg fracture in 2013-14.
His availability would be unprecedented. The only player other than Ovechkin to score 60 goals in the last 20 seasons could command more than $10 million annually from suitors.
That's only if Stamkos makes it to market. He could opt to stay in Tampa Bay, where the Lightning have maintained all along that they would like to keep him.
Can they afford him? Will Stamkos be willing to take a hometown discount to play with a team that could have a long window to win a Stanley Cup?
Following a quiet Free Agent Frenzy in 2015, when NHL teams finally saved themselves from themselves, the 2016 free agent class is shaping up to be a strong one. Stamkos headlines a group packed with firepower.
But a lot can change before July 1. Milan Lucic may re-up in Los Angeles. The Blues could come to terms with long-time captain David Backes on a new pact. Shane Doan could decide to leave the desert and join the pack.
Stay tuned.
Here is the first TSN Hockey Top 30 Free Agent list of the spring:
Top 30 Potential Free Agents