The risks of Stamkos's five per cent chance
While a five per cent chance of playing is better than none at all, TSN Hockey Insider Bob McKenzie looks at everything Steven Stamkos and the Lightning have to consider regarding a possible return during the Stanley Cup playoffs.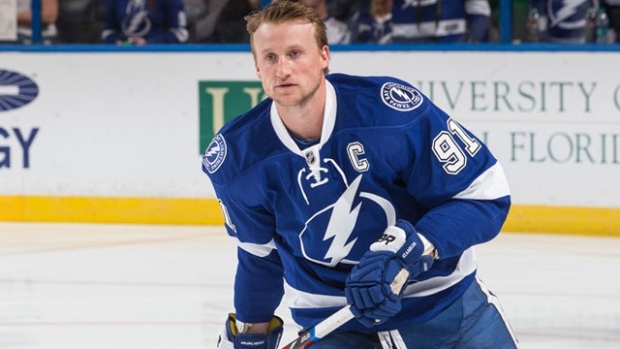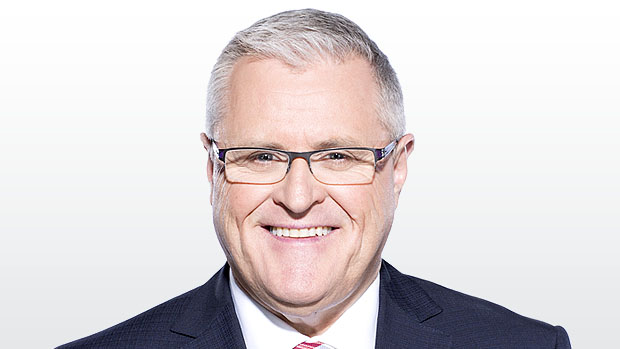 I am not a medical doctor, though I do occasionally play one on television.
Dr. Bob's diagnosis of Steven Stamkos - based solely on the video examination of him entering Amalie Arena Wednesday night before Game 3 of the Eastern Conference Final -- is that he looked good.
Tip top, actually.
Nice suit, purposeful stride and looked like he meant business. If you didn't know better, you would have thought the Tampa Bay Lightning captain was ready to suit up.
The Lightning certainly could have used him. If the Bolts can't muster a better effort than Wednesday night's 4-2 loss to Pittsburgh, Tampa Bay may play only two more games this season. Time may be running out for them. And Stamkos, too.
Playing in a game seems so close, yet so far for Stamkos, who underwent surgery on Apr. 4 to treat a blood clot and who continues to go through the complex protocols and requisite waiting period before being medically cleared to play a game.
After Tampa's practice Thursday, Stamkos pegged his chances of playing in Game 4 on Friday night at a mere five per cent. So there is a chance he plays Friday - better than 'Dumb and Dumber' odds, but still slim. He also said there's a real possibility he won't play again in these playoffs.
Stamkos isn't a doctor either, but did a very good job of sounding like one on Thursday. He talked expansively about his medical situation. TSN reporter Frank Seravalli's account of it can be found here.
This has to be enormously frustrating for Stamkos. He would appear to be so ridiculously close to being done, quite likely forever, with this whole blood clot issue. But he isn't quite there just yet.
The good news - the big picture view - is that it has already been determined that Stamkos is not genetically predisposed to blood clots. He, apparently, is not afflicted with the same malady as some other current and ex-NHL players such as Tomas Fleischmann, Kimmo Timonen and Pascal Dupuis, who knew battling blood clots would be a life-long condition regardless of whether they play hockey.
All things being equal, this should be a one-off for Stamkos.
Stamkos, like goalie teammate Andrei Vasilevskiy last fall, had a condition known as Upper Extremity Thrombosis. Stamkos's particular case is regarded as "effort thrombosis." It's said to most commonly afflict baseball pitchers, furniture movers and painters who paint a lot of ceilings. That is, individuals who have a lot of strenuous arm activity. Actor Sylvester Stallone also experienced it after filming the mountain climbing movie 'Cliffhanger.'
In Stamkos's case, repeatedly blasting one timers from the top of the circle could do the trick.
But it can also be caused by localized trauma to the rather congested area between the collarbone and the upper rib cage. An artery, a vein and nerves run through this tight area which is called the "thoracic outlet". If the vein becomes damaged or everything is just crammed too tight in there, circulation is restricted and abnormal clotting can occur.
That traffic jam in the narrowing is known as Thoracic Outlet Syndrome. If someone has a narrowed thoracic outlet, trauma or strenuous arm activity can lead to a blood clot and blockage of the large vein that passes through the thoracic outlet.
The remedy for Thoracic Outlet Syndrome and the associated clot can be surgery to cut out that first rib. That opens up the congested area and promotes better blood flow. The other key element of the treatment is to temporarily go on blood thinners or anti-coagulants that promote more blood flow, allowing the clot to eventually dissipate.
The recovery time is generally listed as one to three months, which is a pretty wide range because there are so many variables.
Vasilevskiy underwent surgery (to remove the rib) last Sept. 3. Fifty-nine days later, on Nov. 1, he was able to play a game, sitting on the bench as Ben Bishop's back up. So it was eight weeks and three days for the goalie's full recovery time.
Stamkos had rib removal surgery on Apr. 4. Friday - Game 4 - is May 20. That's 46 days and counting. Game 5 is Sunday, May 22 - or one day shy of the exact seven-week mark for Stamkos.
Recognizing that no two situations are identical, you can see how close Stamkos is getting.
If we weren't in the midst of the Stanley Cup playoffs, the call would be an easy one. Have the surgery, go on the blood thinners for two or three months, get off the blood thinners and go play the rest of the season with nary a future concern.
But time isn't on Stamkos's side. Not right now. The Stanley Cup playoffs wait for no man, not even one who can score 50 goals.
As long as a player is still on blood thinners, he can't play a contact sport like hockey. To do so would be to risk serious bleeding. If a player were cut, his blood would clot more slowly than normal. That could be troublesome but not nearly as problematic as the threat of internal bleeding, especially in the brain. A hard hit could cause internal hemorrhaging that could ultimately be life threatening.
Of course, it gets even more complicated.
While Stamkos - who isn't genetically predisposed to blood clots - could simply wait this out, we've seen other players who are genetically predisposed to blood clots, continue to play in the NHL even while still taking blood thinners.
Sort of.
Tomas Fleischmann is the best example of this. He has played for years now and has signed multiple free agent contracts, with everyone fully aware he has this life-long, blood-clotting issue. Fleischmann presumably takes the blood thinner known as Lovenox. The beauty of this anti-coagulant is it is very quick to enter and exit the blood system.
Players such as Fleischmann, as well as Kimmo Timonen and Pascal Dupuis, amongst others, "managed" their blood-thinning medication to allow them to play games in the NHL. They would stop taking Lovenox the day before a game; then take it immediately after the game.
By proper timing of the anticoagulant, it's possible for a player to be reasonably certain his blood clotting is normal during agame while being anti-coagulated on the days he's not playing. Doctors may view the risk of hemorrhaging during a game as minimal, yet the player is afforded protection against clotting the rest of the time.
It's not always as easy as it sounds. Dupuis, for example, found it extremely difficult to strike the right balance of Lovenox and was forced to retire.
Stamkos has been on Lovenox injections twice a day since his surgery.
At this point, we can guess Stamkos has three options.
One, he can wait the full three months, or closer to it, stop taking his blood thinners and resume normal activity. But for him, normal activity then might be golfing because the Cup Final would be over by then or failing that, the Lightning might not even be in it.
Two, he can, with a doctor's blessing, stop taking Lovenox now and play hockey, assuming some uncertain level of risk that clotting could re-occur by going off the blood-thinning medication. There's no template here for what level or risk he could be assuming.
Three, he can back off his Lovenox injections, with the assistance of the medical experts and "manage" them in such a way to be coagulated on game days and anti-coagulated on off days. The 'Fleischmann Protocol,' if you care to call it that.
Stamkos admitted today he's been getting multiple medical opinions, which is no surprise for any world-class athlete who can access the preeminent specialists in any field.
But you know how it is with us doctors. We're all experts. The more of us you talk to, the more opinions you're going to get and the more likely you're going to get views that run the entire gamut.
We can't presume to know what specifics Stamkos has been told, but I'm going to guess this much: There's probably a Dr. Red Light, whose considered opinion is for Stamkos to wait the three months and be ready for next season and there's likely a Dr. Green Light, whose view is to stop taking blood thinners now and play, or perhaps manage the Lovenox injections and suit up, the sooner the better. I'll bet there's even a Dr. Yellow Light, who thinks if Stamkos just waits a little longer, he's really close to being cleared either with or without the Lovenox, but it's not quite there just yet.
It's worth noting, in the cases of Timonen and Dupuis, that their respective NHL teams reportedly would not permit them to return to play while "managing" Lovenox, unless the player first signed a waiver of liability. That is, if anything tragic or catastrophic were to occur to the player in a game, all the risk and liability was on the player, not on the team or the NHL. It's believed those two players proceeded to play on that basis, eyes wide open.
Fleischmann, by all accounts, has never been asked to sign a waiver. Mind you, unlike Timonen and Dupuis, who were under contract when they were diagnosed and still under contract when they returned to play, Fleischmann was a free agent when he came back to play. Fleischmann was signed by teams very familiar with his condition and treatment for it when they signed him. In those cases, it was the signing teams who went in eyes wide open.
I have no concrete knowledge one way or the other, but I would be shocked if in this instance the Lightning would request Stamkos to sign a waiver of any kind before he played. One, because his contract in Tampa expires June 30. Two, because an accelerated return by Stamkos would potentially be helpful to the team's cause. The assumption of risk in this case would be mostly on the player. Again, I don't profess to know anything on this, but I'd be even more shocked if Stamkos, who is scheduled to become an unrestricted free agent on July 1, were willing to sign anything that would short circuit whatever health or insurance benefits his current contract may entitle him to.
I would guess that what has happen to now, in order for Stamkos to return to play, is the Lightning team doctor has to be prepared to medically clear him to play. Presumably, Stamkos's own physician would have to agree in order to give Stamkos the personal assurance he needs. If that were to happen, then it's a matter of determining how quickly he's game ready.
Does he need a practice or two with contact? Or is he good to go once medical clearance is given?
Based on what Stamkos said Thursday, we really don't have any answers. It doesn't sound like he does, either. But it sure sounds like it's going to be a close call, that it's moving in the right direction. But is it moving quickly enough?
Five per cent chance of playing Friday night is, after all, a chance, isn't it? But as Stamkos duly noted, maybe he doesn't play until the fall.
Since I'm not actually a doctor, it's impossible for me to even suggest what it is the actual doctors on this case would be looking for in order to medically clear Stamkos to play. Of course, we could always ask a real doctor.
His name is Dr. William Geerts. He's one of Canada's foremost thrombosis specialists and works out of Sunnybrook Hospital in Toronto.
Dr. Geerts hasn't treated Stamkos. He knows none of the specifics of the case other than public information that is readily available to anyone. He would never presume to offer an opinion or try to diagnose the specifics of any case from afar.
But the good doctor can talk in general terms on what an M.D. would be looking for in this type of situation. Dr. Geerts is quite familiar with the hockey angle, too. It was Dr. Geerts who, in 2002, treated former Toronto Maple Leaf defenceman Dmitri Yushkevich, who had a blood clot in his leg and desperately wanted to return to action, not unlike Stamkos.
Dr. Geerts recommended to the Maple Leafs a regimen of "managing" Lovenox to allow Yushkevich to return to play, but the club chose not to go down that road at the time.
"These are very tricky decisions to make," Dr. Geerts said.
Blood clot recovery isn't as easily quantifiable or measured as, say, a player coming off ACL surgery with a defined timeline. A rebuilt knee can be tested for strength and flexibility, but the nuances of coming back from blood clots, with or without blood thinners, is far more complex.
"Yes, in general, I think there are more aspects to consider," Dr. Geerts said. "And, yes, some of these aspects are more subjective: the location of the thrombosis, its cause, its extent, how long it's been, presumed risk of recurrence, indications for continued anti-coagulation/drug/dose/time.
"Another key factor is the team's experience with these scenarios," Dr. Geerts added. "Presumably most teams have had players with ACL surgery return to play and they are probably comfortable making this decision if the testing is satisfactory. There is much less experience with return to play after a thrombotic event or in players being on anti-coagulants after they return, even with careful timing of dose."
Dr. Geerts said any doctor, prior to clearing a player who had thrombosis, would be a looking at checklist of a few items before doing so:
"Is the player fully recovered from the surgery? Is he physically healed?" Dr. Geerts said. "Is the vein in good shape and has there been at least partial resolution of the clot? People with venous thrombosis are often left with some residual being abnormality or thickening or non-occlusive residual thrombus. So I wouldn't require that it was completely gone, it may never be completely gone."
Beyond that, Dr. Geerts said the attention would turn to whether a blood thinner is required and, if so, coming up with the right balance and schedule of administering it.
"If there is a need to continue anti-coagulant, there needs to be a specific regimen -- a relatively short-effect anti-coagulant such as Lovenox, perhaps a reduced dose and proper timing between a dose and competition -- developed that optimally balances the risk of thrombosis, the risk of bleeding and the ability to compete."
Therein lies the greatest complicating factors.
To go off blood thinners or to stay on them? Risk?
To develop the protocol of "managing" on and off days for anti-coagulation? Risk?
Dr. Geerts said imaging such as MRI or ultrasound helps to evaluate the condition of the clot and the vein. As for the "management" of blood thinners, he said a series of blood tests after taking or not taking Lovenox, as sort of a dry run before playing games, could be used to come up with the optimal "schedule" for maximum protection and minimum risk.
There's obviously a lot there to consider. First and foremost, the long-term health, welfare and safety of one of the NHL's biggest stars, but at a time of the year when everyone can hear the clock ticking down on the season.