Stanley Cup goalies Fleury and Holtby a contrast in personality, style
In the pressure cooker that is the Stanley Cup final, the goaltenders for the Vegas Golden Knights and the Washington Capitals can be quite different when it comes to personality.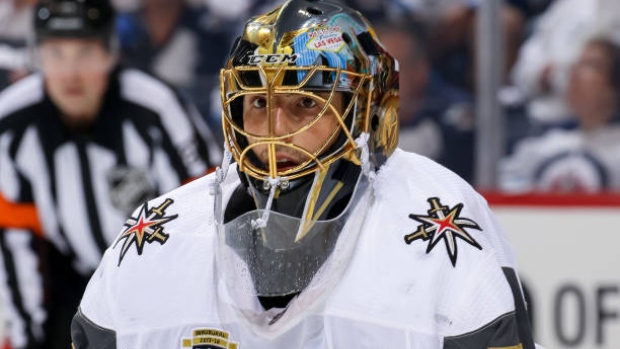 WASHINGTON — Marc-Andre Fleury playfully thanks his goalposts after an opponent's shot hits one and stays out.
At the other end of the rink, Braden Holtby is so dialled in that when a puck gets past him, he squirts water up in the air and follows it with his eyes to refocus.
In the pressure cooker that is the Stanley Cup final, the goaltenders for the Vegas Golden Knights and the Washington Capitals can be quite different when it comes to personality.
The fun-loving Fleury, picked by Vegas in last June's expansion draft to be the face of the NHL's 31st franchise, flashes his infectious smile at nearly every opportunity.
Holtby, Washington's no-nonsense netminder, is at the opposite end of the spectrum.
And while they also use contrasting styles — Fleury has a tendency to react to the play in front of him compared to Holtby's strength of trying to read what's coming next — there's no arguing the end result.
"Studs, awesome dudes," Capitals defenceman Matt Niskanen, who has suited up in front of both goalies, said before the series. "Fleury's a jokester and Holts is all business."
"They go about achieving success in pretty different ways," added Washington defenceman Brooks Orpik, like Niskanen a former teammate of Fleury's when all three were with the Pittsburgh Penguins. "The main component of their success is probably their competitiveness and preparation."
Another place where the roads of Fleury and Holtby — whose teams sat tied 1-1 heading into Saturday's Game 3 — intersect is the adversity they've overcome getting to this point.
Fleury, a three-time Stanley Cup champion, was squeezed out in Pittsburgh the last two years by the up-and-coming Matt Murray. The 33-year-old never said a word to rock the boat on back-to-back title-winning teams before getting snapped up by the Knights when they started to build what has become one of hockey's most remarkable stories.
"Nobody expected that," Fleury said of the Knights' success. "I'm happy that we were able to prove a lot of people wrong. We have a great bunch of guys, great chemistry."
And through it all, he never lost who he was.
"I love to play, and I still have a good time," said Fleury, who had an astounding .947 save percentage through the first three rounds of an improbable playoff run. "I love yelling at the guys in practice when I stop them."
Holtby, on the other hand, struggled for stretches this season, eventually losing the starting job to backup Philipp Grubauer at the beginning of March before regaining the crease halfway through Game 2 of Washington's first-round matchup with the Columbus Blue Jackets.
The 28-year-old helped Washington come back to win four straight in that series, finally beat Pittsburgh in the second round, and then shut out the Tampa Bay Lightning in Games 6 and 7 to advance to the franchise's first final in 20 years.
"It's been a unique season. I've learned a lot of valuable things throughout the situations, about myself, about the way hockey is now. It's changed," Holtby said. "You have to play a little different than in the past with the speed and the way the game is (now) mostly all about offence.
"That was one thing I had to learn."
One area he also focused on was easing his mental load. That's a task that's easier said than done when playing arguably the most important position in professional sports.
"Putting too much pressure on yourself and doing too much is never that good," Holtby said. "I got caught up trying to do too much and it ended up snowballing. It was great to just have a break where I could really analyze myself.
"It looks bad on paper, but this year is one of those years where I've learned more and soaked in more knowledge."
Neither goalie had been stellar through two games in the final with 15 goals, including one empty netter, combined through 120 minutes of action. But Fleury made key saves when he had to, and Holtby came up with an incredible stop late in Washington's 3-2 victory on Wednesday that evened the series.
"It's an awesome save," Fleury said Friday. "I don't appreciate it, though. I'd rather it be a goal."
And that respect, albeit sometimes begrudgingly in the heat of the moment, between two goalies meeting in the playoffs for the third time in as many years goes both ways.
"It's fun playing against the best," Holtby said. "That makes for good hockey, that makes for good competition.
"It's fun to have another opportunity to really have a great series against him."
———
Follow @JClipperton_CP on Twitter.