Bell to play in 2018, but skip Steelers' camp
TSN.ca with Canadian Press files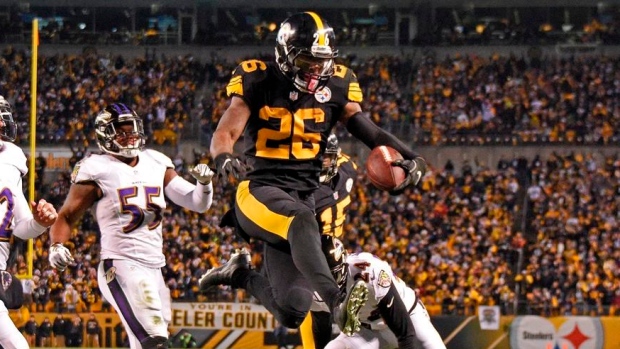 Pittsburgh Steelers running back Le'Veon Bell said Wednesday that he won't retire if he's forced to spend the 2018 season under the franchise tag, but added he won't report to the team before Week 1.
Bell hosted an Instagram Live chat on Wednesday and dismiss his earlier that comments that he would sit the season or retire if franchise tagged.
"Honestly, no, I'm not going to sit out. I'm going to be in the facility Week 1," Bell said, per ESPN. "It's going to be a rerun of last year. I'm not going to [training] camp. I'm not doing nothing else extra, OTAs, none of that...
"I'm going to strictly go to what I have to go to. I want to win every game. I want to have the best statistical career that I possibly can, so I want to play in every game that I can possibly play."
The Steelers and Bell have until July 16 to work out a long-term deal for the running back. If a contract extension is not reached by that point, he'll spend the season playing under the one-year, $14.544 million tag.
Bell, a two-time All Pro, accounted for 1,946 total yards and 11 touchdowns for the AFC North champions in 2017. Both Bell and Steelers management said after the season they hoped to get a contract extension done quickly, but failed to do so by Tuesday's deadline for teams to use the franchise tag.
He skipped off-season workouts and training camp last summer before signing the tender on the eve of the regular season. The absence led to a sluggish start, though he was an indispensable part of Pittsburgh's offence once again, breaking his own club record by catching 85 passes.
The 25-year-old made the 2017 All-Pro team at the "flex" position, one he considered a tribute to his versatility. Bell said repeatedly over the past year he believes he's different than other backs in the league and wants to be paid accordingly. He is arguably the best receiving back in the NFL and he's averaged nearly 25 touches a game in five seasons, though he's only been healthy at the end of the year twice. Bell has twice been suspended by the NFL for violations of the substance abuse policy.
Bell turned down a long-term deal with the Steelers last summer and told ESPN in January he would consider retiring if the Steelers used the franchise tag on him again..