Steinauer could be sought after by both Lions, Argos
The league-imposed moratorium on coaching hires ends Tuesday night – 48 hours after the Grey Cup – at which point the BC Lions and Toronto Argonauts start their race to land their top candidate.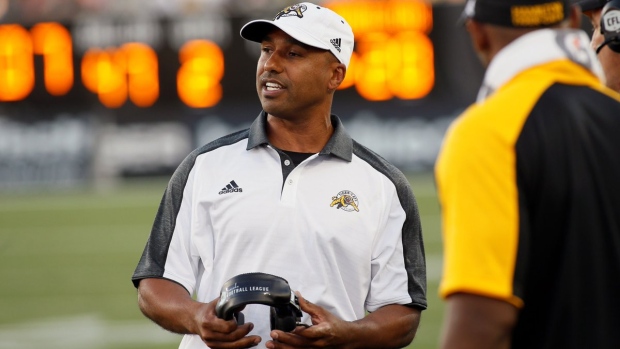 The league-imposed moratorium on coaching hires ends Tuesday night – 48 hours after the Grey Cup – at which point the BC Lions and Toronto Argonauts start their race to land their top candidate.
After Wally Buono's retirement in BC and Marc Trestman's firing in Toronto, the Lions and Argos are the only teams with coaching vacancies heading into the off-season, but could be battling to lure the same candidates.
Atop each team's list could be Hamilton Tiger-Cats assistant coach Orlondo Steinauer.
"I believe Steinauer will be front and centre for the coaching vacancies in both BC and Toronto," TSN's Farhan Lalji said. "This guy is a young candidate that checks off all the boxes."
Steinauer returned to the Ticats last off-season after a one-year stint in the NCAA as the defensive coordinator of the Fresno State Bulldogs. He was nominated for the Broyles Award, which honours college football's top assistant coaches.
Prior to his year in the NCAA, Steinauer was the Ticats' defensive coordinator from 2013-16, adding assistant head coach to his title in 2016. He started his CFL coaching career in 2010, serving as defensive backs coach with the Argos.
With both the Argos and Lions expected to show interest in the 45-year-old, it's possible Steinauer will be able to choose his destination.
"You also have to understand that Steinauer probably knows just how sought after he is," Lalji continued. "He's all about winning. It's not going to be about location for him, so I get the sense when he goes through the interview process, he's going to be asking as many questions as he fields."
But Hamilton celebrated Steinauer's return to the team a year ago and TSN Football Insider Dave Naylor said there may be a chance the popular former Ticats player/coach doesn't end up with either the Lions or Argos.
"The Tiger-Cats are going to give permission to (both teams) to speak to him but I don't think they've given up on maybe finding some creative ways to possibly keep him in the fold."
---
Lions general manager Ed Hervey made two coaching hires during his tenure as Edmonton Eskimos general manager, and both turned out to be successful choices. Hervey hired then-Argonauts defensive coordinator and assistant head coach Chris Jones in 2014, and then-Ottawa Redblacks offensive coordinator Jason Maas in 2016 to replace Jones, who left for the Saskatchewan Roughriders. Lalji said those hires could suggest his thinking this time around.
"Don't look for Hervey to try and hire somebody that's been a head coach before; a name like Marc Trestman. I think he wants to have the formula that he had in Edmonton where he hired Jones and Maas, two aspiring coordinators that didn't have a head coaching job on their resume.
"I think that along with Steinauer, a couple of coordinators in the Grey Cup – Stamps defensive coordinator DeVone Claybrooks and Redblacks offensive coordinator Jaime Elizondo – will get strong consideration."
Claybrooks has been a member of Calgary's coaching staff for seven seasons, serving as defensive coordinator the past three. The Stampeders have allowed the fewest points in the league in all three seasons under Claybrooks.
Elizondo has run the Redblacks' offence for three seasons, helping the team win the 104th Grey Cup in his first year in the position. Elizondo has also spent time on the Argos' and Montreal Alouettes' coaching staffs.
Naylor added two more names that could be in the mix in Roughriders special teams coordinator Craig Dickenson and Redblacks defensive coordinator Noel Thorpe - the latter also having a connection with Argos' GM Jim Popp.
---
While Hervey may be looking to give an ambitious assistant coach his first shot at a head coaching gig in BC, the Argos will have a little more experience in the candidates they consider alongside Steinauer.
"There are three former head coaches I believe the Argonauts would like to speak to. Paul LaPolice, the offensive coordinator in Winnipeg. Kent Austin, who spent this year as a consultant to the Hamilton Tiger-Cats. And Corey Chamblin (Roughriders head coach from 2012-15)."
LaPolice has spent the past three seasons as offensive coordinator and receivers coach for the Winnipeg Blue Bombers, and also served as head coach of the Blue Bombers from 2010-12.
Austin transitioned to a consultant role with the Ticats this season after four years serving as the team's head coach and vice-president of football operations. Austin led the Ticats to two Grey Cup appearances as head coach and won a championship in his lone season coaching the Roughriders in 2007.
Chamblin is an interesting case because he was the Argos' defensive coordinator in 2017 before spending this past year coaching at the University of Arkansas. Naylor said Chamblin's familiarity with the Argos, and not just Popp but the entire staff, could work to his advantage because the league's new football operations salary cap means the Argos will be forced to retain a good chunk of their current staff.