Stoughton named national men's team coach
Jeff Stoughton helped guide Canada's mixed doubles curling team to Olympic gold at the Winter Games. He's hoping to do the same thing with the national four-man team at the 2022 Winter Games in Beijing.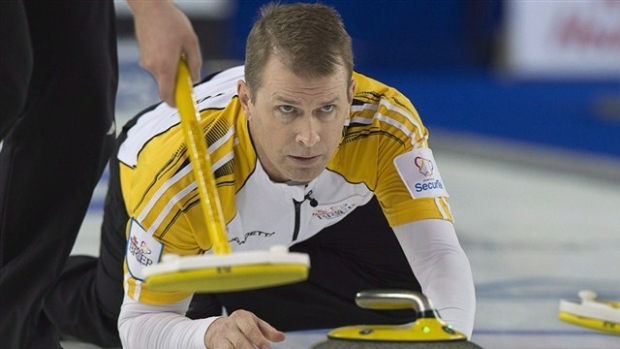 Jeff Stoughton helped guide Canada's mixed doubles curling team to Olympic gold at the Winter Games. He's hoping to do the same thing with the national four-man team at the 2022 Winter Games in Beijing.
Stoughton, a three-time Brier champion, was named national men's coach and program manager on Tuesday as Curling Canada announced a number of changes to its high-performance staff as it prepares for the upcoming quadrennial.
The 54-year-old replaces Rick Lang, who will remain with the federation as a performance consultant. Stoughton will continue to oversee the mixed doubles national program for the time being.
In addition, four-time world champion Scott Pfeifer was named as a performance consultant and former Team Rachel Homan coach Adam Kingsbury was named as a mental performance consultant and information/technology manager.
"I'm impressed with the team that we've been able to assemble here," high-performance director Gerry Peckham said from Ottawa. "A whole wide array of skills and attributes and experience with some pretty impressive resumes.
"My sense is that any athlete, any team, any coach in any of our competitive domains will be able to access somebody that will be able to make a difference to what they're doing and how they go about their business."
John Morris of Canmore, Alta., and Winnipeg's Kaitlyn Lawes won gold for Canada last February in Pyeongchang as mixed doubles made its Olympic debut. Homan's Ottawa team did not win a medal in the women's team event and Calgary's Kevin Koe also missed the podium in the men's team competition.
Jennifer Jones of Shanty Bay, Ont., won gold at the women's world championship later in the season and Brad Gushue of St. John's took silver at the men's world playdowns.
Elaine Dagg-Jackson will continue to serve as women's national coach and program manager. Members of the wheelchair national team program will be named at a later date.
Pfeifer will likely get a chance to focus on mixed doubles under Stoughton's tutelage as they sort through roles and plans in the short-term, Peckham said. Stoughton started managing the mixed doubles program shortly after announcing his retirement as a competitive curler in 2015.
"I'm looking forward to working with the teams," Stoughton said from Winnipeg. "I still know them, they still know me. It's a good thing going forward."
A total of 15 four-player and nine mixed doubles teams were named to Curling Canada's national team program on Tuesday. The rinks will receive Sport Canada, Own the Podium and Canadian Olympic Committee funding in addition to sport science and sport medicine support from high-performance staff.
The women's list includes Jones, Homan and fellow skips Chelsea Carey of Calgary, Kerri Einarson of Gimli, Man., Tracy Fleury of East St. Paul, Man., Winnipeg's Darcy Robertson, Casey Scheidegger of Lethbridge, Alta., and Edmonton's Laura Walker.
Koe and Gushue are on the men's list along with Edmonton's Brendan Bottcher, Winnipeg's Reid Carruthers, Toronto's John Epping, Jason Gunnlaugson of Morris, Man., and Brad Jacobs of Sault Ste. Marie, Ont.
The mixed doubles list includes Lawes and Morris, Carey and Winnipeg's Colin Hodgson, Edmonton's Joanne Courtney and Winnipeg's Reid Carruthers, Emilie and Robert Desjardins of Chicoutimi, Que., Jones and Brent Laing of Shanty Bay, Ont., Edmonton's Kalynn Park and Calgary's Charley Thomas, Winnipeg's Jocelyn Peterman and Brett Gallant of St. John's, Gushue and Edmonton's Val Sweeting, and Saskatoon's Kirk Muyres and Walker.
"This is a seasoned group of athletes in whom we have a great deal of confidence, and we're pleased that we can offer them support from Curling Canada and our funding partners to help them take their games to new levels," said Peckham.
Curling Canada also announced the four-player teams that will compete in the first three legs of the inaugural Curling World Cup series next season.
Canada will be represented by Team Homan and Team Koe at the Sept. 10-16 event in China (city TBA). Team Fleury and Team Gunnlaugson will play at the Dec. 5-9 in Omaha, Neb., and Team Jones and Team Gushue will play the Jan. 28-Feb. 3 event in Europe (city TBA).
The four-event circuit will feature teams from around the world. Eight men's, eight women's and eight mixed doubles teams will be in the field at the first three events.
The Canadian mixed doubles entries will be decided at a later date.
The fourth leg, May 6-12 in Beijing, will be the Grand Final. It will feature teams that qualified from the first three events.
———
Follow @GregoryStrongCP on Twitter.