Stroman stellar over seven as Jays win
Marcus Stroman pitched seven solid innings and the Toronto Blue Jays scored three unearned runs to beat the Baltimore Orioles 4-1 on Saturday in the second game of a series between the AL East's worst teams.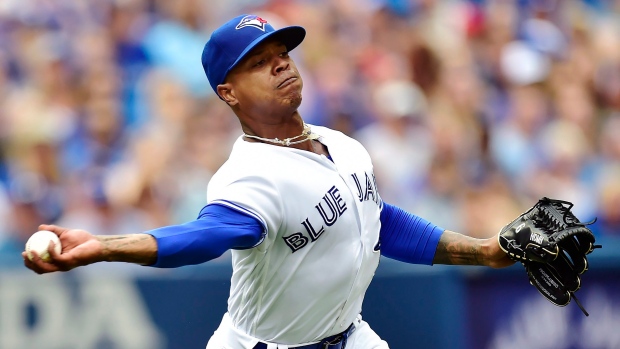 TORONTO — Marcus Stroman was feeling so great on the mound Saturday that not even a slight jab from Baltimore's Adam Jones could bring him down.
When the Blue Jays pitcher missed badly on a breaking ball to Jones in his at-bat in the sixth inning, the Orioles star responded by mimicking Stroman's signature shimmy.
Stroman didn't seem fazed. And he got the last laugh anyway.
The right-hander pitched seven solid innings and Toronto scored three unearned runs to beat Baltimore 4-1 in the second game of a series between the AL East's worst teams.
"Me and Jonesy were kinda talking to each other during the ABs and during the game," Stroman said. "I love Jonesy, he's been someone who's reached out to me when I got into the league and he's been a mentor of mine. ... He's someone who's always been there for me and he makes the game very fun."
Stroman (3-7) allowed one run while scattering five hits over a season-high 107-pitch performance. Three of those hits came in the first inning and included an RBI single from Jones that gave Baltimore (28-71) its only run.
The damage was minimized when Toronto left-fielder Teoscar Hernandez threw a laser into the infield to tag out Jonathan Schoop at second base for the first out.
"I didn't come out very strong today, just kinda leaving pitches up in the zone. Whenever you can get a big play like that from your defence it's definitely a momentum shifter," Stroman said. "It kinda told me I need to kick it in gear and start making better pitches."
Stroman struck out seven, hit a batter and issued two walks, continuing a strong stretch since a stint on the disabled list caused him to miss six weeks of the season.
He has a 3.03 earned-run average over his last six starts, compared to a 7.71 mark in seven starts before hitting the DL.
"Since he's come back from the DL he's been really good," Blue Jays manager John Gibbons said. "I just think he's pitching like he's always pitched. I thought he did a good job today working ahead in the count."
Second baseman Devon Travis said Stroman's "got his fire back."
"Stro's got the ability to ignite an entire team," he said. "Obviously he's a very animated guy. He brings a lot of energy, very competitive. You can feel that, you can feel that behind him. It give you a little extra edge. I'm just happy to see Stro getting back to his old self."
Randal Grichuk and Luke Maile drove in runs for the Blue Jays (45-52) and Hernandez scored on a balk.
Ryan Tepera pitched the ninth for the save, getting some help from Grichuk on a nice defensive catch in deep centre field on the first out.
Jones, who also doubled in the fourth inning, was 2 for 4 at the plate just hours after he and some teammates were stuck in an elevator at their hotel. The incident, which Jones shared on his Instagram account over a series of videos, happened after Friday night's Blue Jays win in extra innings and lasted about 30 minutes. They were rescued by Toronto firefighters.
Alex Cobb (2-13) allowed four runs — only one of them earned — and four hits over five innings. He struck out four and walked three batters.
Orioles manager Buck Showalter said Cobb developed a blister during his start.
Toronto scored three unearned runs to take the lead in the fourth inning, after an error on Tim Beckham, his fourth in six games.
Toronto and Baltimore are fourth and fifth respectively in the AL East this year, a stark contrast from two seasons ago when the Blue Jays edged the Orioles in a thrilling wild-card game at Rogers Centre en route to Toronto's second straight ALCS appearance.
With a playoff spot fading fast, Stroman said Toronto's goal for the rest of the season is to "show up every day and compete."
"I think that's something that us as Blue Jays have been able to do over the past few years regardless of what the expectations are," he said. "I love my team, I wouldn't want any other guys. It's just a matter of going out there and knowing what we're capable of."