Struggling Flames F Frolik: 'It's a long season'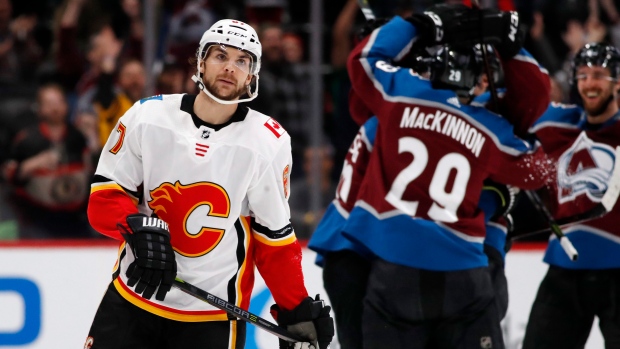 Calgary Flames forward Michael Frolik has spent the majority of this season on the team's fourth line and was relegated to the press box for their overtime win against the Colorado Avalanche on Saturday.
It's new territory for Frolik, who ranked fifth among Flames forwards in ice time last season and is the sixth-highest cap hit in the group. In fact, the 30-year-old told the Calgary Sun he last served as healthy scratch following a trade to the Chicago Blackhawks in 2011.
"It's been a couple years, for sure," Frolik said. "It sucks. It's not easy. But you just have to try and do things you can control and work hard and try to go out there and do something good.
"After the St. Louis game, I kind of expected that I wouldn't be in the lineup. Obviously I took two penalties there and they scored. I kind of expected something was going to happen and it did."
Frolik has one goal and an even rating through four games this season. He's taken six minutes in penalties (including the two minors against the Blues on Oct. 11) and said he's simply trying to make the most of his ice time, which currently sits at an average of 9:17 per night.
"It's not easy, when you play seven minutes, it's tough to do something out there — especially when you're used to playing 16 minutes and you play seven. It's not easy. You think a lot on the bench. You want to impress the coach and you want to do something so much and it doesn't go your way.
"But I've been there. It's a long season and hopefully these things will turn around."
Frolik skated on the team's second line in practice Tuesday, though it's unclear how the lineup will look Wednesday against the Boston Bruins since rookie Dillon Dube missed Tuesday's session.
Flames head coach Bill Peters, who noted Frolik hasn't been the same player since breaking his jaw last season, said work ethic has nothing to do with the winger's demotion.
"I gotta see the signs in a game," Peters said. "He works so hard in practice, there's nothing more you can ask from a guy. He's efficient in practice, a real good pro, works hard in practice and makes a lot of things happen in practice.
"Now you have to transfer that over to games."
The 2006 first-round pick of the Florida Panthers said he plans to make the most of his next opportunity.
"I just try to work on my game and work on skills," he said. "When I get a chance, I want to go out there and do my job. There are new guys this year and a new coaching staff so you're kind of starting from zero. Since the first game, I was put on the fourth line…but we have a lot of depth and sometimes it goes like that.
"When you get the chance, you have to grab it."